Paper Bag Oatmeal Cookies
Yield:
3 dozen cookies
Prep Time: 25 min + chill time
Cook Time: 7 min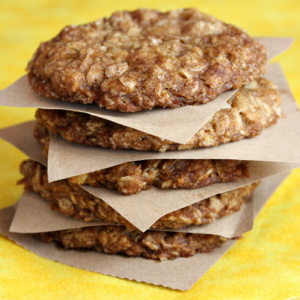 Ingredients:

3 cups oats
1 cup packed brown sugar
1 cup all-purpose flour
1 teaspoon baking soda
1/2 teaspoon salt
1 cup (2 sticks) butter, melted (allow to cool slightly before adding)
1/4 cup water

Instructions:

1. Place oats and sugar into a large bowl. Sift the flour, soda and salt into the bowl too. Whisk together.

2. Add the butter and water and mix together well.

3. Form the dough mixture into 1-inch diameter log. Wrap in plastic or foil. Chill thoroughly (overnight is best).

4. Preheat oven to 350 degrees F.

5. When ready to bake, slice chilled log thinly. You will need a sharp knife, and you may want to warm your knife with hot water for easier cutting.

6. Place cookies on un-greased cookie sheet at least 2-inches apart (cookies spread considerably). Use parchment paper if you have it.

7. Bake 7 to 11 minutes until crisp and golden brown.

8. Cut open a brown paper grocery bag and lay out on your counter turned inside out.

9. Cool cookies slightly, then place them on the paper bag. The paper will absorb the extra butter and make cookies perfectly crisp!