These pretty little cookies have sunflower seeds in them! > Chocolate Covered Sunflower Seed Oatmeal Cookies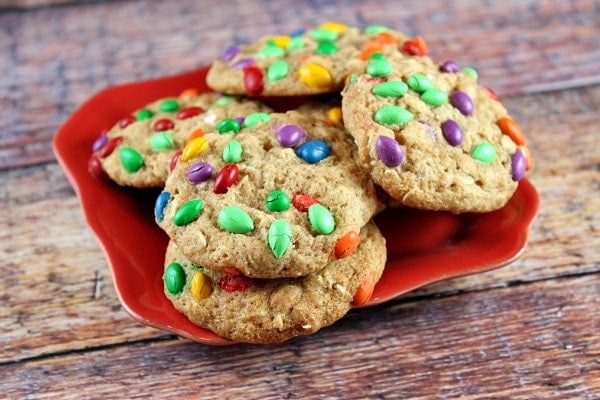 This may seem like kind of an obscure recipe.   I mean… who has Chocolate Covered Sunflower Seeds in their house, right??  Well, they're actually not too tough to find.  My boys tucked them into my Christmas stocking this last year, and I've been spotting them at grocery stores all over the place ever since.  Of course, you can also use mini chocolate chips or mini M&M's in place of the sunflower seeds too.  Or you could even use a combo of raw sunflower seeds and mini chips!  If you want the chocolate covered sunflower seeds, you can always buy a bunch of them on Amazon. I decided to use up my stash in some cookies.  It was a great idea- they were pretty, and they tasted delicious.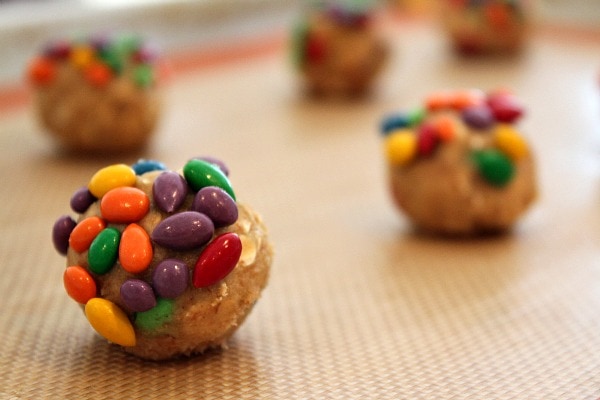 I'm all about cookies looking and tasting great inside and out.  Adding some extra goodies on the outside of the rolled dough will guarantee that your cookies will be dotted with pretty stuff and not buried inside the cookie.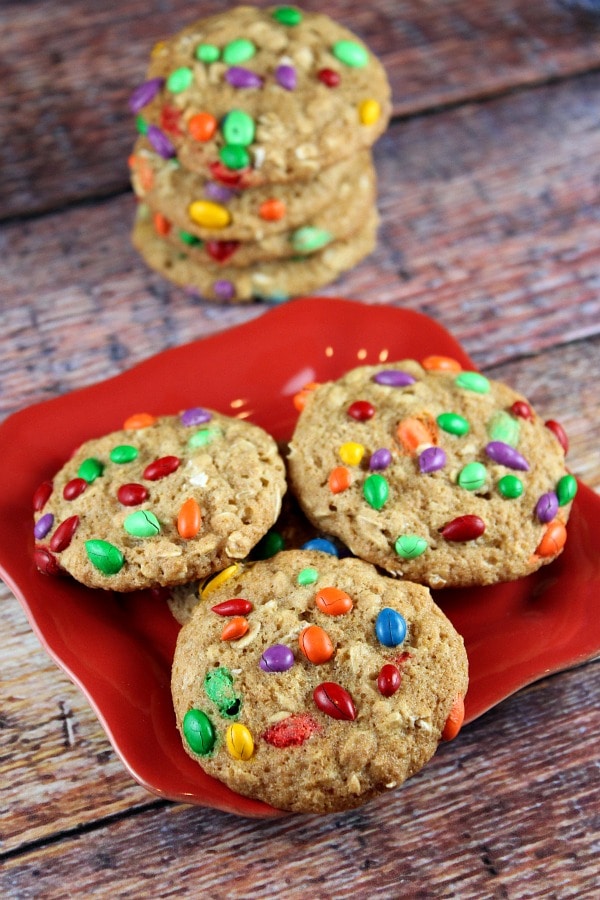 See how it all works out?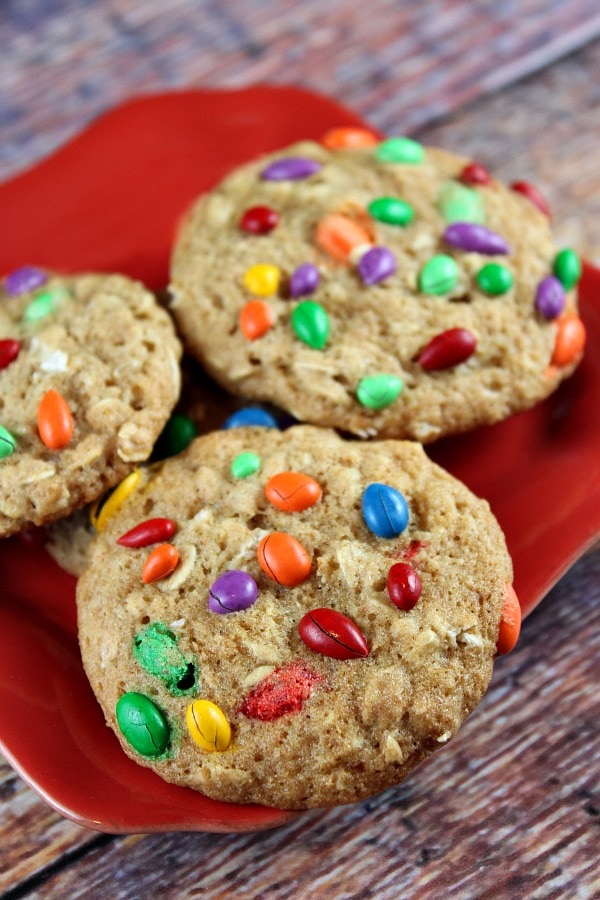 The combo of oats + sunflower seeds is a really good idea.  It's like a chocolate-nut party for people who don't like other kinds of nuts in their cookies (like me!)  And you'll note from the recipe that I've done a few things to make this cookie a little bit healthier too (nutritional info and WW points included).
Enjoy!
Chocolate Covered Sunflower Seed Oatmeal Cookies
Yield:
24 cookies
Prep Time: 15 min + chill time
Cook Time: 10 min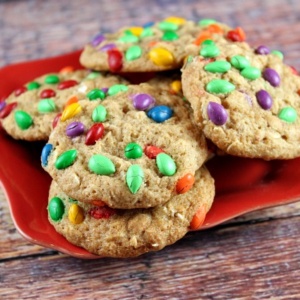 Ingredients:

3/4 cup Gold Medal® All-Purpose Flour
3/4 cup Gold Medal® Whole Wheat Flour
3/4 cup oats
1/2 teaspoon baking powder
1/4 teaspoon baking soda
1/4 teaspoon salt
3/4 cup packed brown sugar
5 tablespoons butter, at room temperature
2 tablespoons honey
3/4 teaspoon vanilla extract
1 large egg
1 large egg white
1/2 cup chocolate-covered sunflower seeds (+ additional to top cookies)

Instructions:

1. In a medium bowl, whisk together the dry ingredients- flours, oats, baking powder, baking soda and salt.

2. In a large bowl, use an electric mixer to combine the sugar and butter. Add the honey, vanilla and eggs. Add the dry ingredients and mix until combined. Stir in the sunflower seeds. Cover the bowl with plastic wrap and refrigerate for at least a couple of hours (and up to 8).

3. Preheat the oven to 350 degrees F. Line baking sheets with parchment paper or silpat mats.

4. Roll spoonfuls of dough into balls. Dunk the dough balls into additional sunflower seeds, if you'd like (it makes it look pretty). Bake for about 10 minutes, or until cookies are no longer doughy in the centers. Remove from the oven and let cool on the baking sheet for 5 minutes before transferring them to a rack to cool completely.

Tips:

*You can certainly use mini chocolate chips or mini M&M's in place of the sunflower seeds.

PLEASE NOTE: the nutritional info. below does NOT include any extra sunflower seeds that are rolled onto the top of the cookie.

Nutrition:

Nutritional Information per serving:
Serving size: 1 cookie
Calories per serving: 90.3
Fat per serving: 4.2g
Saturated Fat per serving: 1.9g
Sugar per serving: 3.5g
Sodium per serving: 73.3mg
Fiber per serving: 1g
Protein per serving: 2.2g
Cholesterol per serving: 14.2mg
Carbohydrates per serving: 11.3g

WW POINTS per serving:
Points Plus Program: 2 Old Points Program: 2