I must say… I'm in love with these bars: Golden Cinnamon- Pumpkin Bars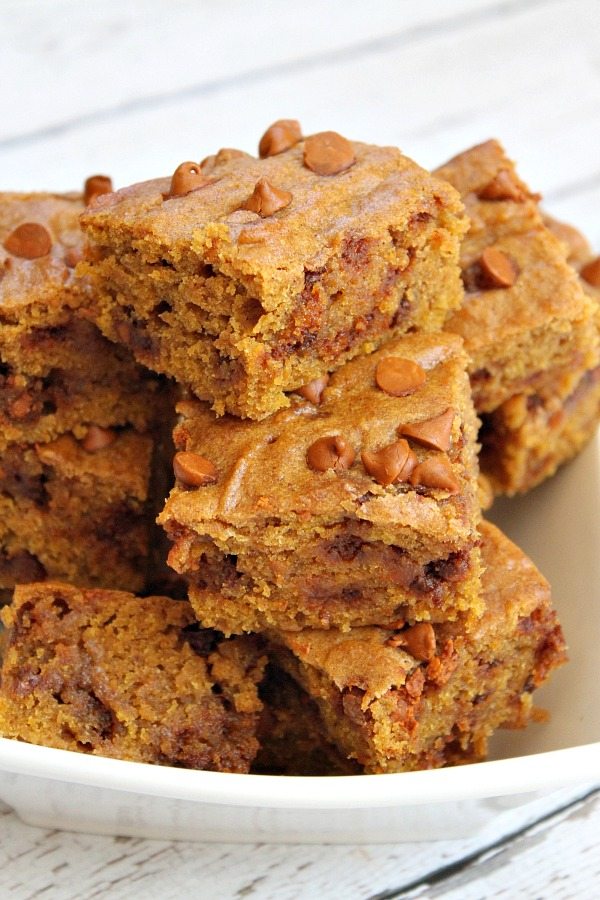 Golden Cinnamon- Pumpkin Bars
Yield:
16 bars
Prep Time: 25 min
Cook Time: 40 min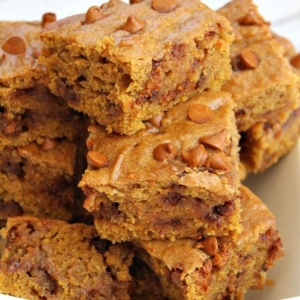 Ingredients:

3/4 cup (1 1/2 sticks) unsalted butter
1 1/3 cups packed light or dark brown sugar
1 teaspoon vanilla extract
3/4 teaspoon baking powder
1/2 teaspoon salt
2 teaspoons ground cinnamon
3/4 teaspoon ground ginger
1/4 teaspoon ground cloves
1/4 teaspoon ground allspice
1 large egg
1 cup canned pure (unsweetened) pumpkin
3/4 cup whole wheat flour
3/4 cup all-purpose flour
1 cup cinnamon chips- plus a few extra to sprinkle on top (see *Tips below)

Instructions:

1. Preheat oven to 350°F. Lightly grease a 9x9-inch pan.

2. Melt butter in a medium microwave-safe bowl or in a saucepan set over low heat, then add sugar and stir to combine. Return mixture to the microwave (or heat) briefly, until it's hot and starting to bubble. Transfer the mixture to a medium bowl and allow it to cool until you can comfortably test it with your finger.

3. Beat in vanilla, baking powder, salt and spices. Add the egg, beating until smooth and scraping the sides and bottom of the bowl. Stir in the pumpkin, flours and chips- mixing thoroughly. Spoon the batter into the prepared pan.

4. Bake the bars until a sharp knife inserted into the center reveals moist crumbs, 30 to 35 minutes. Remove from the oven and let cool on a rack.

Tips:

*You can find cinnamon chips shelved near the chocolate chips in your grocery store (made by Hersheys).