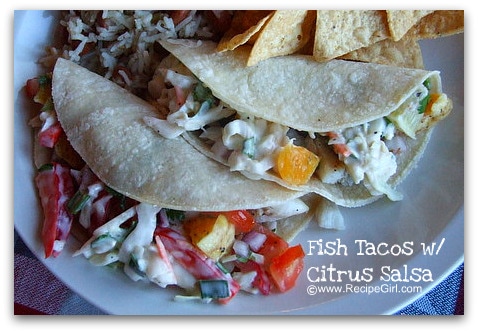 FISH TACOS W/ CITRUS SALSA
www.RecipeGirl.com
CITRUS SALSA:
2 medium oranges, peeled and segmented
2 tsp minced jalapeño peppers (seeded)
3/4 cup diced tomatoes
1/2 medium red onion, diced
3 Tbs chopped fresh cilantro
1 to 2 tsp orange juice
1/2 tsp kosher salt
½ tsp dried oregano
1/2 tsp freshly ground black pepper
FISH TACOS:
2 Tbs vegetable oil
2 Tbs fresh lemon juice
kosher salt & freshly ground black pepper
2 lbs fresh sea bass, swordfish, shark, tilapia, cod or pollack
2 dozen corn tortillas
1. Prepare salsa: Chop orange segments. Combine all ingredients in a medium bowl and toss. Add additional salt and pepper as needed to taste. Refrigerate until ready to use.
2. Prepare tacos: Preheat grill to medium-high. Combine oil, lemon juice, salt and pepper in a 13×9-inch pyrex dish. Add fish and toss to coat. Grill fish in a grill rack, turning once, until crispy, about 8 minutes total cooking time. Cover with foil until you are ready to assemble the tacos.
3. Meanwhile, wrap the tortillas, in groups of 12, in foil and place in a 375° oven for about 10 minutes, until warm.
4. To serve, crumble fish into tortilla, top with 1 Tablespoon of salsa and 2 Tablespoons of Cilantro Slaw.
Servings: 8
Cooking Tips
*Salsa can be prepared up to 2 days in advance.
**Serve with Cilantro Slaw. It's good inside the tacos as well as served alongside.
Recipe Source: Adapted from Secrets of a Caterer's Kitchen
PRINT THIS RECIPE using your browser's 'print' function. It's automatically formatted to print recipe & picture only.
RATE THIS RECIPE[ratings]