Sweet-and-Tangy Roasted Pork Tenderloin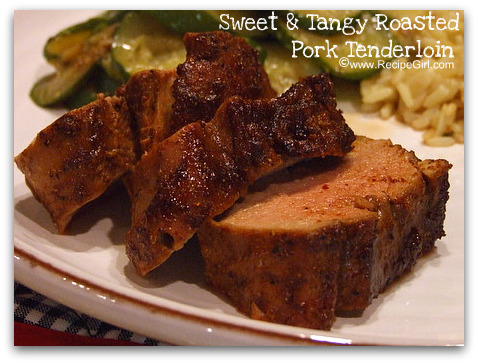 SWEET & TANGY ROASTED PORK TENDERLOIN
www.RecipeGirl.com
1/4 cup packed brown sugar
2 Tbs cider vinegar
1 Tbs tomato paste
1 1/2 tsp chili powder
1 tsp ground cumin
1/4 tsp freshly ground black pepper
1 lb pork tenderloin, trimmed
1. Combine all ingredients except pork in a gallon zip bag. Add pork, turning to coat. Refrigerate for 1 hour.
2. Preheat oven to 450°F.
3. Remove pork from bag, saving marinade.
4. Place pork on a broiler pan coated with nonstick cooking spray. Brush with reserved marinade. Insert a meat thermometer into the thickest portion of the pork. Bake for 20 minutes or until thermometer reaches 155°F. Remove from oven; cover and let stand for 5 minutes.
Servings: 3 (or 4 if you wish to have 3 ounce servings)
Nutrition Facts
Amount Per Serving
Calories 264
Calories From Fat (19%) 51
Total Fat 5.56g
Saturated Fat 1.84g
Cholesterol 98.28mg
Sodium 140.35mg
Potassium 721.80mg
Carbohydrates 20.60g
Dietary Fiber 0.81g
Sugar 18.41g
Net Carbohydrates 19.79g
Protein 32.28g
WW Points: 6
Recipe Source: Adapted slightly from Cooking Light
PRINT THIS RECIPE using your browser's 'print' function. It's automatically formatted to print recipe & picture only.
RATE THIS RECIPE[ratings]
3 Responses to "Sweet-and-Tangy Roasted Pork Tenderloin"
Leave a Comment