This recipe has been featured in a post on The Recipe Girl blog: Ice Cream Man Smackdown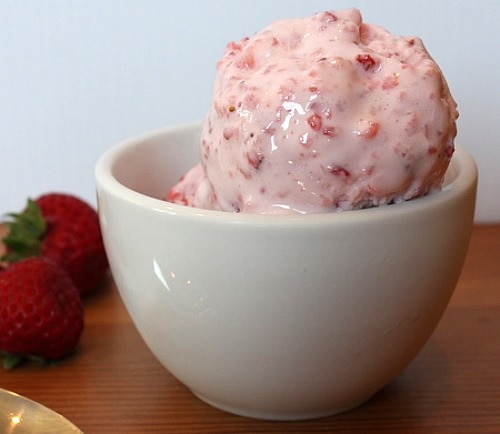 No- Cook Fresh Strawberry Ice Cream

Yield: 1 1/2 quarts

Prep Time: 15 min + processing & freezing time

The perfect ice cream recipe for summer because no heat is involved in the making of the base for this recipe!

Ingredients:

1 (14 ounce) can sweetened condensed milk
1 (5 ounce) can evaporated milk
2 Tablespoons granulated white sugar
1 1/2 cups whole milk
1 pound fresh strawberries (or 1 lbs. package of thawed frozen strawberries
2 Tablespoons fresh lemon juice
1/4 teaspoon salt

Directions:

1. Whisk first four ingredients in a large bowl until blended. Process strawberries, lemon juice, and salt in a blender or food processor until smooth. Stir into milk mixture. Cover and chill until very cold (preferably overnight).

2. Pour into the freezer container of an ice cream maker and process according to manufacturer's instructions.

3. Transfer ice cream to an airtight container, and freeze until firm.