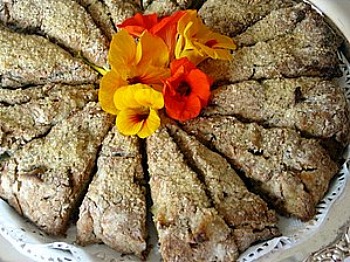 Yield: 12 scones
Prep Time: 30 min
Cook Time: 30 min
Apple Cream Scones
I made these for a brunch that I attended. They were consumed quickly and received high praise!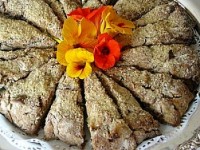 Ingredients:
2 cups chopped Granny Smith apple
6 Tablespoons butter
1 Tablespoon instant coffee granules
1 teaspoon hot water
1/2 cup whipping cream
2 1/4 cups all-purpose flour
1/3 cup granulated white sugar
1 Tablespoon baking powder
1/4 teaspoon salt
2 Tablespoons coarse sugar
Directions:
1. Preheat oven to 400 degrees F.
2. In a medium skillet, saute apple in 2 Tablespoons butter until tender and liquid is almost absorbed, stirring often. Set aside and let cool.
3. In medium bowl, dissolve coffee in water; stir in cream.
4. In separate large bowl, whisk together flour, sugar, baking powder and salt. Cut in remaining butter with pastry blender until pieces resemble coarse crumbs. Add apples and coffee mixture, stirring just until dough clings together.
5. Dump dough onto lightly floured surface and knead 6 times. Place onto an ungreased cookie sheet and pat dough into an 8-inch circle. Top with coarse sugar. Cut into 12 wedges; separating them slightly.
6. Bake 20-25 minutes, or until done. Cool slightly; separate. Serve warm.
One Response to "Apple Cream Scones"
Leave a Comment