This recipe has been featured in a post on The Recipe Girl blog: Butter Brickle and Pecan Cookies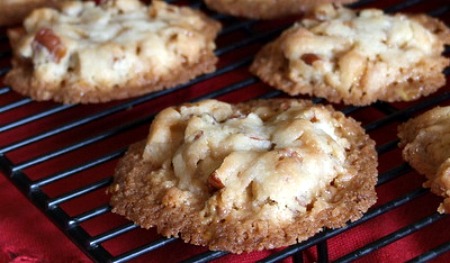 Butter Brickle and Pecan Cookies

Yield: 4 dozen

Prep Time: 15 min

Cook Time: 12 min

Ingredients:

2 cups (4 sticks) unsalted butter
1 teaspoon vanilla extract
4 cups all-purpose flour
2 cups powdered sugar
1 bag Heath English toffee bits
2 cups chopped pecans

Directions:

1. Melt butter in microwave or double boiler; stir in vanilla and cool completely.

2. In a large bowl, whisk together flour and sugar. Stir in butter mixture; add toffee bits and chopped pecans (mixture will be crumbly). Shape into 1-inch balls and place 2 inches apart on ungreased baking sheets. Flatten slightly.

3. Bake at 375° for 12 minutes, or until edges begin to brown.