I have a couple of wonderful things to share with you today.
GoodBite Weeknight Meals: Delicious Made Easy has just been released and is available for purchase. This is a cookbook created by food blogger contributors to GoodBite.com (including me!) and photographed by the very talented Matt Armendariz. Today I'm sharing a Slow Cooker Lasagna recipe from the cookbook that has only 5 ingredients. Click the box below for a quick How-To video:
If you're a busy person with little time for dinner, this cookbook is one to have at hand. You'll find 140 recipes for quick and delicious family dinners… things like Cheesy Chicken Cordon Bleu & Rice Casserole, Chicken & Spinach Enchiladas, Blueberry Pulled Pork, Fast Fish Tacos, One Pot Macaroni & Cheese, Sweet Gingery Tofu, and Slow Cooker Jambalaya.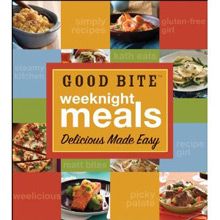 (this giveaway is now closed!  Randomly selected winners are commenters #2, #31, #175 and #194.  Congrats & thanks for entering!)
To enter to win a copy of GoodBite Weeknight Meals, leave a comment below telling me your favorite go-to, quick weeknight meal. This giveaway is open to anyone who has a mailing address in either the USA or CANADA. Four winners will be chosen via random.org on Sunday, October 9th and will be contacted via email. Each winner will receive a GoodBite Weeknight Meals Cookbook. Good Luck!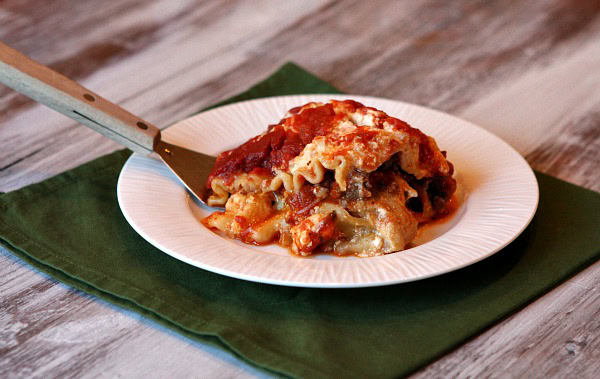 Slow Cooker Lasagna

Yield: 8 servings

Prep Time: 20 min

Cook Time: 6 hrs

There is nothing like coming home at the end of a long day and having dinner ready to put on the table!

Ingredients:

1 pound cottage cheese
2 cups shredded mozzarella cheese
Two 26-ounce jars marinara sauce
2 pounds lean ground beef, cooked
One 9-ounce package lasagna noodles

Directions:

1. Place the cottage cheese and mozzarella cheese in a medium bowl and stir to combine.

2. Add a thin layer of pasta sauce to the bottom of a slow cooker. Add a thin layer of the cooked ground beef and a layer of the noodles, breaking the noodles to make them fit. Top the noodle layer with a layer of the cheese mixture. Repeat until all of the ingredients are used, ending with a layer of sauce. Cover and cook on low for 6 to 8 hours. Serve hot.

Tips:

*Choose a type of marinara sauce that has garlic and Italian spices mixed in.
*Possible add-in: Frozen, defrosted spinach- squeezed dry.
*Substitution/additions: Ricotta cheese, ground turkey.