Spring Lettuce Salad with Roasted Asparagus
When it's spring- and asparagus are everywhere and affordable, this is the salad to try!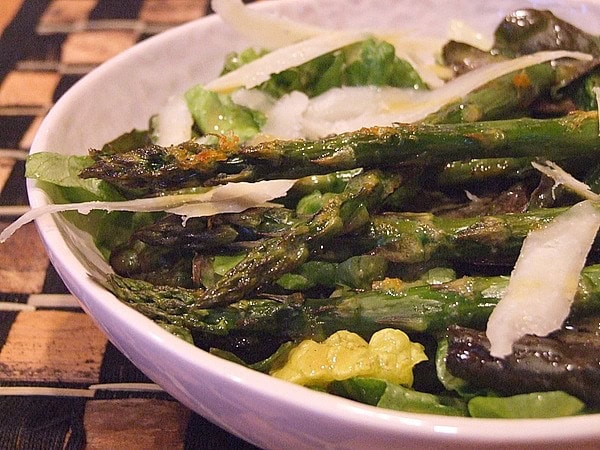 Yield: 6 servings
Prep Time: 15 min
Cook Time: 8 min
Spring Lettuce Salad w/ Roasted Asparagus
I've made variations of this before, and it is really delicious. Normally a fan of very firm asparagus either steamed or sauteed, this method really brings out a lot more flavor.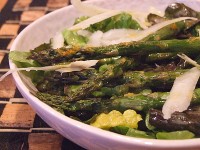 Ingredients:
1 pound asparagus
1/3 cup + 1 Tablespoon extra virgin olive oil
1/2 teaspoon finely grated lemon zest
kosher salt & freshly ground black pepper
1 1/2 Tablespoons lemon juice, freshly squeezed
1 Tablespoon Dijon mustard
10 ounces mixed greens
Parmigiano-Reggiano cheese, shaved into curls with a vegetable peeler
Directions:
1. Preheat oven to 450°F. On a rimmed baking sheet, toss asparagus with 1 Tablespoon of the oil and the lemon zest and season with salt and pepper. Roast the asparagus for about 8 minutes, until just tender and the tips begin to turn brown.
2. In a small bowl, whisk the lemon juice with the mustard and the remaining 1/3 cup olive oil. Season with salt and pepper.
3. In a large bowl, toss the lettuces with all but 2 Tablespoons of the dressing. Arrange the salad on plates and top with the roasted asparagus and cheese curls. Drizzle the remaining dressing over the asparagus and serve.
Leave a Comment