This recipe has been featured in a post on The Recipe Girl blog: Milky Way Brownies.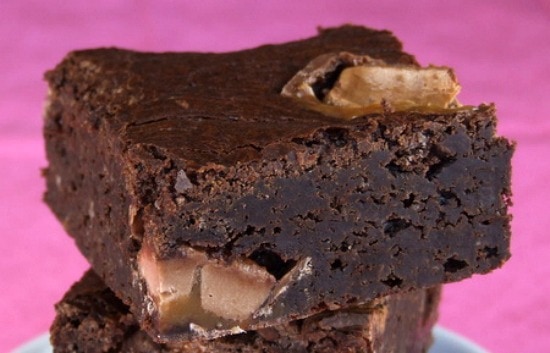 Yield: 3 dozen + brownies
Prep Time: 25 min
Cook Time: 45 min
Milky Way Brownies
Absolutely one of my favorite brownie recipes ever... feeds a large crowd!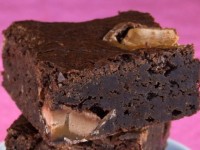 Ingredients:
1 pound (4 sticks) unsalted butter, cut into pieces
1 pound semi-sweet chocolate chips (or chopped chocolate)
6 ounces unsweetened chocolate, chopped
2 Tablespoons instant espresso powder
7 large eggs
2 Tablespoons vanilla extract
2 1/4 cups granulated white sugar
1 1/4 cups all-purpose flour
1 Tablespoon baking powder
1 teaspoon salt
12 ounces miniature Milky Way Bars, chopped
1 full-size Milky Way Bar, sliced thinly
Directions:
1. Preheat oven to 350°F. Butter and flour 12x18x1-inch pan. Line with foil or parchment that hangs over the sides for ease in getting them out (butter the foil/parchment).
2. In a heatproof, medium-bowl set over a saucepan of simmering water, heat butter, and chocolates until melted and smooth; cool slightly.
3. In a large bowl, whisk together the eggs, espresso powder, vanilla and sugar. Stir the egg mixture into the slightly cooled chocolate mixture. Cool to room temperature.
4. In a medium bowl, sift together flour, baking powder, and salt, then add to batter. Stir chopped mini Milky Way bars into chocolate mixture. Then pour into prepared baking pan and smooth top with a rubber spatula. Place slices of the full-size Milky Way Bar onto the top of the brownie batter.
5. Bake for 25 to 35 minutes, or until toothpick inserted in center comes out clean with a few crumbs attached; do not overbake! Let cool completely, then cover tightly and chill overnight. Chilled brownies are easier to cut.
Tips:
*These taste better the second day.
*If it's a warm day inside your house, you might consider chilling the Milky Way bars before you try to cut them.
14 Responses to "Milky Way Brownies"
Leave a Comment