This recipe has been featured in a post on The Recipe Girl blog with more photographs: Margarita Cupcakes.
Yield: 24 cupcakes
Prep Time: 25 min
Cook Time: 25 min
Margarita Cupcakes
These are fun for a Cinco de Mayo party, but they surely can be made for any festive, adult occasion…emphasis on adult. They do have a bit of tequila in them, so it's probably best to keep them away from the little ones.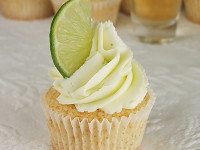 Ingredients:
CAKE:
9 ounces Margarita Mixer, bottled liquid
3 ounces tequila
3/4 ounce Grand Marnier
1 (18.25 ounce) box white cake mix
3 large egg whites
2 Tablespoons canola oil
1 Tablespoon lime zest
LIME BUTTERCREAM ICING:
1 cup unsalted butter, at room temperature
5 to 6 cups powdered sugar
2 Tablespoons lime juice, freshly squeezed
1/8 teaspoon salt
1 teaspoon lime zest
green food coloring, if desired
small lime slices for garnish, if desired
Directions:
1. Preheat oven to 350°F. Line two dozen cupcake tins with paper liners.
2. Prepare cupcakes: Whisk together margarita mix, tequila and Grand Marnier in a small bowl. Measure out 1 1/4 cups for the recipe; pour the rest on some ice and drink it while making the cupcakes 🙂
3. In a large bowl, blend cake mix, egg whites, vegetable oil, lime zest and 1 1/4 cups of the margarita mix from step 1. Blend on low for about 30 seconds and then increase speed to medium and blend for two additional minutes. Batter will be slightly lumpy.
4. Spoon the batter into cupcake liners (about 3/4 full). Bake for 20-25 min, or until toothpick inserted in center comes out clean. Let cupcakes cool for about 10 minutes in the pans, then remove them to a rack to cool completely.
5. Prepare icing: Once cucpakes are completely cooled, prepare the icing. Place butter in a large bowl and beat with electric mixer until butter is fluffy. Add 5 cups of powdered sugar, salt, lime juice, and lime zest. Mix until thick and creamy. Add more powdered sugar until the frosting is of a good spreading (or piping) consistency. Mix in a tiny amount of green food coloring or gel paste if you'd like the frosting to have a green tint. Ice cupcakes in whatever manner you prefer... spreading or piping the frosting. Use small lime slices as garnish.
Tips:
*Conversions: 9 ounces = a little over a cup, 3 ounces = a little less than 1/3 cup, 3/4 ounce = 1 1/2 Tablespoons
*Grand Marnier is an orange liqueur- sub another kind if you'd like or add in some orange juice.
*Don't worry too much about exact measuring for the margarita mix/tequila/Grand Marnier. Just eyeball it and measure out the 1 1/4 cups that you'll need for the recipe.
*If you just spread frosting on the cupcakes (rather than piping), you'll probably have a bit of frosting leftover.
*If you prepare these a day before, it's best to place them into a covered container and refrigerate them. Remove them to room temperature a couple of hours before serving. Of course, they're best if eaten the day they're made.
73 Responses to "Margarita Cupcakes"
Leave a Comment