Black and White Chewy Chocolate Chunk Cookies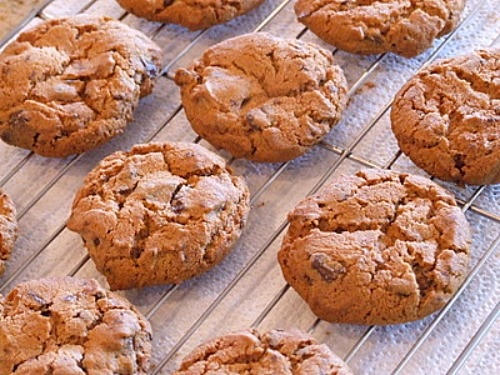 Yield: 3 to 4 dozen
Prep Time: 20 min
Cook Time: 15 min
Black & White Chewy Chocolate Chunk Cookies
LOVE this cookie recipe. It's the best chocolate chip kind of cookie I've had in a long time!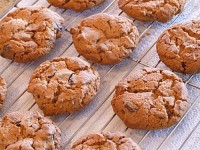 Ingredients:
2 cups all-purpose flour
1/2 teaspoon baking soda
1/2 teaspoon salt
3/4 cup unsalted butter, melted
1 cup light brown sugar, packed
1/2 cup granulated white sugar
1 Tablespoon vanilla extract
1 large egg
1 large egg yolk
5 ounces bittersweet chocolate, chopped coarsely
5 ounces white chocolate, chopped coarsely
Directions:
1. Preheat oven to 325°F. Line cookie sheets with parchment paper (or spray with nonstick spray).
2. In a medium bowl, sift flour, baking soda and salt. Set aside.
3. In a separate bowl, use electric mixer to cream melted butter and sugars until well mixed. Beat in vanilla and eggs until light and creamy. Mix in dry ingredients until just blended. Stir in chocolate with a firm spoon.
4. Drop cookie dough onto cookie sheets with small ice cream scooper or Tablespoon. Be sure to leave room for them to spread (about 2 inches apart).
5. Bake 12 to 15 minutes, or until edges are lightly browned. Cool on baking sheets for a few minutes before transferring to wire racks to cool completely.
Tips:
*You may substitute 2 cups of semisweet chocolate chips for the chopped chocolate, if desired.
*If you don't care for white chocolate, use all bittersweet.
*These cookie freeze well. Just drop onto cookie sheets with ice cream scooper or rounded Tablespoon. Place cookie sheet directly into freezer. Remove when frozen solid and transfer to freezer zip baggies. When ready to bake, just follow baking instructions. They are just as good as when baked fresh.
3 Responses to "Black and White Chewy Chocolate Chunk Cookies"
Leave a Comment