Maple- Drizzled Apple Muffins
This recipe has been featured in a post on The Recipe Girl blog: Apple Muffins with Maple Glaze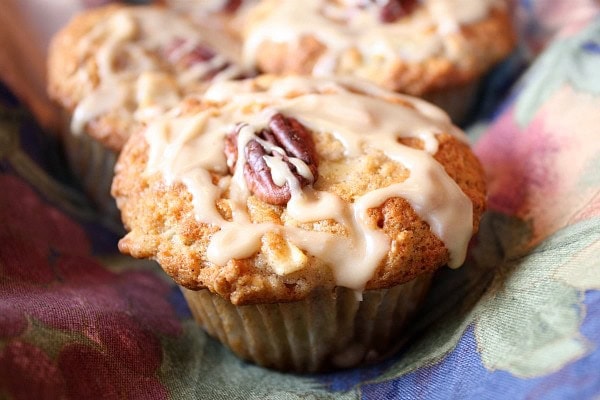 Yield: 12 muffins
Prep Time: 15 min
Cook Time: 20 min
Maple- Drizzled Apple Muffins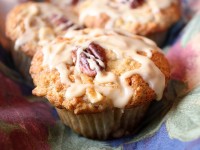 Ingredients:
MUFFINS:
1 1/3 cups all-purpose flour
1 cup quick-cooking oats
2/3 cup granulated sugar
1 Tbs baking powder
1½ tsp ground cinnamon
½ cup milk
1/3 cup butter or margarine, melted
¼ cup maple syrup
1 large egg, slightly beaten
2 cups chopped, peeled apples (I use Granny Smith)
12 pecan halves
GLAZE:
1/3 cup powdered sugar
2 Tbs maple syrup
Directions:
1. Preheat oven to 400°F. Spray a 12-cup muffin tin with nonstick spray or line with paper liners.
2. In a large bowl, whisk together dry ingredients (through cinnamon).
3. In a small bowl, mix milk, butter, syrup and egg; stir into dry ingredients and mix just until moistened. Fold in apples.
4. Fill prepared muffin cups 3/4-full (this is easiest to do when you use an ice cream scoop). Top each with a pecan half. Bake 18 to 20 minutes or until muffins test done. Cool in pan for 10 minutes before removing to wire rack to cool completely.
5. For glaze, mix sugar and syrup; drizzle over cooled muffins.
7 Responses to "Maple- Drizzled Apple Muffins"
Leave a Comment