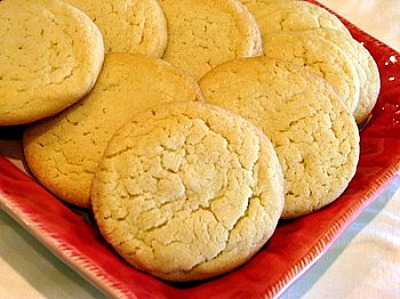 Yield: 5 dozen small cookies or 2 1/2 dozen large cookies
Prep Time: 25 min + chill time
Cook Time: 10 min
Amish Sugar Cookies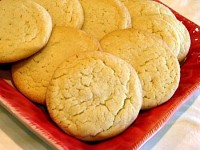 Ingredients:
1 cup granulated white sugar
1 cup powdered sugar, sifted
1 cup salted butter, softened
1 cup canola or vegetable oil
2 large eggs
1 teaspoon vanilla extract
4 1/2 cups all-purpose flour
1 teaspoon baking powder
1 teaspoon baking soda
1 teaspoon cream of tartar
Directions:
1. In large bowl, combine sugars, butter and oil and beat together with an electric mixer. Beat well. Add eggs and vanilla and beat again.
2. In separate bowl, whisk together flour, baking powder, baking soda and cream of tartar. Gradually add dry ingredients to wet. Mix until well blended.
3. Cover bowl with plastic wrap and refrigerate overnight.
4. When ready to bake, preheat oven to 375 degrees. Form dough into small balls and flatten slightly with a fork. Bake for 10-12 minutes.
Tips:
*If you'd like, you can roll the balls in additional sugar
4 Responses to "Amish Sugar Cookies"
Leave a Comment