This recipe has been featured in a post on The Recipe Girl blog:  Chocolate- Iced Maple Cookies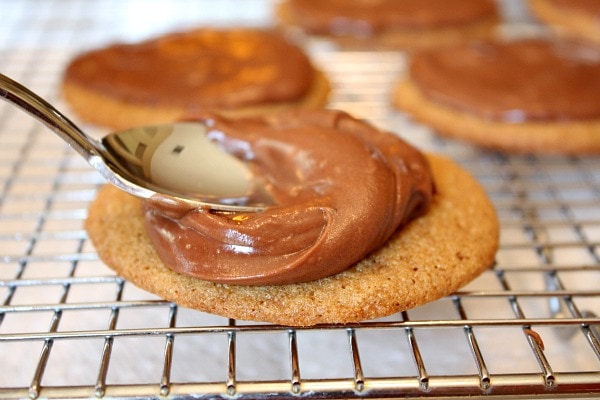 Yield: 4 dozen
Prep Time: 25 min
Cook Time: 10 min
Chocolate- Maple Cookies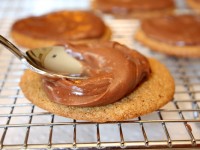 Ingredients:
COOKIES:
1 1/4 cups shortening
1 1/2 cups packed light brown sugar
5 large eggs
1 teaspoon vanilla extract
1/2 teaspoon maple extract
2 1/2 cups all-purpose flour
3/4 teaspoon baking soda
1/2 teaspoon salt
FROSTING:
2 (1-ounce) squares semi-sweet chocolate
1 Tablespoon salted butter
1 1/2 cups powdered sugar
1/4 cup milk
Directions:
1. Preheat oven to 350°F. Spray baking sheets with nonstick spray (or line with parchment paper).
2. In a mixing bowl, cream shortening and brown sugar. Add eggs, one at a time, beating well after each addition. Beat in vanilla and maple extracts.
3. In a separate bowl, whisk together flour, baking soda and salt; gradually add to the creamed mixture. Drop by teaspoonfuls 2-inches apart onto prepared baking sheets.
4. Bake 8 to 10 minutes or until edges begin to brown. Remove to wire racks to cool.
5. For frosting: Melt chocolate and butter in a microwave or heavy saucepan. Add sugar and milk; mix well. Frost cooled cookies.
Tips:
*Double the icing recipe if you'd like a generous smear of chocolate on top of each cookie.
Source: RecipeGirl.com (via Taste of Home Best Holiday Recipes 2006)
2 Responses to "Chocolate- Maple Cookies"
Leave a Comment