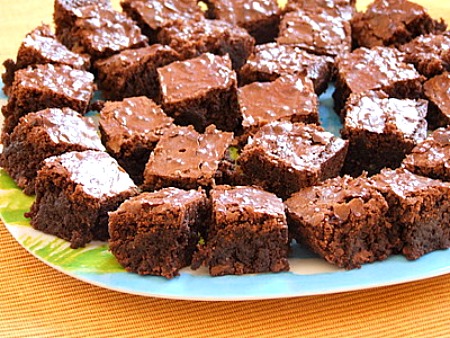 Yield: 20 brownie bites
Prep Time: 15 min
Cook Time: 25 min
Ooey Gooey Brownies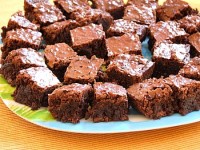 Ingredients:
1 cup all-purpose flour
1/2 teaspoon baking powder
1/4 teaspoon salt
3/4 cup (1 1/2 sticks) salted butter
6 Tablespoons unsweetened cocoa
1 1/2 cups granulated white sugar
3 large eggs, beaten
1 teaspoon vanilla extract
2 milk chocolate bars (like Hershey's), chopped into 1/4-inch pieces
Directions:
1. Preheat oven to 325 degrees F. Spray an 8x12-inch baking pan with nonstick spray.
2. In a medium bowl whisk together the flour, baking powder and salt; set aside.
3. Melt the butter in medium saucepan over medium heat; add cocoa and cook, stirring constantly, until consistency of chocolate sauce. Remove from heat. Pour hot mixture into a bowl and let cool slightly. Whisk in sugar and then whisk in eggs until blended and smooth. Stir in flour mixture. Stir in vanilla and chocolate pieces.
4. Pour batter into the prepared pan. Bake 20-25 minutes or until a toothpick inserted in the center comes out clean. Let cool before cutting into bars.
Tips:
*Try freezing the chocolate bits so they don't melt too much in the brownie batter.
*If you don't have an 8x12-inch pan, bake them in a 9x9-inch pan. They will be a little thicker, and the baking time may need to be increased slightly.
Leave a Comment