Here's a delicious taco recipe – simply grilled flank steak with fixins' to make Flank Steak Tacos!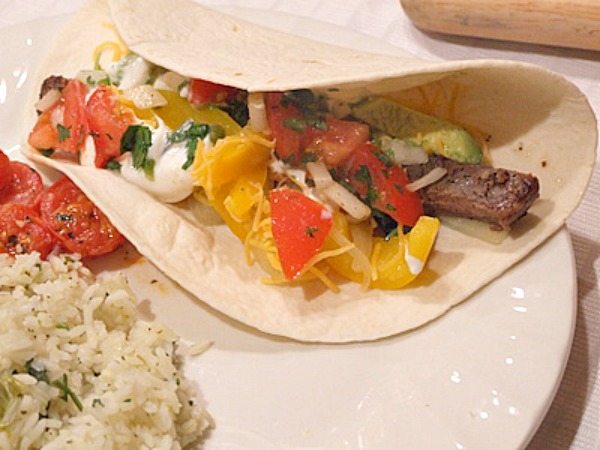 Yield: 6 servings
Prep Time: 30 min + marinating time
Cook Time: 15 min
Flank Steak Tacos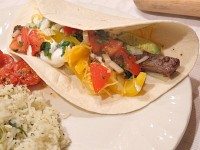 Ingredients:
3 teaspoons vegetable oil, divided
2 teaspoons dried Mexican oregano
1/2 teaspoon Kosher salt
1/2 teaspoon cayenne pepper
1/4 teaspoon black pepper
2 cloves garlic, minced
1 1/2 pounds flank steak, fat trimmed
3 cups vertically sliced onion (about 2 medium onions)
2 cups red and yellow bell pepper strips (about 2 large BP)
2 jalapeño peppers, seeded and halved lengthwise, thinly sliced
flour tortillas
sour cream, guacamole, tomatoes, cheese (optional condiments)
Directions:
1. Combine 1 teaspoon oil and next 5 ingredients in a bowl. Rub steaks with garlic-oil mixture; place in a large zip-top plastic bag. Seal; marinate in the refrigerator for at least one hour, or overnight.
2. Lightly spray rack of grill with cooking spray. Heat to medium high.
3. Heat remaining 2 teaspoons oil in a large nonstick skillet over medium-high heat. Add onion, bell pepper, and jalapeño; sauté 5 minutes. Keep warm.
4. Place steak on grill, and cook 4 minutes on each side (only turning once), or until desired degree of doneness. Let stand for 10 minutes on a cutting board before slicing crosswise (against grain) into 1/3-inch thick slices.
5. Heat tortillas in a covered casserole in 300 degree oven until warm and pliable. Place a small amount of meat in each tortilla; top with onion-pepper mixture.
6. Top with desired condiments such as guacamole, sour cream, tomatoes and cheese.
Tips:
*If you are preparing this recipe as GLUTEN-FREE, just be sure to substitute GF corn tortillas for the flour tortillas.
3 Responses to "Flank Steak Tacos"
Leave a Comment