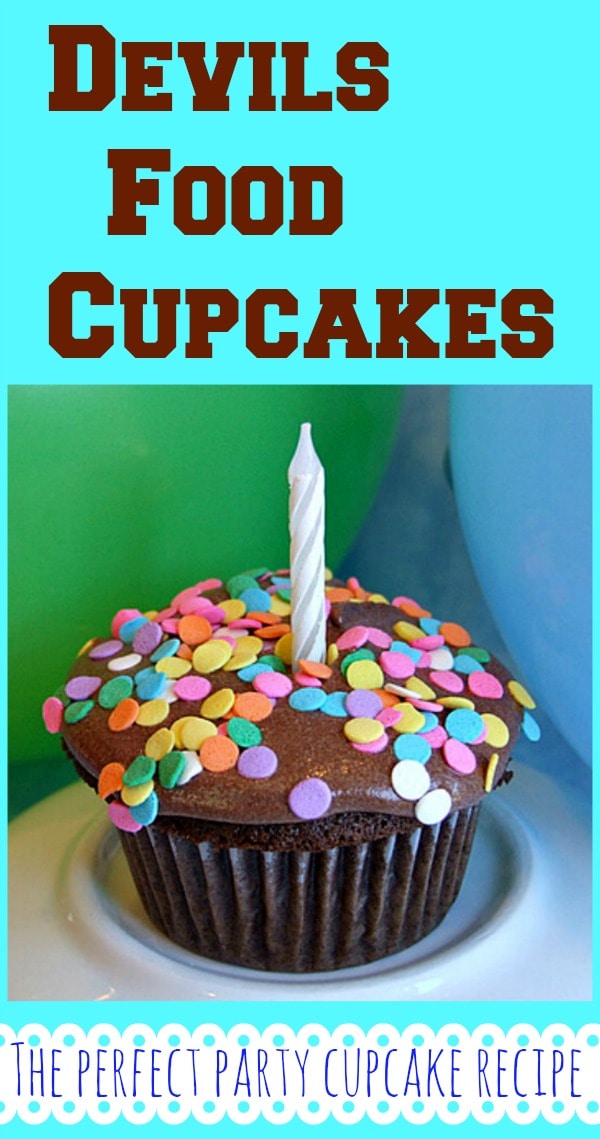 Yield: 24 cupcakes
Prep Time: 30 min
Cook Time: 20 min
Devil's Food Cupcakes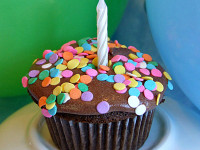 Ingredients:
CUPCAKES:
2 cups sifted cake flour (sift, then measure)
2/3 cup unsweetened cocoa powder
1 teaspoon baking soda
1/4 teaspoon salt
1/2 cup buttermilk
1/3 cup water
3/4 cup (1 1/2 sticks) unsalted butter, softened
1 3/4 cups granulated white sugar
3 large eggs
1 1/2 teaspoons pure vanilla extract
ICING:
12 ounces bittersweet or semi-sweet chocolate, chopped (or use chips)
3/4 cup heavy whipping cream
5 tablespoons unsalted butter, at room temperature
sprinkles or other decor, as desired
Directions:
1. Position a rack in the middle of the oven; preheat to 350°F. Rub the tops only of 2 muffin pans lightly with oil (to prevent tops of muffins from sticking to pan). Line 24 muffin cups with paper bake cups.
2. Prepare the cupcakes: In a large bowl, sift together the flour, cocoa, baking soda, and salt. In a small bowl, stir together the buttermilk and water.
3. In an extra-large bowl, beat the butter with an electric mixer on medium speed for 30 seconds. Add the sugar and beat about an 2 additional minutes or until light and fluffy. Add the eggs, one at a time, beating well after each addition. Beat in the vanilla.
4. Reduce the speed to low and alternately add the cocoa mixture and the buttermilk mixture to the butter mixture in three batches, beating just until well-blended.
5. Spoon the batter into the prepared muffin cups, filling each 3/4 full. Bake 15 to 18 minutes or until a wooden toothpick inserted into the centers comes out clean. Cool the cupcakes in the pans on wire racks for 5 minutes. Remove from pans.
6. Prepare the icing: Set a heatproof, deep bowl over a saucepan of about 1 1/2 inches of nearly simmering water. Add the chocolate and cream and whisk just until melted and smooth. Add the butter; whisk until melted and smooth. Remove the bowl from the pan and let the mixture cool to room temperature, then chill, covered, for 15 minutes.
7. Beat the icing with an electric mixer on medium-high speed 6 to 8 minutes or until thick enough to spread.
8. Evenly spread the cupcakes with frosting. Sprinkle with desired decor. If you get anxious, you can dip the tops into the frosting before it's entirely firmed up.
Leave a Comment