Gruyere, Arugula and Prosciutto- Stuffed Chicken Breasts
This dish has been featured in a post on The Recipe Girl blog: Recipes Using Arugula. This recipe is gluten-free adaptable– please see notes below the recipe.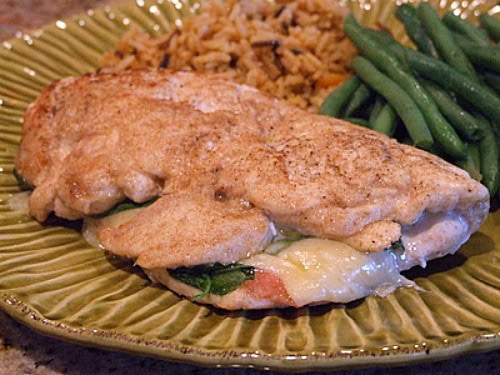 Yield: 6 servings
Prep Time: 20 min
Cook Time: 15 min
Gruyere, Arugula and Prosciutto-Stuffed Chicken Breasts
This recipe is really pretty easy. Once you pound the chicken out, it cooks really quickly. If you don't have a mallet, use your rolling pin!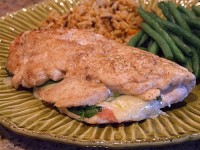 Ingredients:
6 (4 ounce) chicken breast halves
6 (1/2 ounce) slices prosciutto
6 (1/2 ounce) slices Gruyere cheese
1 1/2 cups arugula, stems cut off
1/2 teaspoon salt
1/2 teaspoon black pepper
3 Tablespoons all-purpose flour
1 Tablespoon olive oil
Directions:
1. Preheat oven to 350°F. Spray shallow baking pan with nonstick cooking spray.
2. Place chicken breast halves between 2 sheets of heavy-duty plastic wrap; pound to 1/4-inch thickness using a meat mallet or rolling pin. Discard plastic wrap. Top each chicken breast half with 1 slice of prosciutto, 1 slice of cheese, and 1/4 cup of arugula (or spinach), leaving a 1/4-inch border around the edges. Fold in half, pinching edges together to seal; sprinkle with salt and pepper. (The chicken can be prepared up to a day ahead and refrigerated at this point.)
3. Dredge chicken in flour, shaking off excess. Heat oil in large nonstick skillet over medium-high heat. Add chicken; cook 5 minutes on each side. Place chicken in prepared pan. Bake for 5 minutes or until done.
Tips:
*You can sub spinach for the arugula, if you wish.
*If you are preparing this recipe as GLUTEN FREE- just be sure that the brand of prosciutto you are using is designated as GF, and sub GF flour for the all-purpose flour.
Serving size: 1 stuffed breast
Calories per serving: 242
Fat per serving: 9g
Saturated Fat per serving: 3.5g
Sugar per serving: .30g
Fiber per serving: .23g
Protein per serving: 34g
Cholesterol per serving: 89g
Carbohydrates per serving: 4g
WW POINTS:
Points Plus Program: 6 Old Points Program: 5.5
Leave a Comment