Apple- Cranberry Pie with Oatmeal Cookie Crust
This recipe has been featured in a post on The Recipe Girl blog: Apple-Cranberry Pie with Oatmeal Cookie Crust.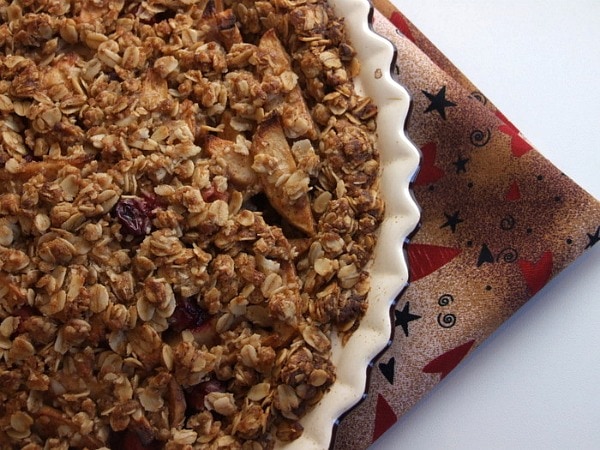 Yield: 8 servings
Prep Time: 30 min
Cook Time: 50 min
Apple- Cranberry Pie w/ Oatmeal Cookie Crust
This is a super delicious pie recipe. I love the fact that it's almost like an apple crisp made as a pie!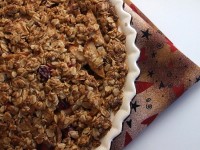 Ingredients:
CRUST:
3 cups old fashioned (rolled) oats
1 cup all-purpose flour
1/2 teaspoon salt
1 1/2 teaspoons cinnamon
6 Tablespoons light brown sugar
1 teaspoon vanilla extract
1 cup butter, melted
FILLING:
7 cups Granny Smith apples, peeled & thinly sliced
1 cup cranberries, fresh or frozen
3 Tablespoons lemon juice, freshly squeezed
1 1/2 teaspoon ground cinnamon
1/4 teaspoon ground allspice
1/4 teaspoon ground nutmeg
1/2 teaspoon lemon zest, grated
3 Tablespoons all-purpose flour
1/4 cup light brown sugar, packed
1/2 cup sour cream
Directions:
1. Prepare crust: Combine all crust ingredients in a medium-sized bowl, and mix well. Press firmly and evenly into the bottom and sides of a 9 or 10-inch pie pan (or 9-inch deep dish), forming a thick crust. Reserve about a cup of the crust mix for the topping.
2. Preheat oven to 375°F.
3. Prepare filling: Place sliced apples and cranberries in a large bowl. Drizzle with lemon juice and sprinkle with spices; toss until well coated. Add rind. Sprinkle in flour and mix again. Gradually add brown sugar and sour cream as you mix. Don't worry if the apple slices break a little while being mixed and tossed.
4. Distribute the filling into the unbaked crust. Sprinkle the reserved crust crumbs over the top and pat neatly into place.
5. Bake for 45 to 50 minutes or until the apples are soft and the crust is nicely browned on the edges. Note: If the top appears to be browning too quickly during baking, cover loosely with foil (check after about 30 minutes).
6. Serve hot, warm or at room temperature.
Tips:
*if you use a smaller pie pan, 7 cups of apples might be slightly too many apples- use your judgment... they should mound nicely.
*Depending on how thick you'd like the crust, you may have some crust mix left over. Use any remaining crust crumbs in little ramekins to make a couple of extra "apple crisps!"
*This is doubly good with a nice scoop of vanilla ice cream.
15 Responses to "Apple- Cranberry Pie with Oatmeal Cookie Crust"
Leave a Comment