Tuscan White Bean Soup with Prosciutto
This soup comes together really quickly and is absolutely delicious. Try serving it with a green salad and garlic toast.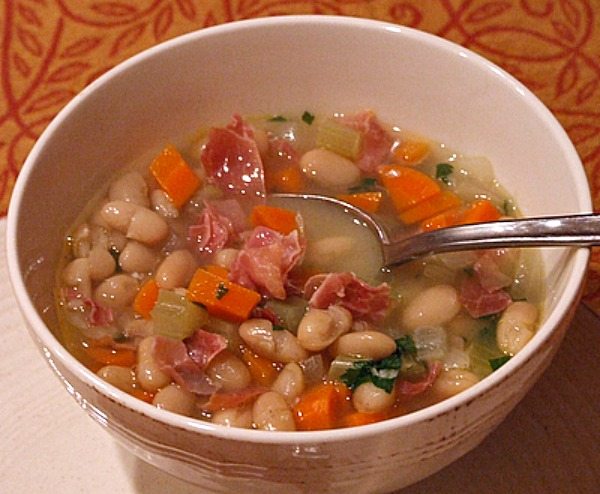 Yield: 4 servings
Prep Time: 25 min
Cook Time: 25 min
Tuscan White Bean Soup with Prosciutto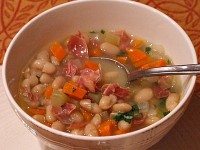 Ingredients:
2 teaspoons olive oil
1/2 cup chopped prosciutto or ham (about 2 ounces)
1 cup chopped onion
3/4 cup chopped celery
3/4 cup chopped carrot
1 clove garlic, minced
1 cup water
Two 19-ounce cans cannellini beans (or other white beans), undrained
2 whole bay leaves
One 15.75-ounce can fat-free, less-sodium chicken broth
2 tablespoons minced fresh parsley
2 tablespoons sherry (optional)
1/4 teaspoon ground black pepper
Directions:
1. Heat the oil in a large stockpot over medium heat. Add the prosciutto, and sauté for 2 minutes. Add the onion, celery, carrot, and garlic; sauté for 2 minutes or until soft.
2. Add the water, beans, bay leaves and broth, and bring soup to a boil. Partially cover, reduce heat, and simmer soup for 20 minutes.
3. Add the parsley, sherry and black pepper; cook for 1 minute. Discard bay leaves.
Tips:
*If you are preparing this recipe as GLUTEN-FREE, just be sure to use brands of prosciutto, chicken broth and beans that are known to be GF.
Nutritional Information per serving:
Serving size: 1 1/2 cups
Calories per serving: 356
Fat per serving: 7.8g
Saturated Fat per serving: 1.3g
Sodium per serving: 817mg
Fiber per serving: 7.8g
Protein per serving: 20.4g
Cholesterol per serving: 8mg
Carbohydrates per serving: 53.4g
WW POINTS per serving:
Points Plus Program: 9 Old Points Program: 7
Leave a Comment