4th of July Recipes: Red, White & Blue Potato Salad
I sent my husband to our local Specialty Produce place the other day and instructed him to, "Pick up anything that's red, white and blue."  He came home with loads of berries (which I made the Cheesecake Bars with) and then some red, white and blue potatoes.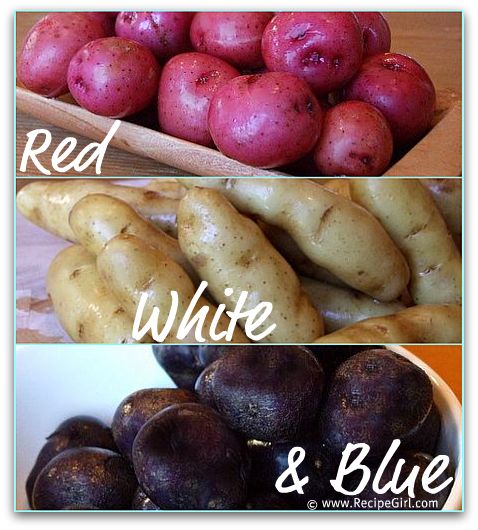 Blue potatoes?  Yes, blue.  Sometimes they have a bit more of a purple tint to them, but they're definitely blue.  They taste the same as other potatoes, but they're fun to cook with for fries, mashed potatoes or potato salad.  The flesh of the blue potato is blueish-purplish, and it works for the classic Red, White and Blue Potato Salad.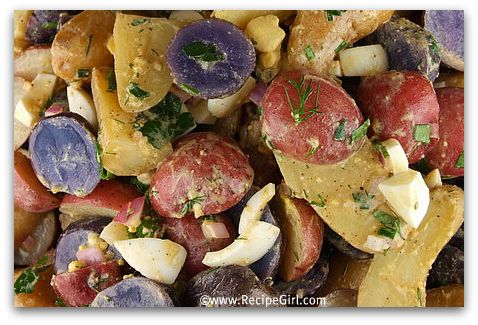 This Cooking Light recipe is a good choice for those who are watching their calories since it's a non-mayo based variety.   It's tossed with a mustardy oil & vinegar dressing instead.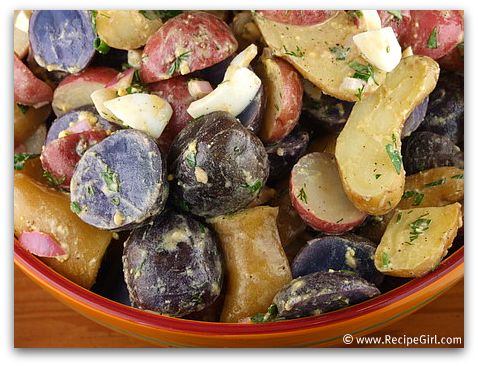 One serving (1 cup) is only 250 calories and 5 Weight Watcher points.  That's not so bad considering that mayo based potato salad can have upwards of 500+ calories per serving and a whopping 30 grams of fat!  Hah- maybe you'll think twice about eating that creamy potato salad this 4th of July (sorry if I ruined it for you 🙂 )
This recipe can be found HERE.
My FAVORITE potato salad recipe can be found HERE (warning… it's mayo based 😉 )
Note about blue potatoes:  If you think your market doesn't carry them, you've probably just never noticed them.  Since they're not a commonly used variety, our local market stocks them in the 'specialty basket' area near ginger and jalapenos and stuff like that (not with the rest of the potatoes), so you might ask your produce dept. if they carry them.  If you're not in San Diego, look for a resource in your town like our Specialty Produce (which mainly sells their fresh produce to restaurants, caterers, etc.).  Ask your local restaurants where they buy their produce from and you might be surprised that you can shop there too.
————————————————————–
Other great-sounding non-mayo potato salad recipes on the blogs:
Karina's Kitchen:  Champagne Vinegar Red Potato Salad (Gluten Free)
Hugging the Coast:  Mediterranean Garlic Hummus Potato Salad
101 Cookbooks:  Grilled Potato Salad
Simply Recipes:  Mom's Warm Potato Salad
A Good Appetite:  Grilled Sweet Potato Salad
28 Responses to "4th of July Recipes: Red, White & Blue Potato Salad"
Leave a Comment