Overnight Ham and Cheese Bake
This Overnight Ham and Cheese Bake is perfect for serving guests over the holidays- or for a family brunch date.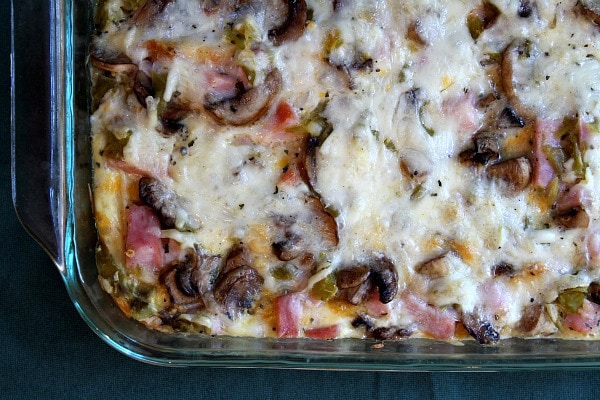 Picture this:  a bunch of people (relatives, friends, whoever…) are staying at your house.  Everyone wakes up in the morning and gathers around the coffee maker.    They're looking rather hungry.  What are you serving all of them for breakfast?  Sure you can order some bagels… or get out the cereal, pick up doughnuts or serve store-bought breakfast bread.  It's tough to decide what to do when you have a bunch of folks to feed.  I don't know about you, but my family has always been totally into serving brunch casseroles like this one.  Serve a bowl of fruit and some pastries on the side, and everyone is usually pretty darn happy.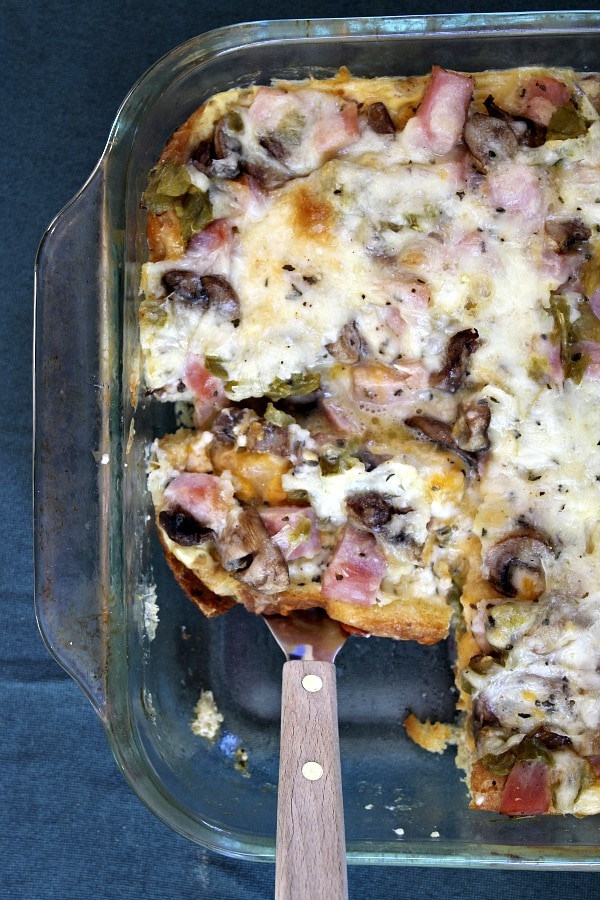 This one is easy because you get to prep it the night before and just let it sit overnight in the refrigerator.  In the morning, the first person up pops it into the oven for an hour.  It really can't get much easier than that.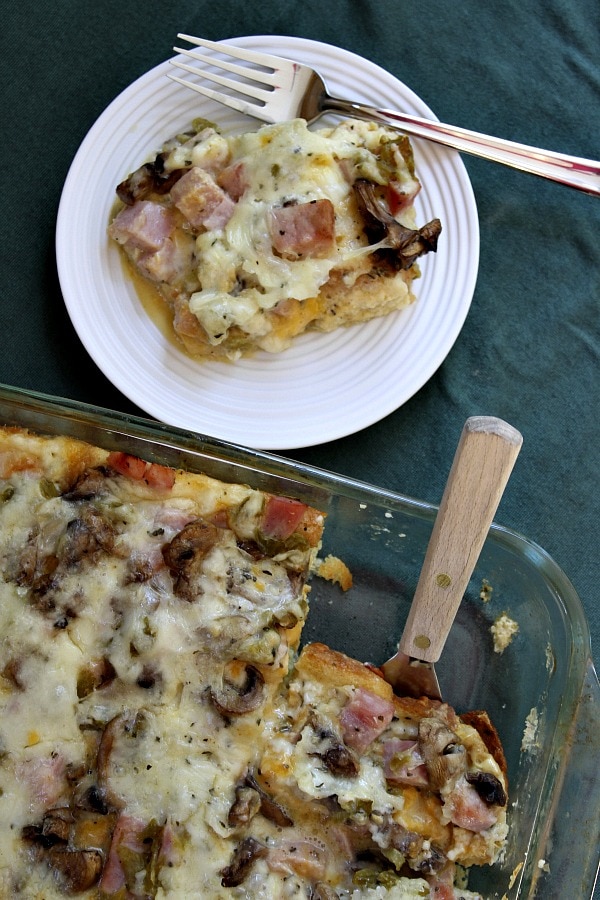 It turns out to be a cheesy egg casserole full of good things like ham and mushrooms.  I confess that I ate leftovers for lunch and breakfast for a few days after making this one.  It's my kinda meal- obviously, at any time of day.
Enjoy!
Yield: 10 servings
Prep Time: 20 min + overnight in fridge
Cook Time: 50 min
Overnight Ham and Cheese Bake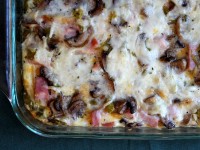 Ingredients:
6 slices of bread
2 tablespoons butter
1 1/2 cups grated Cheddar cheese
3/4 pound ham, chopped
8 ounces mushrooms, sliced and sautéed in a little butter until softened
One 7-ounce can diced green chiles
1 1/2 cups grated Monterey Jack cheese
6 large eggs
2 cups 2% milk
1/2 teaspoon salt
1/2 teaspoon paprika
1/2 teaspoon basil
1/2 teaspoon dry mustard
1/4 teaspoon onion salt
1/4 teaspoon freshly ground black pepper
Directions:
1. Butter 6 slices of bread; place butter-side-down in a 9x13-inch baking dish. Sprinkle with cheddar cheese. Place ham on top of cheese; then layer with mushrooms and chiles. Top with Monterey Jack cheese.
2. In a bowl, beat eggs and add milk, salt, paprika, basil, dry mustard, onion salt, and pepper. Pour over ingredients in dish. Cover with plastic wrap and refrigerate overnight.
3. To bake: Preheat oven to 325°F. Uncover casserole and bake for 50 to 60 minutes, or until eggs are set and no longer liquidy. Let stand for 10 minutes to set before serving.
Tips:
*Ham is pretty salty on its own, so go lightly if you choose to add salt to the recipe.
*You can go a little lighter on the cheese if you prefer.
18 Responses to "Overnight Ham and Cheese Bake"
Leave a Comment