Buffet Breakfast Casserole
This recipe is featured as part of an entertaining menu on the site: Christmas Day Brunch.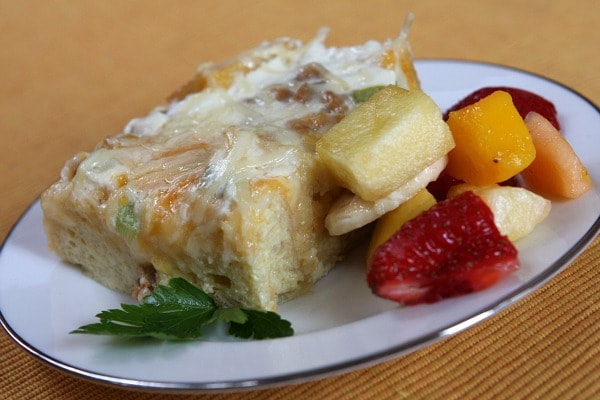 Yield: 10 servings
Prep Time: 30 min + overnight in fridge
Cook Time: 1 hr, 10 min
Buffet Breakfast Casserole
My family has been enjoying this for years! This is a great dish to make for company or family get-togethers. Its very convenient to be able to prepare it ahead of time.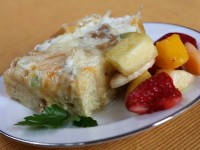 Ingredients:
1/2 loaf French bread, day old
2 Tablespoons butter, melted
4 ounces sausage, cooked and crumbled
8 ounces Swiss Cheese, shredded
4 ounces Cheddar cheese, shredded
8 large eggs
1 1/2 cups 2% milk
1/2 cup dry white wine
2 whole green onions, thinly sliced
1/8 teaspoon cayenne pepper
1 1/4 teaspoons Dijon mustard
3/4 cup sour cream
1/2 cup Parmesan cheese, shredded
Directions:
1. Spray 9x13" dish with nonstick cooking spray.
2. Spread pieces of French bread in dish and drizzle with butter. Sprinkle with sausage, Swiss, and Cheddar cheeses. Mix eggs, milk, wine, green onions, mustard and pepper. Beat until foamy. Pour over casserole and refrigerate overnight.
3. Remove from refrigerator 30 minutes before baking. Preheat oven to 325 degrees. Cover and bake for one hour.
4. Remove from oven. Spread with sour cream and sprinkle with Parmesan. Bake, uncovered, for an additional 10 minutes, or until lightly browned.
Comments