This recipe is so quick to whip up for a weekend breakfast:  Easy Sausage Breakfast Casserole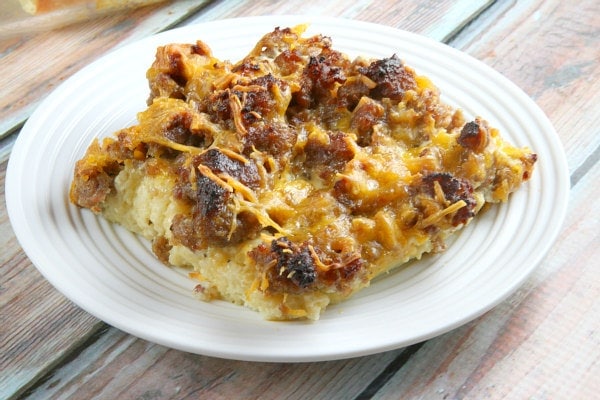 Easy Sausage Breakfast Casserole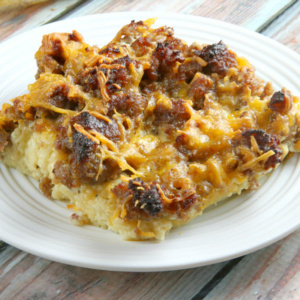 Yield:
8 to 12 servings
Prep Time: 20 minutes
Cook Time: 35 minutes
Ingredients:
6 slices bread, trimmed
16 ounces sausage (such as Jimmy Dean)
1 cup shredded cheddar cheese
3 large eggs, slightly beaten
1 1/4 cups milk
3/4 cup half and half cream
1 teaspoon Dijon mustard
1 teaspoon worcestershire sauce
1/2 teaspoon salt
dash of pepper
dash of ground nutmeg
Directions:
Spray a 9x13-inch casserole dish with cooking spray.
Place the bread in a single layer in the prepared dish (cut pieces to fit).
Brown the sausage in a large skillet over medium heat; spoon off any accumulated fat. Sprinkle the cooked sausage over the bread. Sprinkle cheese over the top.
In a medium bowl, whisk together remaining ingredients. Pour over the sausage and cheese layers.
Bake now, or cover and place in refrigerator for several hours or overnight.
When ready to bake, remove from refrigerator and bring to room temperature (about 1/2 hour). Preheat oven to 350°F.
Bake 30 to 35 minutes. The top should brown up nicely.
SOURCE: RecipeGirl.com