Here's a cake you're going to want to try.  It's the best cake I've eaten in ages:  7 Up Pound Cake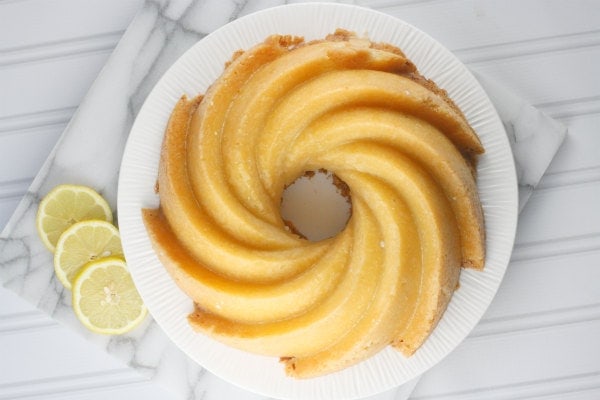 Isn't it pretty?  It looks like a giant donut, doesn't it?  If you keep reading, I chat a bit about the cake pan I used to make this cake.  But first you need to know… this is the most delicious pound cake I've ever eaten!  The edges are perfectly crispy leading to a dense, sweet, tender cake inside.  No ice cream or whipped cream or berries are needed.  It's incredible eaten as is… on its own.  I've been telling everyone all week… you must try this cake!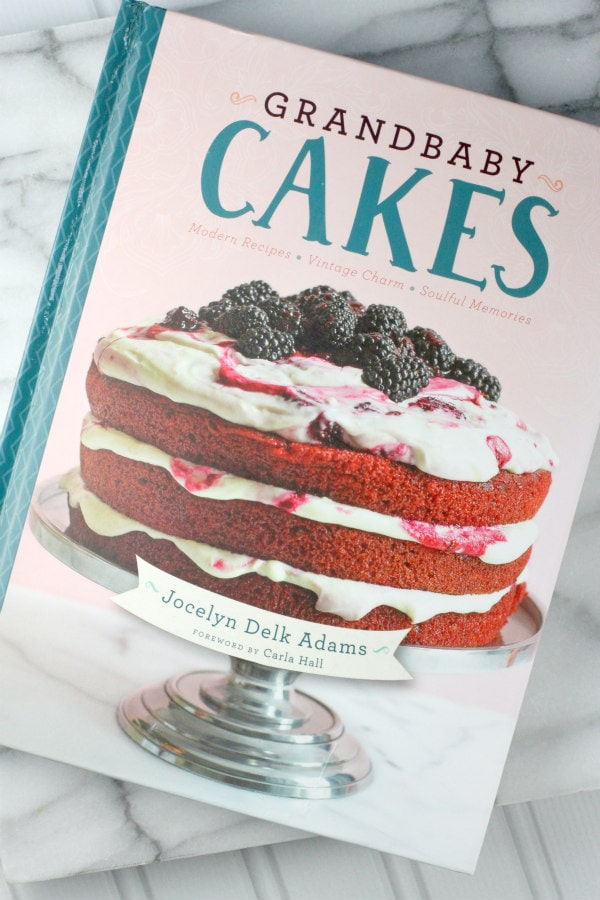 This recipe comes from the new baking cookbook by blogger Jocelyn Delk Adams:  Grandbaby Cakes: Modern Recipes, Vintage Charm, Soulful Memories (Agate Surrey, 2015).  I have been looking forward to getting my hands on this book for such a long time.  Adams is a skilled baker who grew up watching her grandmother create delicious desserts.  In the book you'll find pound cakes (German Chocolate, Kentucky Brown Butter), layer cakes (Classic Yellow, Red Velvet), sheet cakes (Marble Texas, Snickerdoodle Gooey Cake), cupcakes (Roasted Raspberry, Zucchini), celebration cakes (Peach Cobbler Shortcake, Snickers Cake) and seasonal cakes (Arnold Palmer Cake, Merry Berry Christmas Cake).  Grandbaby Cakes is full of great stories introducing the recipes with Southern charm mixed in.  If you're a baker, this is most definitely a book you'll want on your cookbook shelf!  I love it!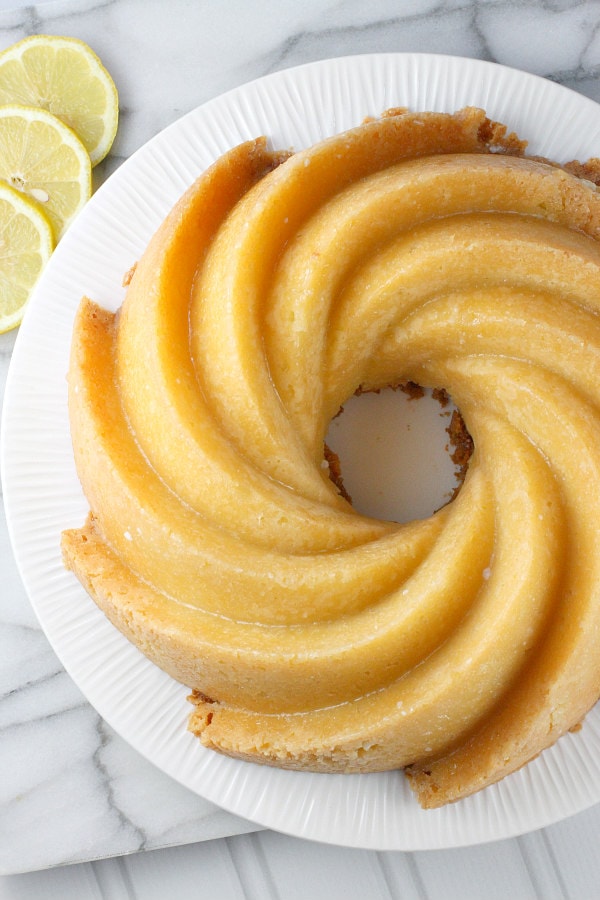 It looks so perfect, doesn't it?  I was so afraid to use this new pan for this cake.  I thought FOR SURE it would stick to the little nooks and crannies everywhere.  It didn't!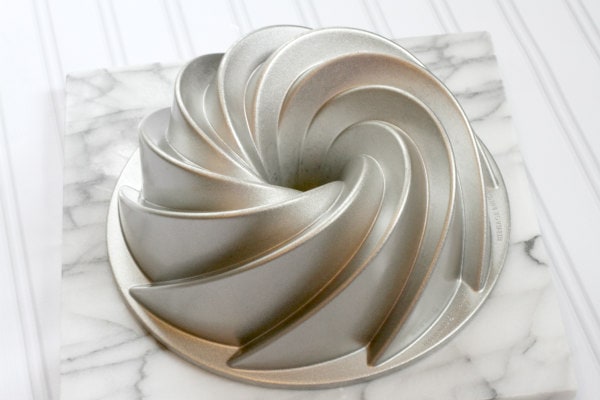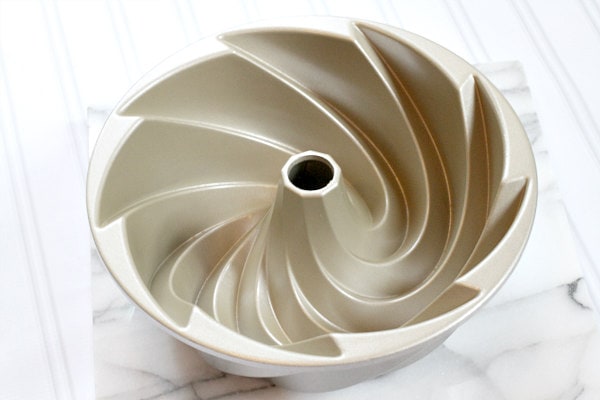 Here's the magic pan that makes this cake look so beautiful:  it's the Nordic Ware Platinum Collection Heritage Bundt Pan.   When I saw the photo of this cake in the Grandbaby Cakes cookbook, I had to have it!  I rushed to order it, and I'm so glad I did.  The baked cake slid out perfectly and it gave me a beautiful, perfect cake.  Best purchase ever!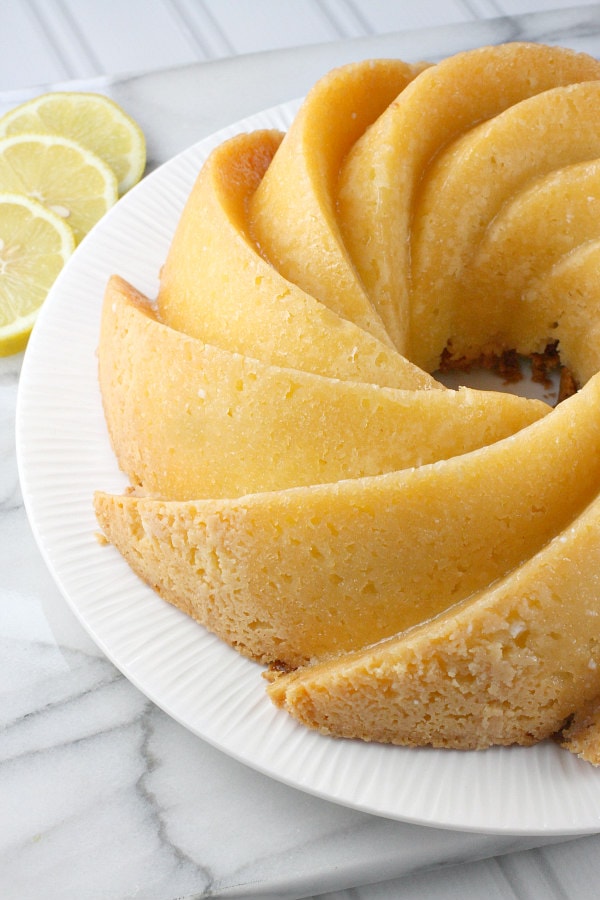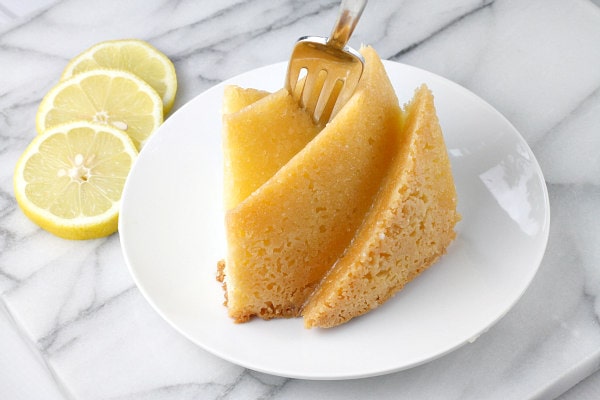 I wish you were here so I could give you a slice and stop eating it myself.  I sliced it up, slipped the slices into zip baggies and put them all in the freezer.  I thought they'd be SAFE there… but they're not.  Turns out this cake is good enough to eat frozen too 🙂
Yield: Serves 12 to 16
Prep Time: 20 minutes
Cook Time: 75 minutes
7 Up Pound Cake
Note from the book:  This recipe doesn't have a leavening agent, but it doesn't need one.  A significantly longer creaming process adds more air to the batter, giving it the lift it needs.  Don't skip this step!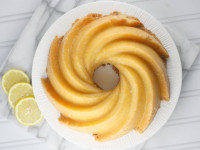 Ingredients:
Cake:
1 1/2 cups (3 sticks) unsalted butter, at room temperature
3 cups granulated white sugar
1 teaspoon salt
5 large eggs, at room temperature
3 cups sifted cake flour
1/2 cup 7UP soda, at room temperature
1 tablespoon lemon extract
Glaze:
1 cup powdered sugar
3 tablespoons 7UP soda
1/2 teaspoon lemon extract
Directions:
For the cake:
Preheat your oven to 315 degrees F. (yes, that says, 315!)  Prepare a 10-cup Bundt pan with the nonstick method of your choice.  I spray mine with nonstick spray just before scraping the batter into the pan.
In the bowl of your stand mixer fitted with the whisk attachment, beat the butter for 2 minutes on high speed.  Slowly add the sugar and salt.  Cream together for an additional 7 minutes, until very pale yellow and fluffy.  Add the eggs 1 at a time, combining well after each addition and scraping down the sides and bottom of the bowl as needed.
Turn your mixer down to its lowest speed and slowly add the flour in 2 batches.  Be careful not to overbeat.  Pour in the 7UP and lemon extract.  Scrape down the sides and bottom of the bowl and mix the batter just until combined.  Be careful not to overmix.
Pour the batter into the prepared pan and bake for 75 to 85 minutes, or until a toothpick inserted into the center of the cake comes out clean.
Let the cake cool in the pan on a wire rack for 10 minutes, then invert onto a serving plate.  Let cool to room temperature.  Lightly cover the cake with foil or plastic wrap so it does not dry out.
For the glaze:
In a small bowl, whisk together all of the ingredients until the mixture is pourable.  When the cake is completely cool, spoon the glaze over the cake and allow it to harden.  Serve at room temperature.
Here are a few more soda pop cake recipes you might enjoy:
Disclosure:  I was given a copy of Grandbaby Cakes for review purposes.  All opinions shared are my own.  This post contains Amazon affiliate links.
21 Responses to "7 Up Pound Cake"
Leave a Comment