This recipe for traditional French Toast Casserole is the perfect way to celebrate the new movie: Almost Christmas, opening in theaters nationwide on November 11th!  Today's post is being sponsored by Universal Pictures.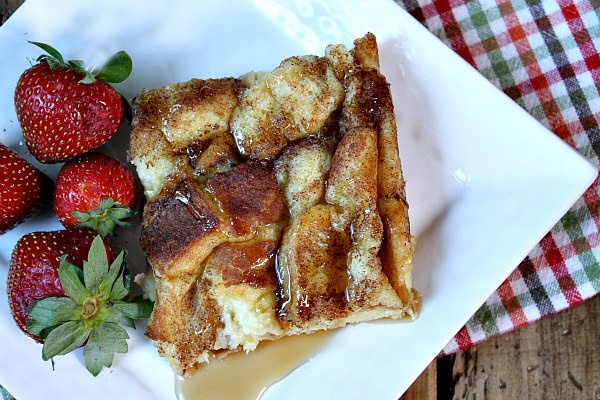 This breakfast casserole is an easy way to make French toast for the family all at once- and it's perfect for the holidays when you can make it the night before and just pop it into the oven the next morning.  It's super easy to prepare, and it's a no-fuss, no-fancy kind of special meal to share with family.  The full, printable recipe is included at the end of this post.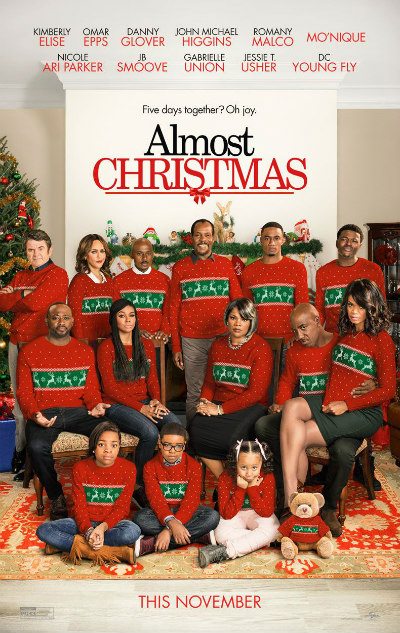 I love this time of year… when new movies are debuting for the holidays.  And I always look forward to seeing any kind of new holiday-themed movie for sure.  Almost Christmas is a movie most of us can relate to– having a house full of relatives during the holidays… everyone trying to get along… attempting to manage certain family members… family gossip… and gathering as a family to cook and enjoy memorable meals.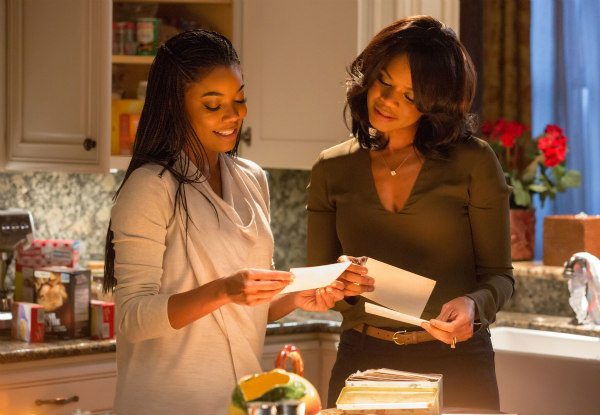 Sharing special meals with family is a big part of the holidays.  And a lot of memories made at the holiday dinner table are made from shared family recipes and traditions.
A big tradition in our family is to make a big brunch for Christmas morning.  I always put together a menu that is easy (no one wants to do a lot of work on Christmas morning, right?)  This French Toast Casserole recipe comes from a well-worn recipe card that my Mom copied from my grandma back in the 70's.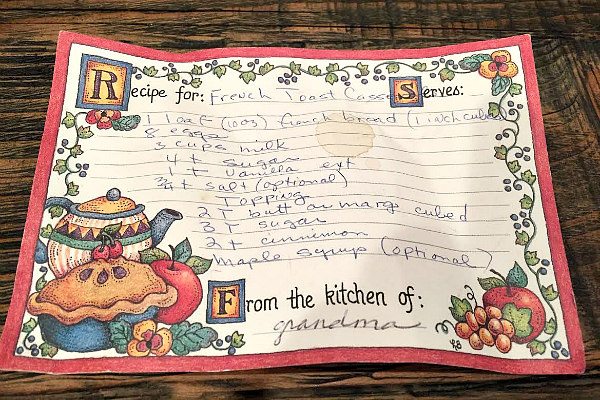 Do you treasure things like this as much as I do?  I have a whole pile of recipe cards from my mom- many of which were copied from various family members.  I'm so thankful that my older family members cooked and baked so much- more memories to share!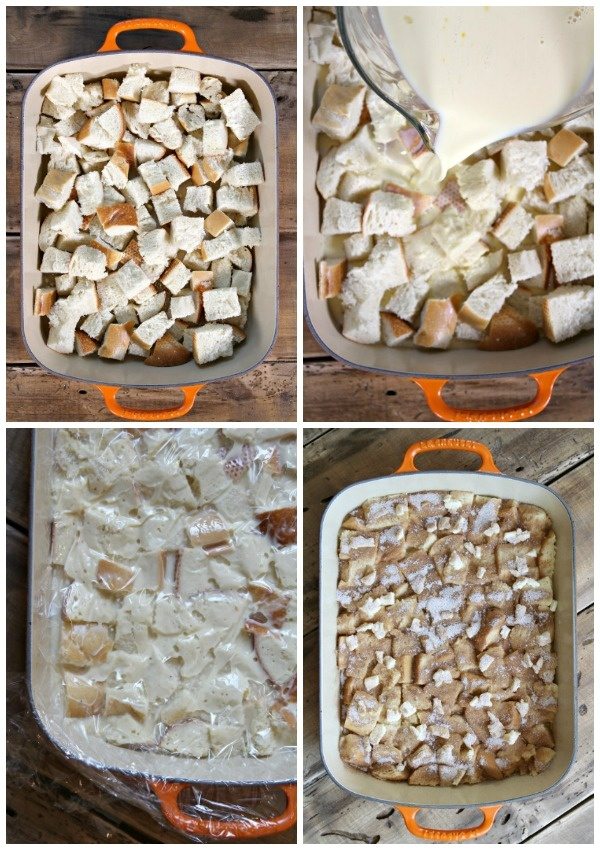 Here's a peek at how to assemble this breakfast casserole:
Bread cubes in a pan, egg custard poured over the top, soak time, and butter/sugar/cinnamon sprinkles.  It's so easy… which makes it the perfect holiday breakfast casserole.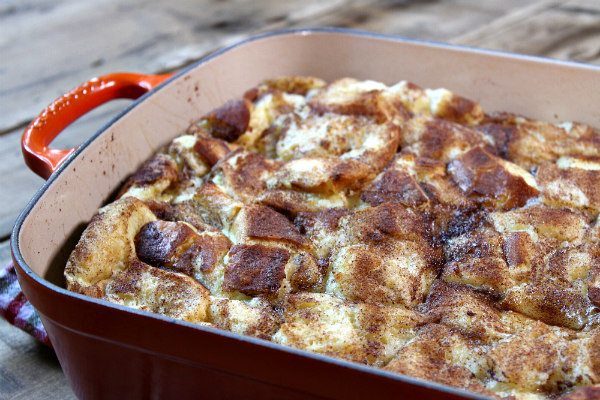 After a good soak- several hours or overnight- the casserole is baked until puffed and golden (about an hour).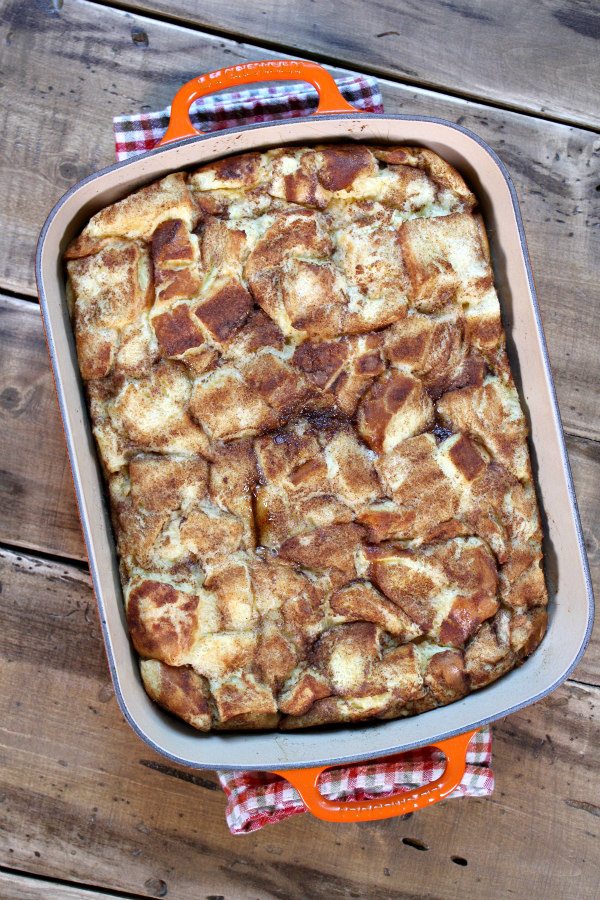 Isn't it beautiful?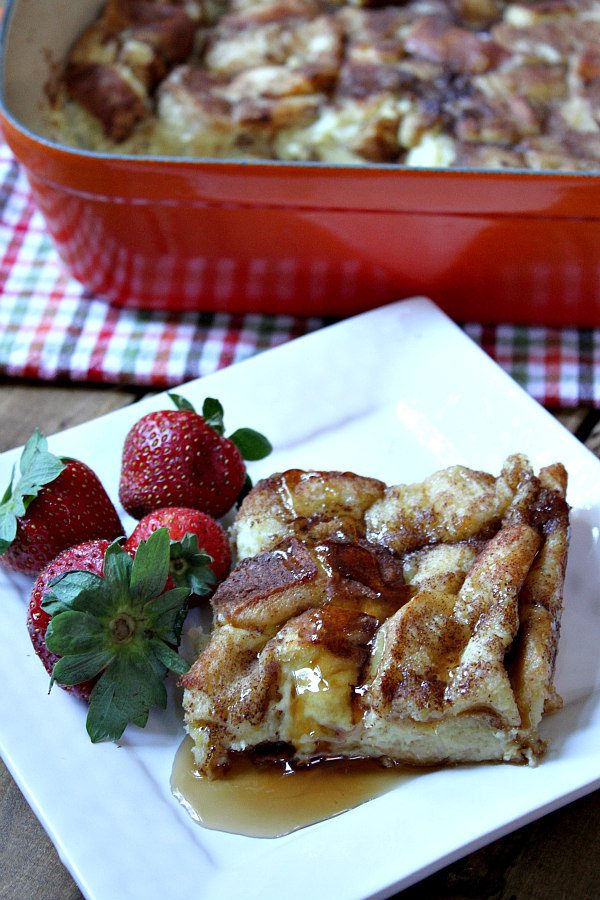 Warm slices are topped with warm maple syrup.  It's such a comforting choice for everyone to enjoy on a holiday morning.
About the movie: Almost Christmas tells the festive story of a beloved patriarch who asks his family for one gift this holiday season: to get along. If they can honor that wish and spend five days under the same roof without killing one another, it will be a Christmas miracle.
Check out the trailer below and in theaters:
Yield: 6 to 8 servings
Prep Time: 20 minutes (+ overnight soak time)
Cook Time: 1 hour
French Toast Casserole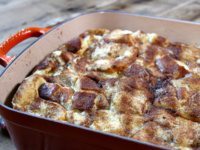 Ingredients:
Casserole:
10 to 12 ounces french bread loaf, cubed
8 large eggs
3 cups whole milk
2 tablespoons granulated white sugar
1 tablespoon vanilla extract
1/2 teaspoon salt
Topping:
2 tablespoons cold butter, chopped into tiny pieces
3 tablespoons granulated white sugar
1 teaspoon ground cinnamon
Plus warm maple syrup, for serving
Directions:
Spray a 9x13-inch pan (or similar casserole dish) with nonstick spray.  Sprinkle the bread cubes in the prepared pan.
In a large bowl, whisk together the eggs, milk, sugar, vanilla and salt.  Pour the egg mixture over the bread cubes.  Cover with plastic wrap, pressing the plastic down against the bread cubes to submerge them in the egg mixture.  Refrigerate for at least 4 hours or overnight.
Remove the pan from the refrigerator 30 minutes prior to baking to let it warm up closer to room temperature.  Preheat the oven to 350 degrees F.
Remove the plastic wrap and discard.  Sprinkle the butter pieces evenly over the casserole.  Combine the sugar and cinnamon and sprinkle that evenly over the top of the casserole.
Cover the pan with foil and bake for 45 minutes.  Remove the foil and bake for an additional 15 minutes.  You'll see the casserole puff up considerably- it will settle down once you remove it from the oven and it begins to cool.  Serve warm slices with warm maple syrup.
SOURCE:  RecipeGirl.com
Here are a few more holiday breakfast casserole recipes you might enjoy:
16 Responses to "French Toast Casserole"
Leave a Comment