I had the unique opportunity recently of visiting Sam's Club headquarters in Bentonville, Arkansas. There were a few of us food bloggers there, in addition to several Mommy bloggers. We were given a tour of the flagship store, where we were able to talk to department heads/buyers about the products they carry and how decisions are made.
Buyers from various departments talked to us about how the clubs are evolving. Instead of stocking enormous sized items, they're transitioning to providing normal-sized products that are more pantry and freezer-friendly. Instead of opening a giant bag of frozen corn, you'll find that they sell a big bag of corn, but inside that bag are several smaller bags that you can open as you need them. Same with the spaghetti pictured here. I hope they continue to do this with all of their products. I wanted to buy syrup the other day and did not buy it because the bottle was too big.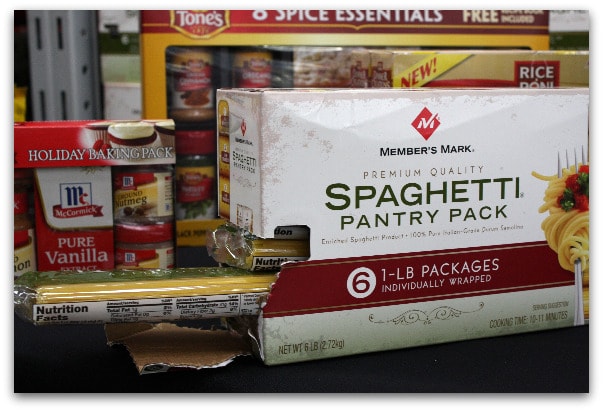 Produce is bought with highest quality in mind. They explained that they will always try to find the best produce out there, and if an organic version is available then that's a bonus. The berries we spotted looked fresh and vibrant.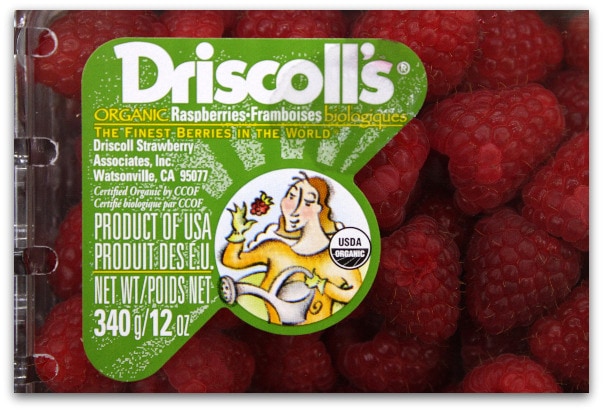 Have you ever seen these pears?? They're a miniature, sweet pear… perfect for little hands.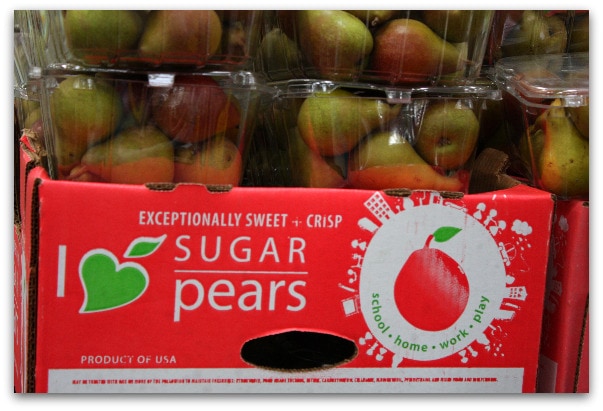 Many of the clubs already have an International Cheese Island– where you'll begin seeing some of those new, imported cheeses I've been talking about.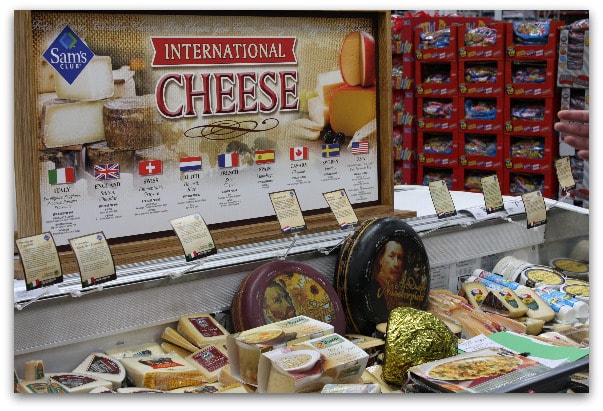 Bloggers were treated to an amazing, food-filled luncheon, where their chef prepared an entire holiday meal using Sam's Club products. Turns out you can buy mashed potatoes, gravy, stuffing, cranberry sauce… etc. already prepared and ready to serve, and they do not use any preservatives in their food. I'm sure this is quite the lure for folks who don't wish to be burdened with the overwhelming task of hosting a holiday meal. And you can jazz up their products in some quick and easy ways- check out Sam's recipes & entertaining link for ideas. At the luncheon, they decorated the chairs with these cute, giant ribbons & ornaments– which are all sold at the club in their holiday decor section. I couldn't resist the ribbon, so I bought it for a dinner party I hosted– and decorated my dining room chairs. I'm keeping them on for Thanksgiving too!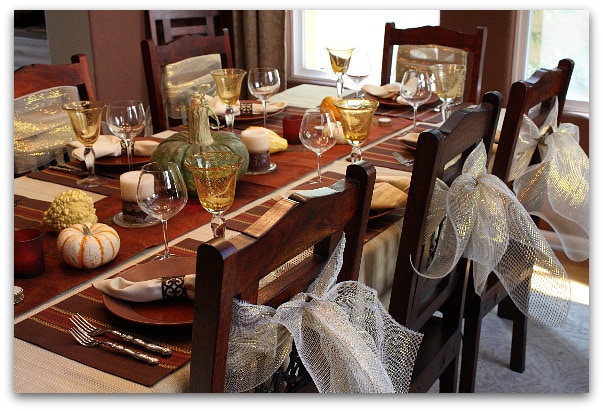 If the luncheon wasn't enough, we were also taken through a full-tasting from each department. These are the products that were standouts for me…
I usually make my own cakes, but there are plenty of people who don't bake. Sam's has a most delicious selection of cakes for the upcoming holidays (all priced under $20). I tasted them all and I was pretty impressed- Chocolate Truffle Cake, Red Velvet Cake, Red Velvet Cheesecake and Italian Creme Cake. They have many more to choose from too, but these were the best!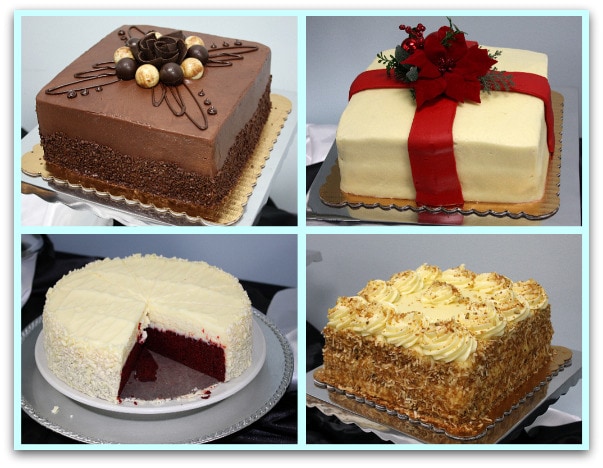 I do a fair amount of dipping candies and cookies during the holidays, so I found this to be a useful product (easier and cheaper than melting chocolate chips). It's available in regular chocolate too.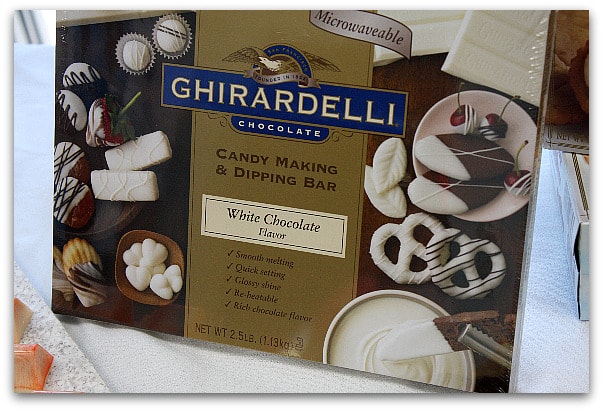 And this pull-apart bread we tried was really, really good. It would be perfect for a dinner party since it's reminiscent of a homemade product.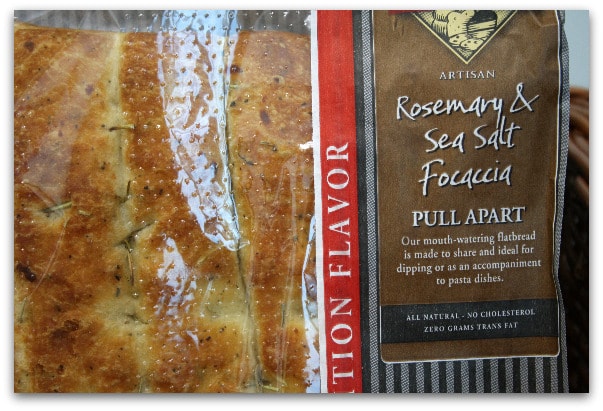 I think the thing I was most impressed with during my time at Sam's Club headquarters, was our experience in their Sensory Lab. They actually put every food product that they are considering carrying in the club through a blind taste testing! The products are tasted and scored on a 9-point scale. If anything scores below a 7, it's not considered for the club. We tasted some White-Chocolate Cranberry Shortbread Cookies during our visit. We gave them feedback that the cranberry and white chocolate were not detectable flavors and that the cookies were too big. Sam's will then go back to the distributor and give them this feedback. The distributor has the opportunity to modify its product and then send it back to Sam's to get re-tested.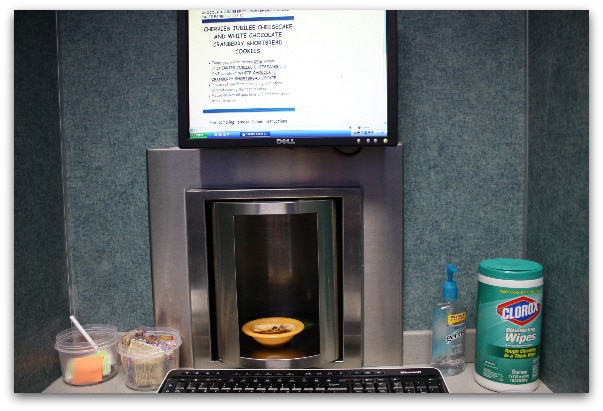 All in all it was a great experience. I think the group of us who attended were extremely impressed with the company and how they operate. Everyone in the company seems so proud of what they do, and it's clear that they stand behind their products. The buyers asked us bloggers if there was anything that we'd like them to carry that we are not seeing in their clubs. A couple of things were mentioned… unsalted butter in cubes (instead of one giant chunk), and nonfat organic milk. If there is a product you'd like to see your Sam's Club carrying in their club, please mention it in the comments below. Maybe someone will be listening 😉
All of the products mentioned in my post should be available in your local Sam's Club now… or in the coming weeks. You can always ask your manager if you're looking for something specific.
Here are some of my favorite food blogging friends who were with me on the trip to Arkansas… out to dinner on our last night there. Pictured: Kristin (Dine and Dish) and Maria (Two Peas & Their Pod).


Ann Marie (This Mama Cooks) and Estela (Weekly Bite)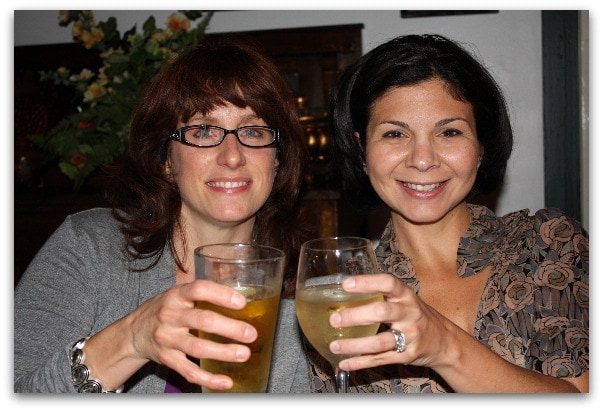 Me and Peabody (Culinary Concoctions by Peabody)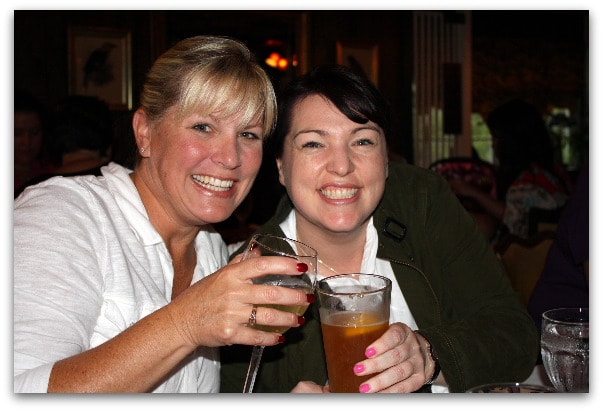 Also in Arkansas (and amazing too!), but not pictured: Amanda (Amanda's Cookin) and Michele (Gourmet Mom on the Go).
A special thanks to Sam's Club for their hospitality. Sam's Club provided meals, transportation and lodging for the trip. What is stated in this post are my own, honest impressions about the club and its products.