These Baked Birthday Cake Doughnuts are a sweet and delicious way to kick off any celebration!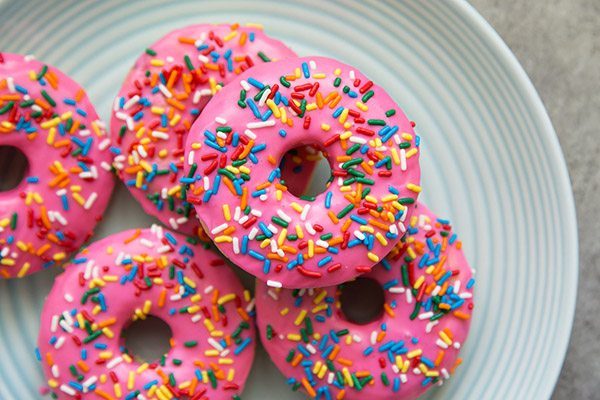 With these baked birthday cake doughnuts, you can celebrate like it's your birthday everyday. There's no need to wait for a special occasion to enjoy this treats.
There is just something so festive about glazed doughnuts topped with rainbow sprinkles. They just put me in such a happy mood! However, if pink glaze isn't your thing, these doughnuts are even tastier with a rich chocolate glaze.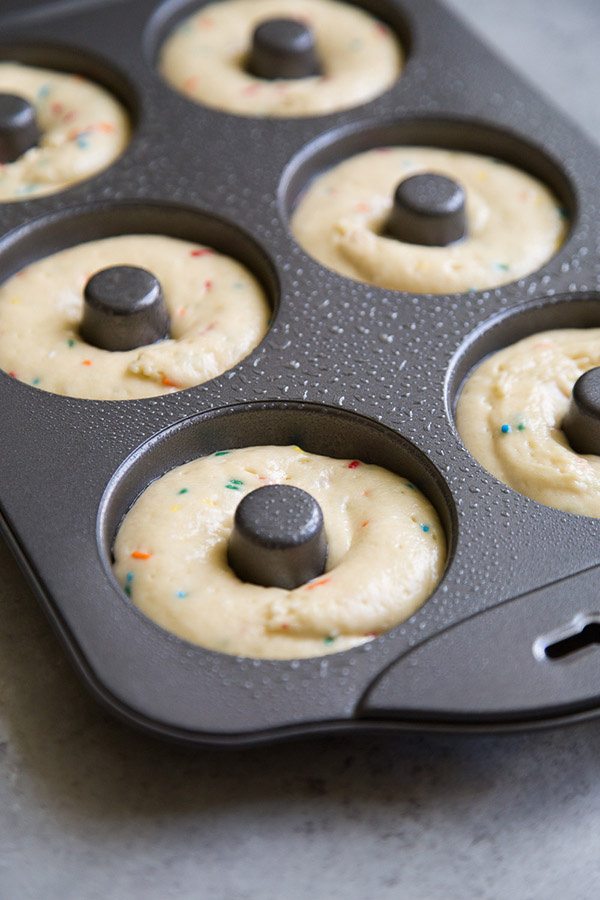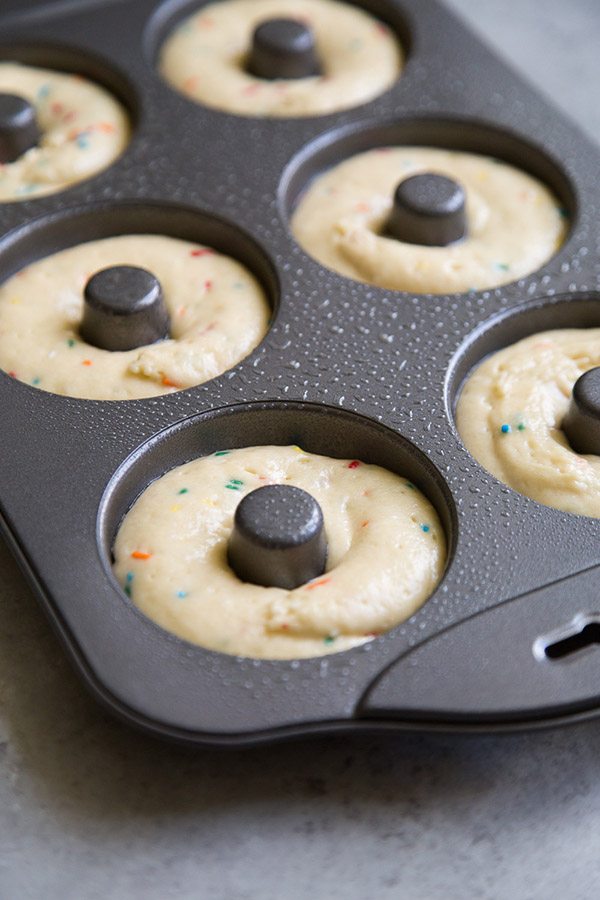 While baked doughnuts could never truly replaced traditional fried doughnuts, these are tasty and much healthier alternative. (This recipe for 6 baked doughnuts only contains one tablespoon of butter!) Baked doughnuts are similar to cupcakes and muffins in batter and texture. These easy to make baked doughnuts do require the use of a doughnut pan. If you don't have one, you can double this batter to bake 6 standard muffins.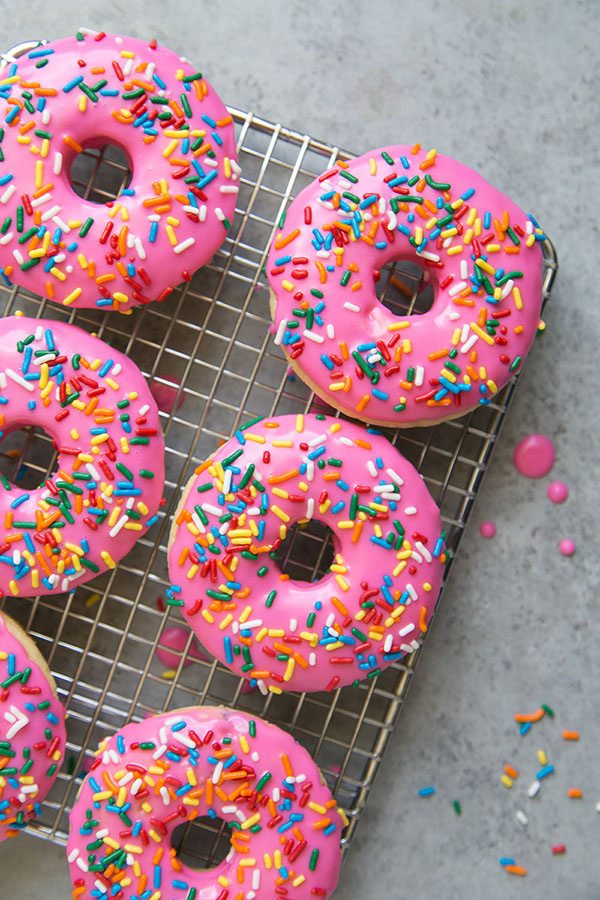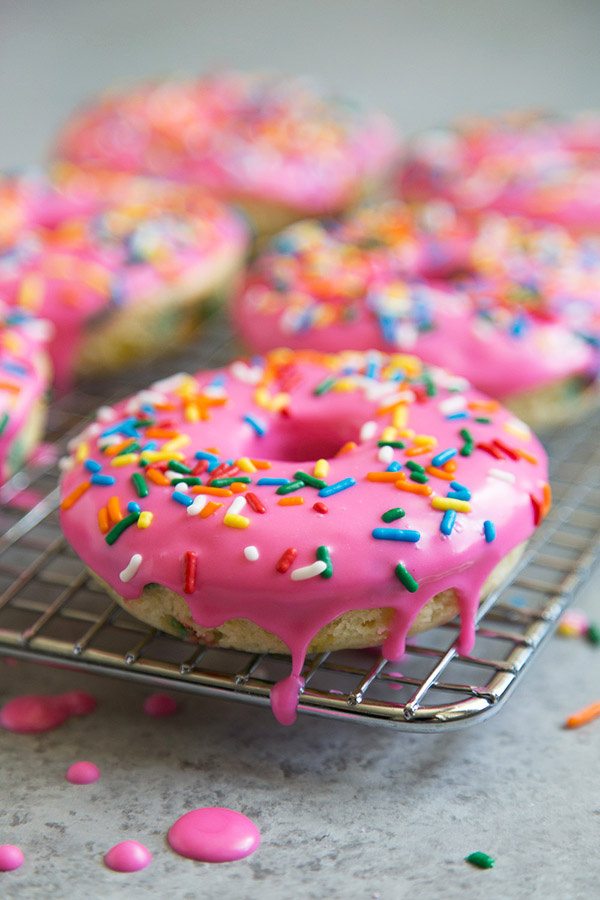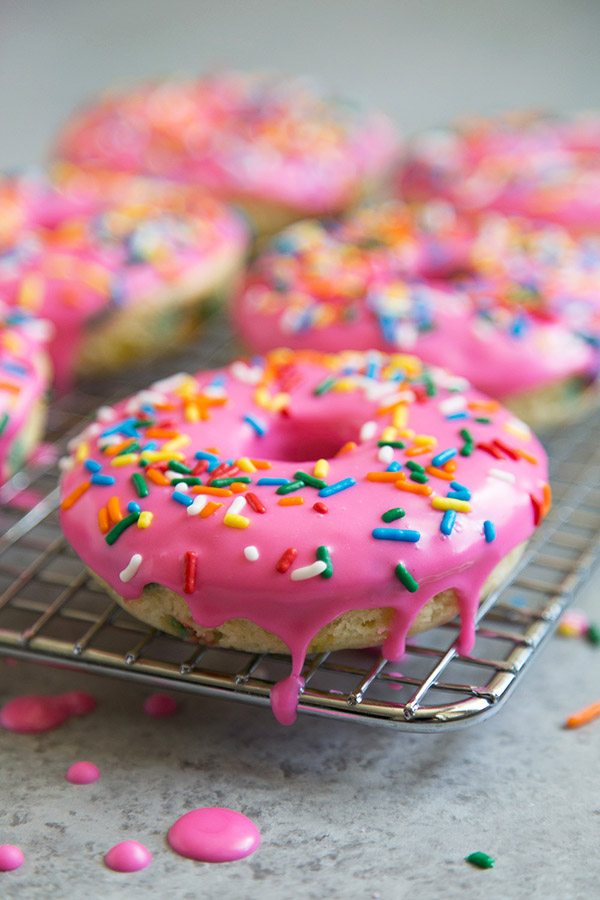 This recipe makes for a classic vanilla base. Feel free to add flavors and extracts of your choosing to make it your own. Try adding some mini chocolate chips and a touch of almond extract. Perhaps a dash of rosewater and a raspberry glaze. Ditch the glaze and toss the cake doughnuts in cinnamon sugar. The options are endless!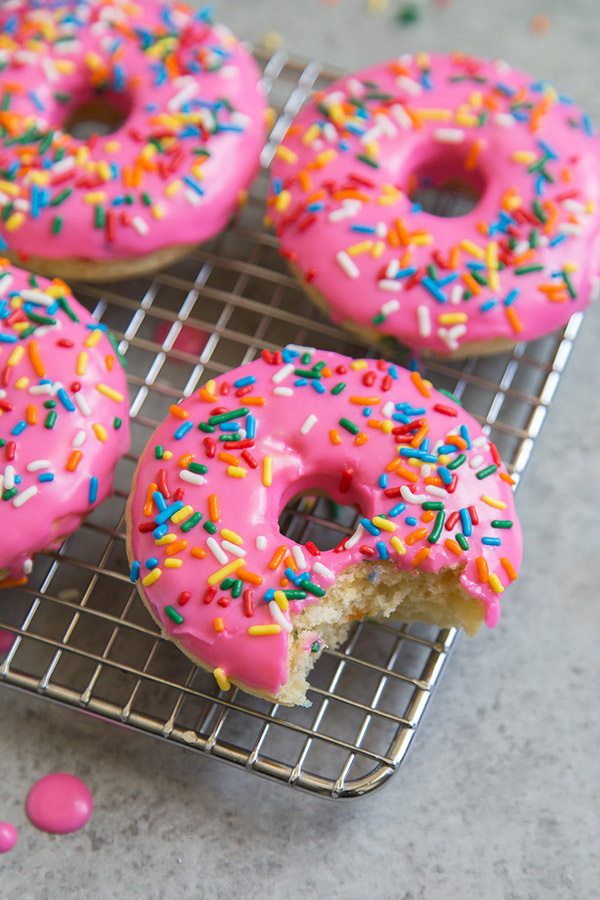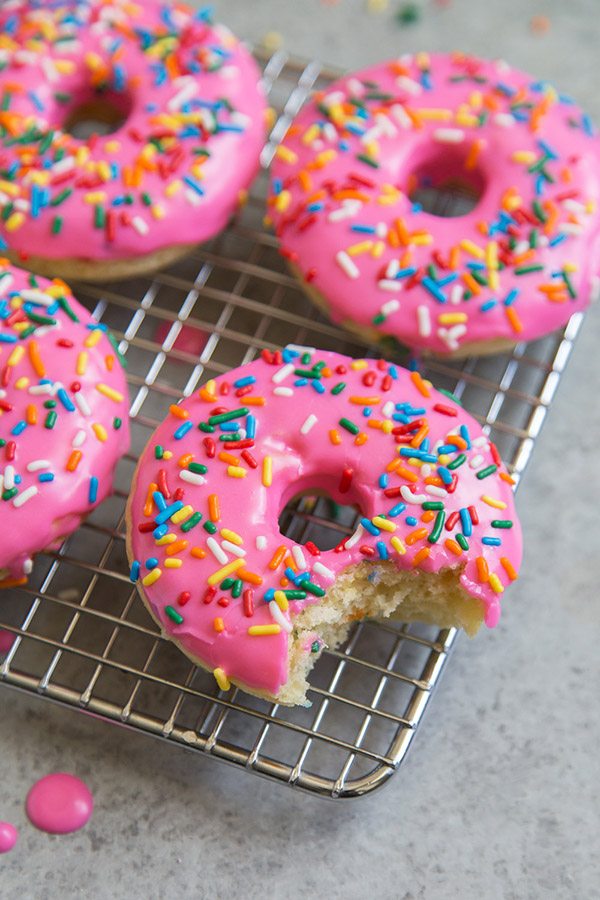 Baked Birthday Cake Doughnuts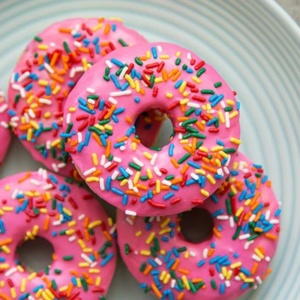 Yield:
makes 6 doughnuts
Prep Time:15 minutes
Cook Time:20 minutes
Ingredients:
Baked Cake Doughnuts:
1 cup all-purpose flour
7 tablespoons granulated sugar
1 teaspoon baking powder
1/2 teaspoon fine sea salt
1 tablespoon unsalted butter, melted
1 large Eggland's Best Egg, room temperature
1/3 cup half and half (or heavy cream), room temperature
1 teaspoon pure vanilla extract
1 tablespoon rainbow sprinkles
Glaze:
3/4 cup powdered sugar
1 tablespoon half and half, or heavy cream
1/2 teaspoon pure vanilla extract
pink food gel coloring, as needed
Directions:
Preheat oven to 350 degrees F. Lightly grease standard 6-cavity doughnut pan and set aside.
In a large bowl whisk together the flour, sugar, baking powder, and salt. In another bowl, whisk together the melted butter, egg, half and half, and vanilla.
Add the liquids to the dry mixture and stir to combine until there are no longer any dry streaks of flour. Fold in sprinkles until evenly distributed.
Using a piping bag (or spoon), fill the prepared doughnut pan about two-thirds full of batter. Bake for 18 to 20 minutes until toothpick inserted in cake doughnut comes out clean. Allow to cool in pan for 3 minutes before inverting pan and unmolding cake doughnuts.
To make the glaze: Stir together the powdered sugar, half and half, and vanilla until smooth. Add a few drops of food coloring until desired color is achieved.
Dip the cake doughnuts into the glaze and immediately top with sprinkles. Cake doughnuts can be enjoyed immediately or once the glaze is set.
SOURCE: RecipeGirl.com
Here are a few more baked doughnut recipes you might enjoy: