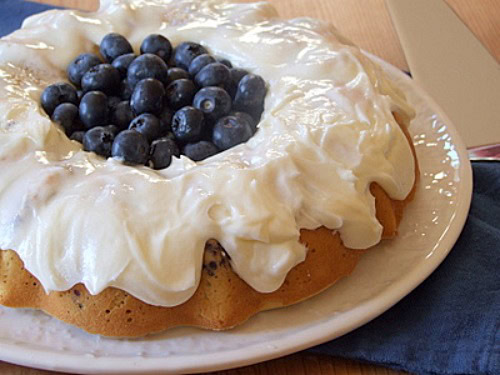 Blueberry Cake with Lemon Buttercream
This is a nice, light cake with yummy frosting.
Yield:
8 servings
Prep Time: 25 min
Cook Time: 30 min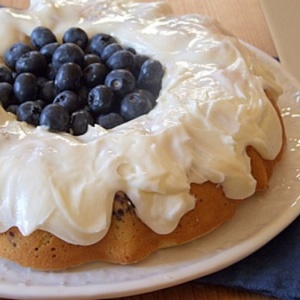 Ingredients:

CAKE:
1 1/2 cups fresh blueberries (or frozen, thawed and well-drained)
2 Tablespoons all-purpose flour
1 large egg
1/2 cup granulated white sugar
2 Tablespoons butter, softened
1 teaspoon vanilla extract
1 1/2 cups all-purpose flour
2 teaspoons baking powder
1/4 teaspoon salt
1 cup warmed milk

LEMON BUTTERCREAM:
1/2 cup butter (1 stick), at room temperature
1 cup powdered sugar, sifted
2 Tablespoons fresh lemon juice

GARNISH:
1 cup fresh blueberries, rinsed and dried

Instructions:

1. Preheat oven to 350°F. Generously grease and flour a 6-cup ring mold. Set aside.

2. In a small bowl, toss blueberries with 2 Tablespoons flour. Set aside.

3. In a medium bowl, beat egg, sugar, butter and vanilla with a mixer on high speed until fluffy. In a separate bowl, thoroughly stir together 1 1/2 cups flour, baking powder and salt.

4. Alternately add flour mixture and milk to creamed mixture, beginning and ending with the flour mixture. Mix well after each addition. Gently fold in blueberries.

5. Pour batter into prepared mold. Bake 30-35 minutes or until wooden pick inserted near center comes out clean. Cool in mold for 10 minutes. Remove from mold and cool on rack for 10 minutes. Transfer to platter.

6. Prepare Lemon Buttercream: In a small bowl, beat butter and powdered sugar on high speed until fluffy. Beat in lemon juice.

7. Spread Lemon Buttercream on top of cooled cake, letting it drizzle over sides. Place blueberries in center of ring for garnish.

Tips:

*If you prefer more of a "drizzle" for your icing, use a little bit less powdered sugar and a little more lemon juice.