Buttermilk Blueberry Cake is a delicious summer cake recipe that bakes and rises high and is full of fresh and juicy blueberries.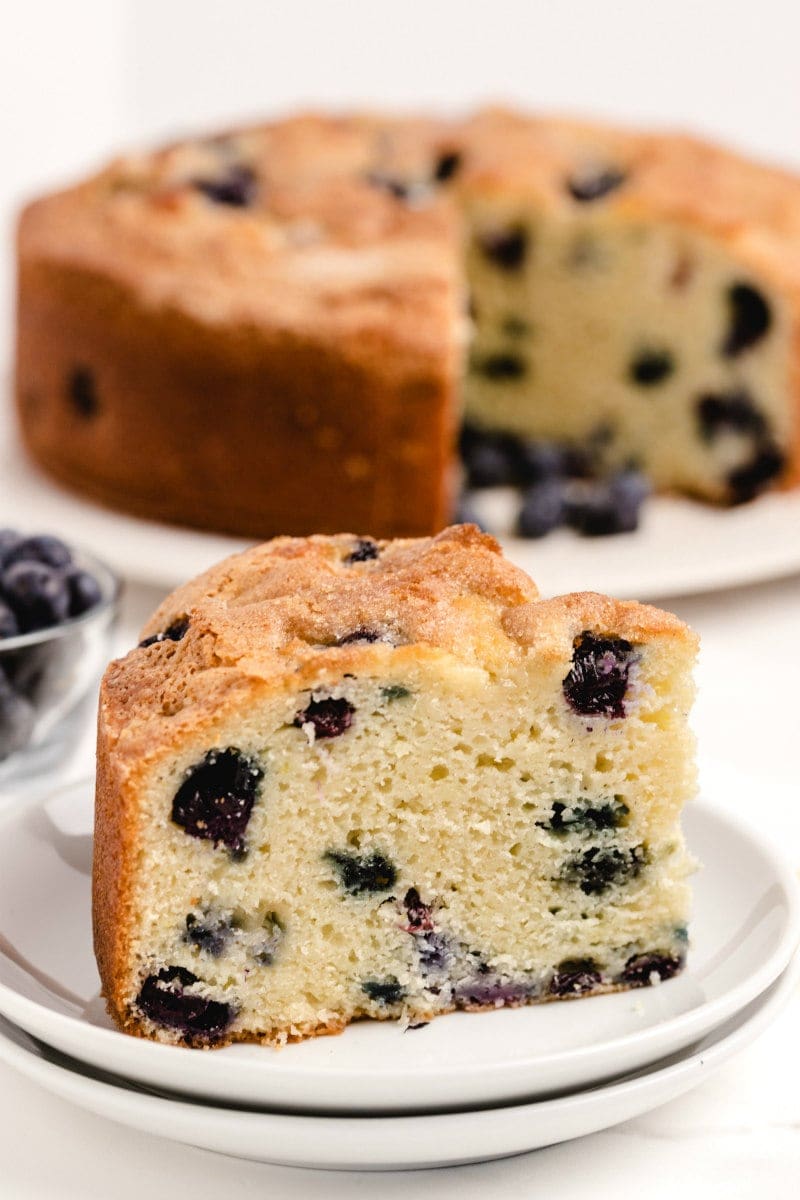 Many years ago, I cut this recipe out of a magazine at a doctor's office. This is a cake recipe that actress-turned-Food-Network personality Valerie Bertinelli shared in the magazine. She described it as a lighter cake that she's made for many years. I can see why it's a repeat recipe for her. It's really a lovely summer blueberry cake with great flavor.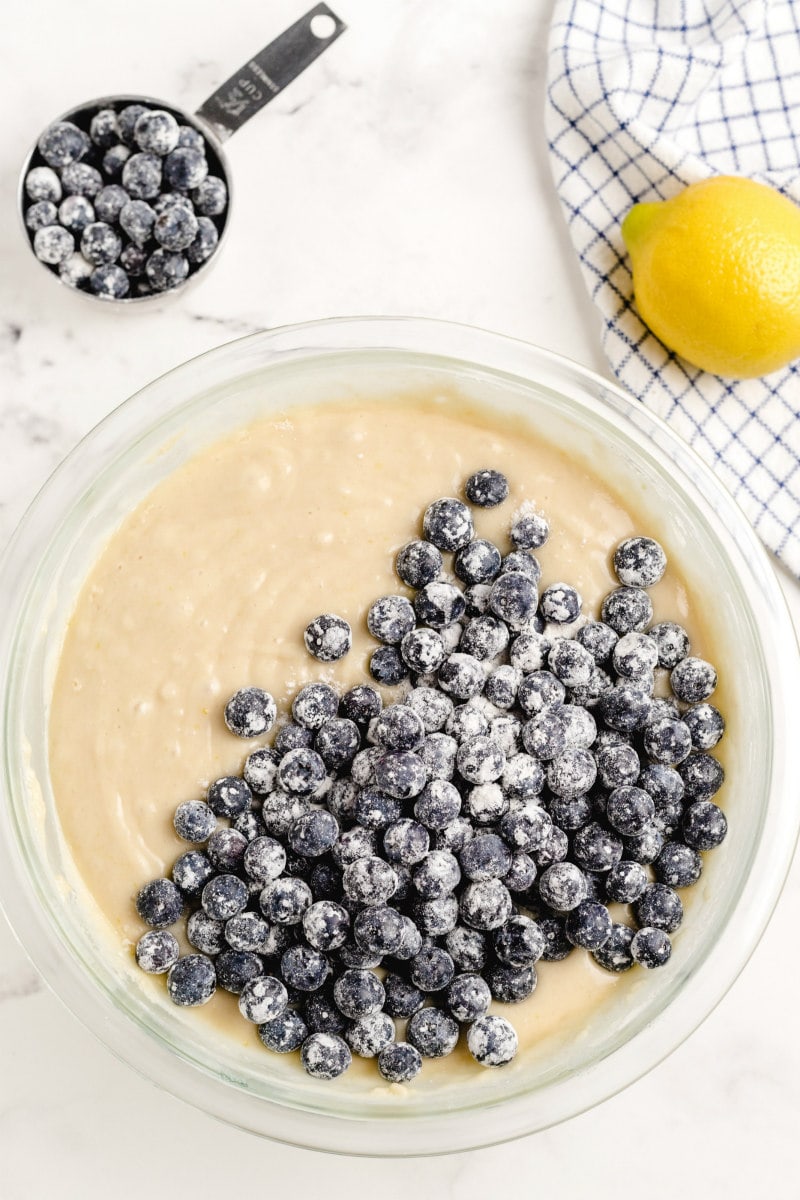 How to make Buttermilk Blueberry Cake:
The batter is pretty typical. A wet batter is made that includes buttermilk, egg whites and lemon zest. There is only 1/2 cup of oil in the whole cake. It's combined with the dry ingredients to create the complete batter for the cake. Fresh blueberries that have been tossed in flour are stirred in (the flour keeps the blueberries from sinking into the cake while baking).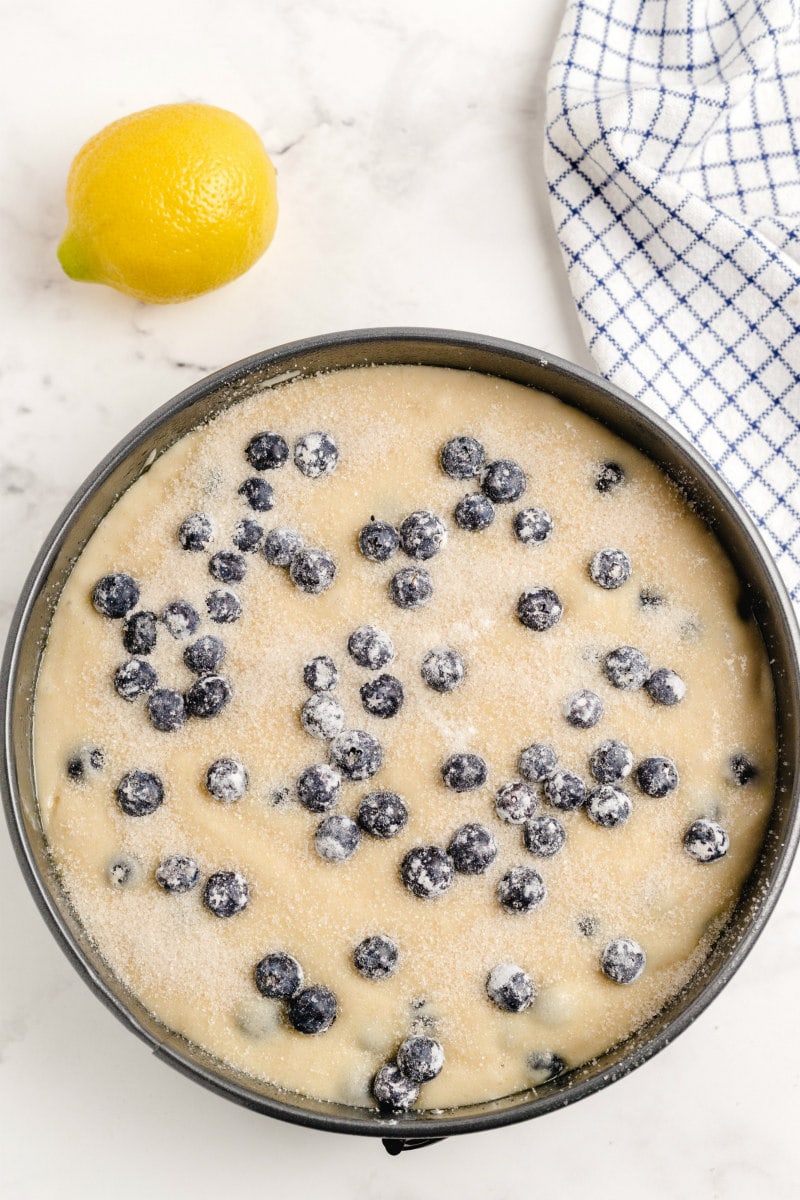 The batter is then scraped into the pan and topped with a few more fresh blueberries. Sprinkle a little coarse sugar on top before baking.
What kind of pan do you need for this cake?
The pan you'll use to bake this cake is important to note. Because this buttermilk blueberry cake bakes up tall, you will definitely need to use a 9-inch springform pan. If you don't have one, you should buy one. You'll use it for cheesecakes! The batter fills the 9-inch springform pan and it rises well above the top when baking. Don't try to substitute a 9-inch round cake pan in this recipe unless you take quite a bit of the batter out to make some extra muffins with it.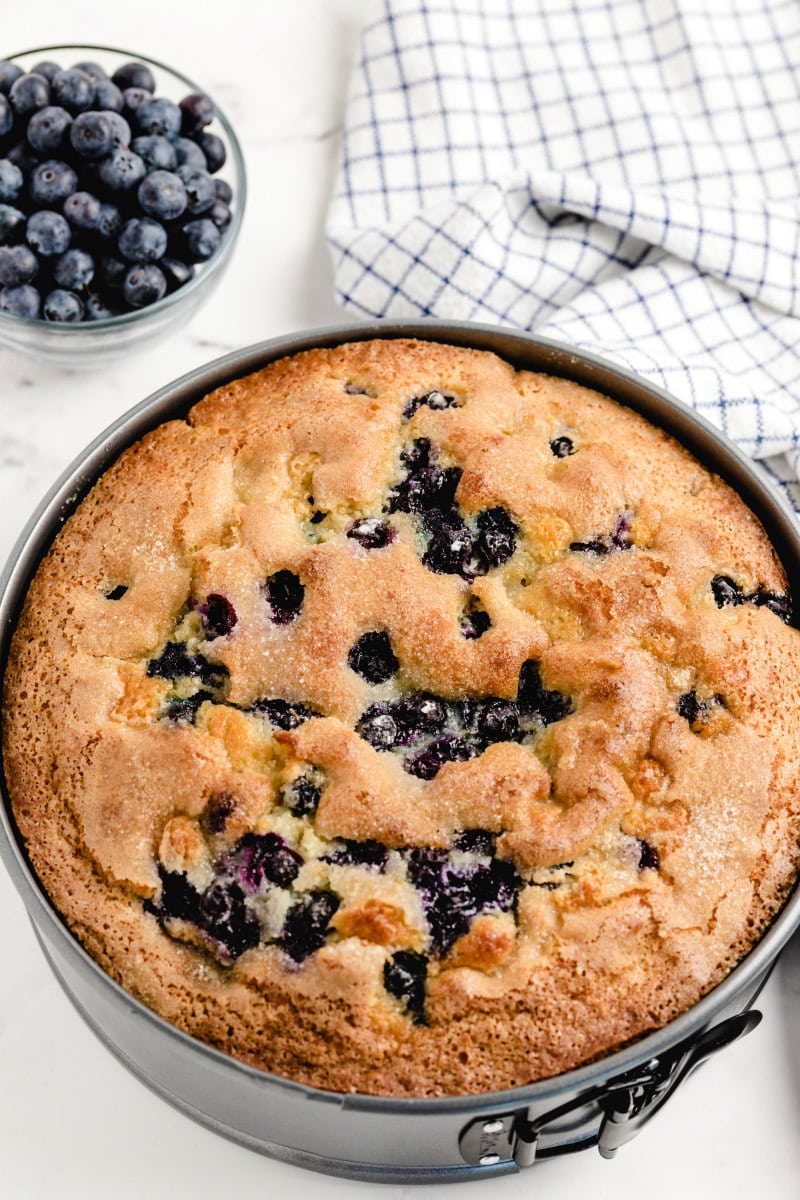 It bakes up tall and beautiful!
How to make your own buttermilk:
Add 1¾ tablespoons of freshly squeezed lemon juice to a measuring cup, then pour the milk in the cup to the 1¾ cup line. Let it sit for 5 minutes or so and you will have homemade buttermilk!
This Buttermilk Blueberry Cake can be served as dessert, an afternoon snack or as a coffee cake to eat with breakfast. The nutritional information included in the recipe is figured assuming the cake will be cut into 24 servings. This will give you a smaller slice of cake. I recommend you consider it to be 12 or 16 servings and enjoy a larger slice! If you're counting Weight Watcher points, figure 24 servings- a link to the WW points is included in the recipe card below.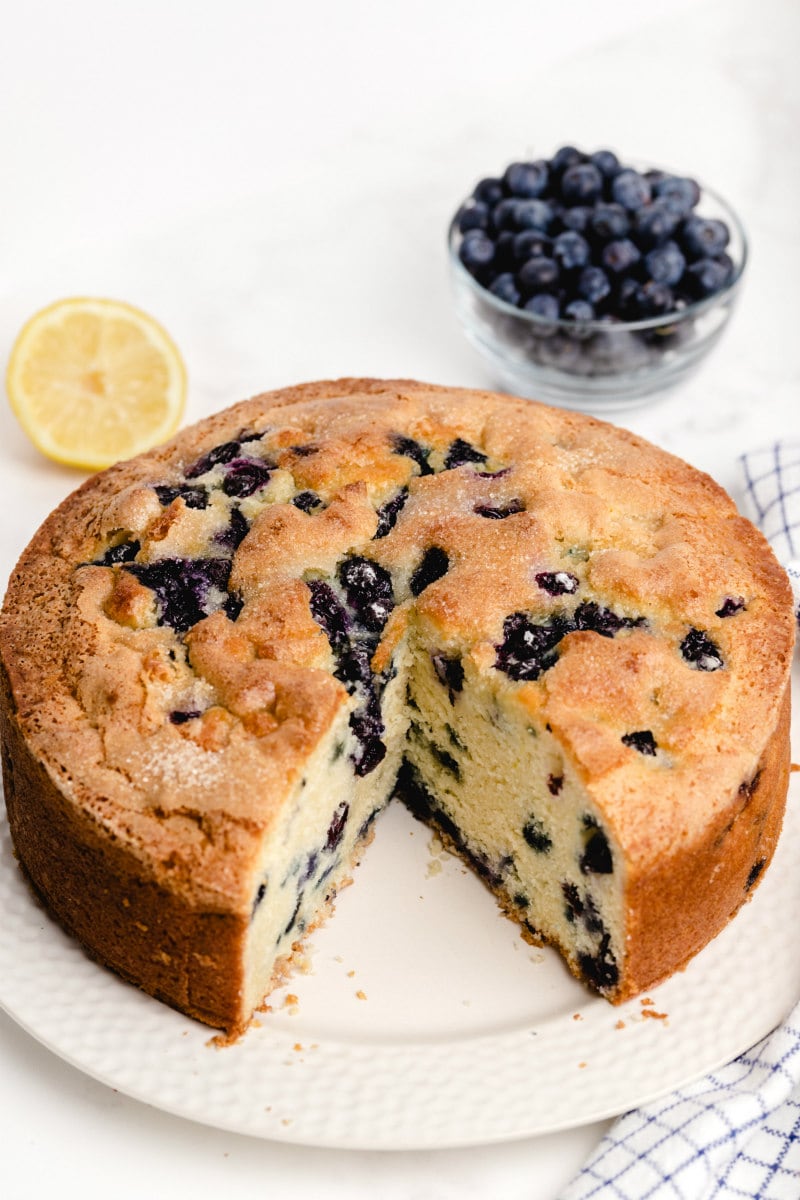 Since the recipe only calls for lemon zest and no actual lemon juice, you might consider squeezing your lemons and saving the juice for later (it freezes well). Alternatively, you can combine some of the lemon juice with powdered sugar and drizzle a glaze over this cake. This Buttermilk Blueberry Cake is a nice summer dessert. I love that it's a lighter dessert. The whole family will like this one. Enjoy!
Blueberry Cake Recipes:
Buttermilk Blueberry Cake
Totally delicious breakfast or snack cake!
Recipe Details
Ingredients
3¾

cups

all purpose flour

2¼

teaspoons

baking powder

¾

teaspoon

baking soda

¾

teaspoon

kosher salt

1¾

cups

buttermilk

1½

cups

granulated white sugar

½

cup

canola or vegetable oil

2

large

eggs

2

large

egg whites

2

teaspoons

freshly grated lemon zest

2

cups

fresh blueberries

(or 12-ounces frozen blueberries, thawed)

1

tablespoon

all purpose flour

2

tablespoons

coarse sugar

(such as Sugar in the Raw or Demerara)
Instructions
Preheat thee oven to 350°F. Spray a 9-inch springform pan with nonstick spray. Do not use a 9-inch cake pan- it won't be big enough.

In a large bowl, whisk together the flour, baking powder, baking soda and salt; make a well in the center.

In a medium bowl, whisk together the buttermilk, sugar, oil, eggs, egg whites and lemon zest. Pour into the well of the flour and stir to combine (a few lumps in the batter are OK- do not over mix).

In a medium bowl, toss the blueberries with the 1 tablespoon of flour to evenly coat. Fold all but ½ cup of the blueberries into the batter. Spread the batter into the prepared pan and top with the remaining ½ cup blueberries.

Sprinkle with the coarse sugar and bake until the cake is brown and a wooden pick inserted into the center comes out clean, 70 to 75 minutes.

Let the cake cool in the pan for 15 minutes, then remove the outer ring and transfer to a wire rack to cool completely.
Nutrition
Serving:
1
serving
,
Calories:
191
kcal
,
Carbohydrates:
32
g
,
Protein:
4
g
,
Fat:
6
g
,
Saturated Fat:
1
g
,
Cholesterol:
17
mg
,
Sodium:
137
mg
,
Potassium:
102
mg
,
Fiber:
1
g
,
Sugar:
16
g
,
Vitamin A:
58
IU
,
Vitamin C:
1
mg
,
Calcium:
42
mg
,
Iron:
1
mg