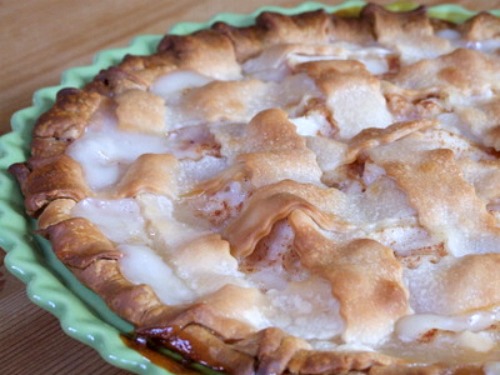 California Pear Pie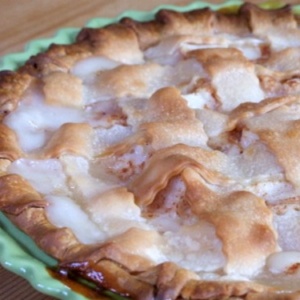 A nice change from regular apple pie. Great flavor and texture too.
Yield:
6 to 8 servings
Prep Time:20 min
Cook Time:60 min
Ingredients:
2 refrigerator pie crusts, or homemade
8 to 10 large fresh pears, peeled, cored & sliced
3/4 cup granulated white sugar
3/4 cup half and half cream
1 1/2 Tablespoons orange juice, freshly squeezed
1 1/2 Tablespoons lemon juice, freshly squeezed
1/8 teaspoon salt
1 1/2 Tablespoons cornstarch
1 Tablespoon butter, cut into small pieces
1/4 teaspoon ground cinnamon
1/4 teaspoon ground nutmeg
Directions:
1. Preheat oven to 425°F. Place one of the crusts into a pie plate and mound the pears into the crust.
2. Mix sugar, cream, juices and salt in a bowl. Whisk the cornstarch into the half-and-half mixture until blended and pour over the pears. Dot with butter and sprinkle with the cinnamon and nutmeg. Top with remaining pastry, fluting the edge and cutting vents.
3. Bake for 15 minutes. Reduce heat to 350°F. and bake for 45 minutes longer. Keep an eye on the crust. If it begins to brown, cover the pie lightly with foil to prevent further browning.
4. Serve warm or chilled with ice cream.
Tips:
*Have fun with the top pie crust. Make a lattice top or cut out hearts for Valentine's Day or Stars & Stripes for the Fourth of July!