These delicious cheesecake bars are topped with a layer of gooey caramel, a drizzle of melted chocolate and chopped pecans.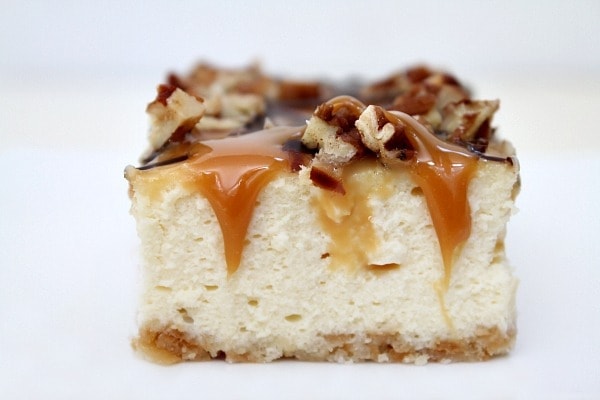 I fear I've become that "sports-crazed Mom."  You know, that Mom who actually comes to enjoy watching sports because she's living in house full of boys?  Yep, I'm one of those.  It's football season now, and I find myself asking questions like, "When are the Chargers playing this week?" or "How did Aaron Rodgers do today?" and "What food should we make for football Sunday?"  It's weird because I'd never have guessed in a million years that I'd turn into a football fan.  In any case, it makes Sundays fun around the house, and it gives me an excuse to make munchies.  Sunday's featured football munchie this week was these: Caramel- Pecan Cheesecake Bars.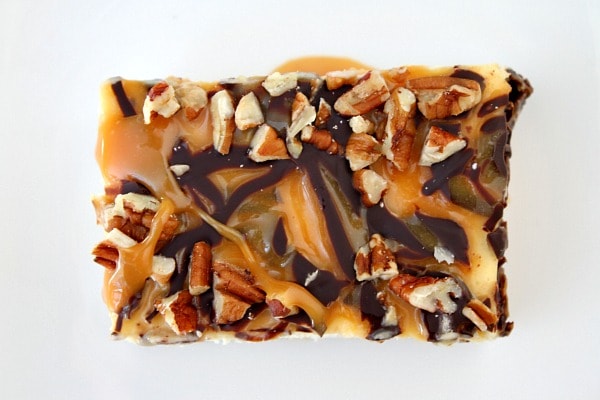 If you're a cheesecake lover (then you're also my best friend), these bars are especially for you.  There is a thin vanilla wafer crust and a thick cheesecake layer.  The bars have a fabulous chocolate and caramel topping with a sprinkle of pecans included too.  After a nice chill in the refrigerator, they cut cleanly into bars and are perfect for a dessert treat.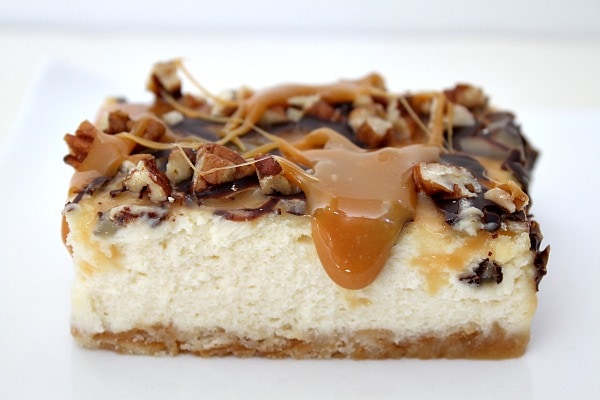 Since I'm an extremely avid cheesecake and caramel lover, I'll include full disclosure here.  I added more caramel to the bars when it came time to serve individual pieces.  They're especially good with more caramel oozing over the top and down the sides.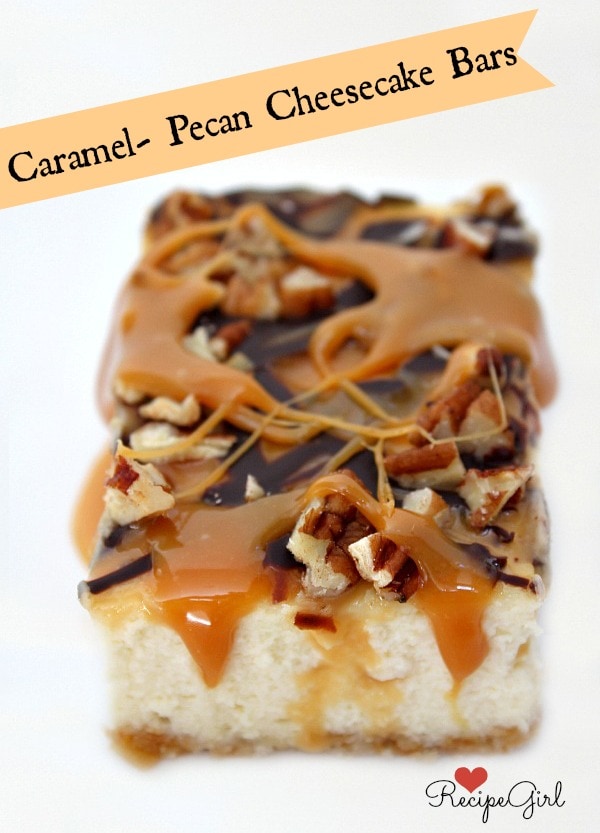 For football Sunday, these Caramel- Pecan Cheesecake Bars were indeed a big hit.  And to answer those questions posed at the beginning of the post:
1.  The Chargers played yesterday and WON their game (phew.  finally).
2.  Aaron Rodgers (QB of the Packers) had a phenomenal game, leading his team to beat the Redskins.
3.  Football Sunday food yesterday included sub sandwiches, these bars, and Chicken Taquitos for dinner.
And if you hate football, don't worry… you'll still love these bars 🙂
Caramel- Pecan Cheesecake Bars
Yield:
24 servings
Prep Time: 20 min + chill time
Cook Time: 40 min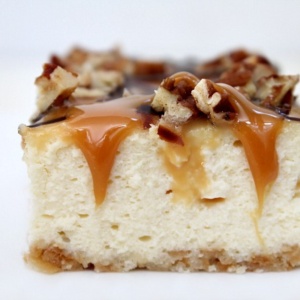 Ingredients:

1 1/2 cups crushed vanilla wafers (about 50 wafers)
4 tablespoons (1/2 stick) salted butter, melted
Four 8-ounce packages cream cheese, softened
1 cup granulated white sugar
1 cup sour cream
3 tablespoons Gold Medal® All-Purpose Flour
1 tablespoon vanilla extract
4 large eggs
24 individually wrapped caramels, unwrapped
1 tablespoon water
Three 1-ounce squares semi-sweet baking chocolate, chopped
1/2 cup chopped pecans

Instructions:

1. Preheat the oven to 325°F. Line 13x9-inch baking pan with foil, with ends of foil extending over sides of pan. Spray the foil and the sides of the pan with nonstick spray.

2. Combine vanilla wafer crumbs and melted butter in a medium bowl. Press firmly onto the bottom of the prepared pan. Place the pan with the pressed crust into the refrigerator or freezer while you prepare the filling.

3. In a large bowl, use and electric mixer to combine the cream cheese and sugar on medium speed until well-blended. Add the sour cream, flour and vanilla; mix well. Add the eggs, one at a time, mixing on low speed after each addition just until blended. Pour the filling over the crust and spread to make an even layer.

4. Bake 40 minutes or until the center is almost set. Cool completely. Place the caramels and water in a microwavable bowl. Microwave on HIGH 1 minute or until caramels are completely melted when stirred. Pour the warm caramel over the cheesecake; top with the chopped pecans. Melt the chocolate as directed on package (I just put mine in a glass bowl in the microwave for a couple of minutes); drizzle over cheesecake. Refrigerate at least 4 hours or overnight. Use a knife to loosen the sides of the cheesecake, then use the foil to gently remove the cheesecake from pan and onto a cutting board. Cut into pieces to serve. Store leftovers in a tightly covered container in the refrigerator.

Tips:

*The longer you leave the bars in the refrigerator, the more your caramel will tend to liquify and drizzle off of the bars. If this happens to yours, just microwave a little bit more caramel and drizzle it onto the bars before serving.

Source: RecipeGirl.com (adapted from Kraft)