Love this marinade plump full of fresh ingredients:  Chicken Breasts with Citrus Garlic Marinade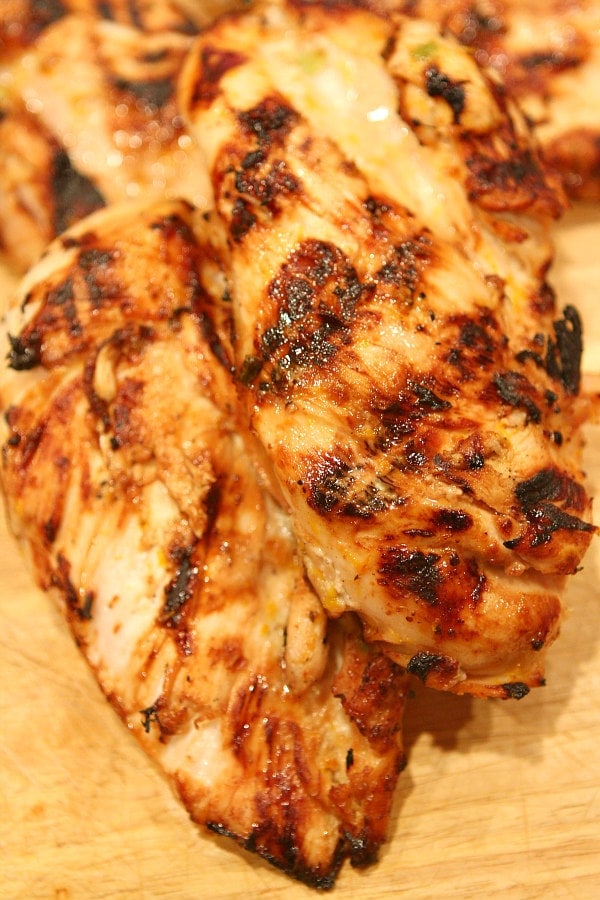 Chicken Breasts with Citrus Garlic Marinade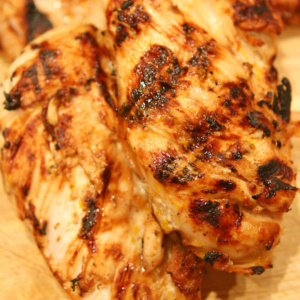 Yield:
4 servings
Prep Time: 20 minutes + marinating time
Cook Time: 15 to 20 minutes
Ingredients:
2 tablespoons finely minced orange zest
3/4 cup freshly squeezed orange juice
1/2 cup red wine vinegar
1/4 cup honey
1 tablespoon Dijon mustard
6 cloves garlic, minced
1/2 cup minced green onions (white & green parts)
1/4 teaspoon freshly ground black pepper
1/4 teaspoon hot red pepper flakes
1 teaspoon salt
4 boneless skinless chicken breasts (about 1 1/2 pounds)
Directions:
Combine all ingredients (except chicken) in large zip bag. Blend well; add chicken, cover and refrigerate for 2 to 4 hours (if you want to marinate it longer, hold off on adding the salt until just before cooking).
Heat grill to medium-high. Grill chicken, lid closed- turn chicken often until cooked though, about 15 to 20 minutes. Time will vary depending upon size of chicken and heat of grill. Serve hot, or refrigerate to be served cold later.
Nutrition:
Nutrition Facts- Amount Per Serving:  Calories 293, Calories From Fat (8%) 22.5, Total Fat 2.4g, Sat Fat 0.59g, Cholesterol 98.66mg, Sodium 743.41mg, Potassium 633.32mg, Carbohydrates 27.5g, Dietary Fiber 1g, Sugar 21.64g, Net Carbs 26.5g, Protein 40.4g
WW POINTS per serving:  SmartPoints: 7, Points Plus Program:

7,

Old Points Program:

6
SOURCE: RecipeGirl.com