This Chicken Paillard with Fresh Fig Salad and Blue Cheese has turned out to be one of my all time favorite chicken recipes!
The recipe involved pounding out the breasts into paillards (thin slices), which I'm a big fan of. This allows the breasts cook quickly and stay moist. Pancetta is sauteed, then the chicken, and the dressing gets a quick warm-up in the pan. That's it! Assemble with chicken, blue cheese, arugula, figs and pancetta. A sweet vinaigrette is drizzled on top,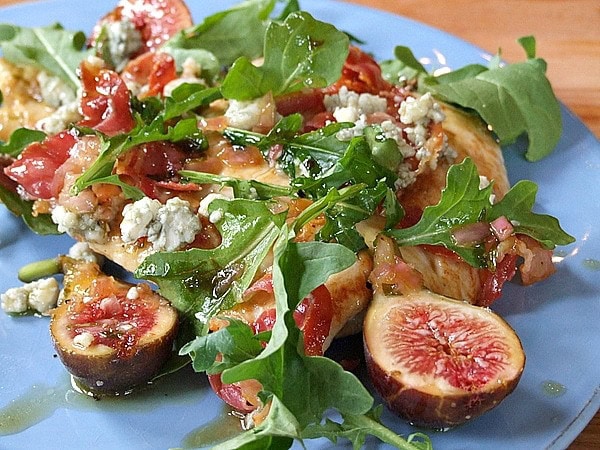 I've had a lifelong fear of figs. I blame it on my Swedish grandmother who lovingly baked sweets that she wanted her precious only young grandaughter to try. Among these treats were cookies with fresh fig filling. Though I loved grandma and appreciated her spoiling me endlessly, I couldn't stand the texture of the fig cookies. Grandma was hurt. Whenever I didn't eat what she made, she was hurt. So I ate them anyways and pretended that I liked them. Yuck. And I haven't touched figs since… until I made this recipe.
When we lived in San Diego, we had the good fortune of having a Farmer's Market near our house that was open every day (Chino Farms). It was one of those good ones too… where they grow all of their own food right there and put out whatever is ripe that day. I was there one time to pick up some of their famous Chino Corn when I spied a small basket of fresh figs. Hmmmm, I thought. Perhaps I'll give them a try. Mind you, it had been a good 30 years since I'd had figs.
So I carted home my basket of freshly picked figs and browsed cookbooks. Tyler's Ultimate had a recipe that looked like a must-try: Chicken Paillard with Fresh Fig Salad and Blue Cheese.
I was very surprised to find that I love this recipe so much. I especially enjoyed the bites that involved figs. It's hard to believe that I've shunned them for so long. I would make this recipe again in a heartbeat. Though it sounds fancy, it's so simple and completely delicious. My fig phobia has turned into fig obsession. Bring on the fig recipes! Just no fig cookies, please.
If you're looking for more recipes that use figs, you might also like to try my Caramel Fig Loaf or this Grilled Fig Bruschetta. Fresh Figs with Gorgonzola and Prosciutto are super delicious too. And I can't wait to try these Bacon Wrapped Figs and this Fig Prosciutto Pizza!
Chicken Paillard with Fresh Fig Salad and Blue Cheese
A big time favorite chicken recipe!
Recipe Details
Ingredients
VINAIGRETTE:
1/4

cup

extra virgin olive oil

3

tablespoons

honey

1

medium

shallot,

chopped

1

tablespoon

sherry vinegar

1/2

medium

lemon,

juiced

1

teaspoon

chopped fresh tarragon

kosher salt & freshly ground black pepper
CHICKEN:
1 1/2

pounds

boneless, skinless chicken breasts

kosher salt & freshly ground black pepper

8

ounces

pancetta

extra virgin olive oil

4

ounces

blue cheese,

broken into chunks

1

bunch

arugula,

trimmed

8

ounces

seasonal figs,

halved

tarragon leaves, for garnish

(if desired)
Instructions
PREPARE VINAIGRETTE:
Whisk together all of the ingredients for the vinaigrette in a small bowl and set aside.
PREPARE CHICKEN:
Sandwich the chicken breasts between 2 layers of plastic wrap and pound them very thin with the side of a meat cleaver or a rolling pin. Remove the chicken from the plastic wrap, cut into 4 chicken cutlets and season well on both sides with salt and pepper.

Heat a large sauté pan over medium heat. Unroll the pancetta so it looks like big strips of bacon. Add it to the pan and fry it like a tangle of bacon until the fat is rendered, 3 to 4 minutes. Drain on paper towels.

Drizzle 2 tablespoons of olive oil into the pan with the pancetta drippings. Add the chicken and pan-fry for 3 to 4 minutes on each side to brown the breasts and cook them through. Use a spatula to remove the chicken to the paper towels with the pancetta. Add the vinaigrette to the sauté pan and heat for a few minutes, stirring, to deglaze the bits of pancetta and chicken from the bottom of the pan; take the pan off the heat.

To serve, arrange the chicken on a platter. Scatter the blue cheese, arugula, figs, and pancetta over. Drizzle the dressing over everything and garnish with the tarragon leaves.
Nutrition
Serving:
1
serving
,
Calories:
818
kcal
,
Carbohydrates:
27
g
,
Protein:
51
g
,
Fat:
56
g
,
Saturated Fat:
16
g
,
Cholesterol:
167
mg
,
Sodium:
985
mg
,
Potassium:
1170
mg
,
Fiber:
2
g
,
Sugar:
23
g
,
Vitamin A:
1735
IU
,
Vitamin C:
12
mg
,
Calcium:
277
mg
,
Iron:
2.3
mg
Disclosure: There is an Amazon affiliate link included within this post.