This recipe has been featured in a post on The Recipe Girl blog: Chicken Breasts with Pumpkin Seed Pesto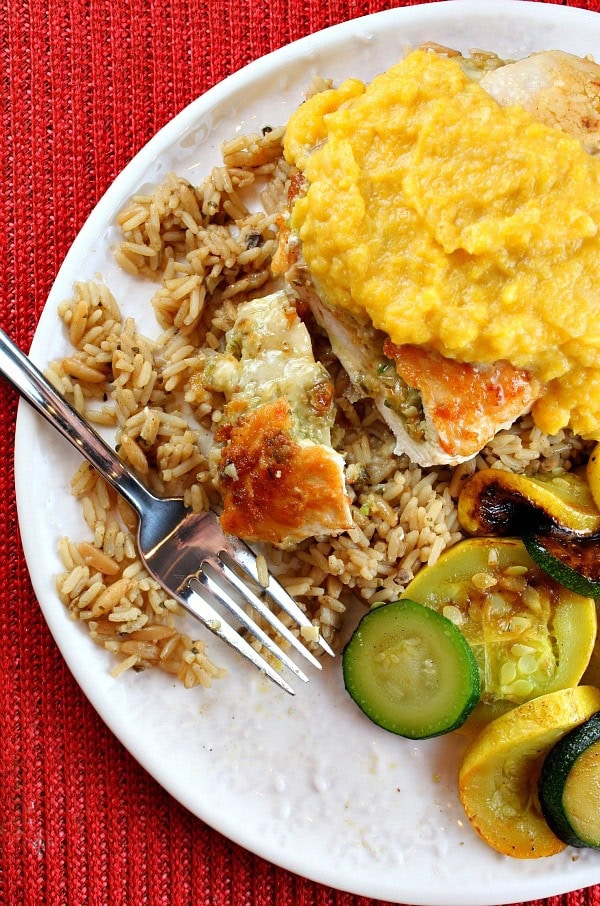 Chicken with Pumpkinseed Pesto and Butternut Sauce
Yield:
4 servings
Prep Time: 45 min
Cook Time: 35 min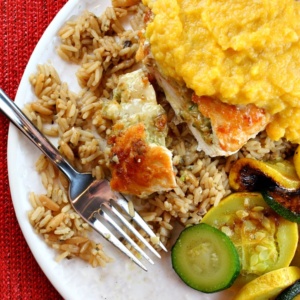 Ingredients:

PUMPKINSEED PESTO:
1 cup raw, hulled pumpkin seeds (pepitas)
2 Tablespoons olive oil
3 to 4 cloves garlic, minced
2 medium jalapeño chilies, seeded and coarsely chopped
3/4 cup chicken broth

BUTTERNUT SAUCE:
1 large leek, washed thoroughty & sliced (white & pale green parts only)
1 pound butternut squash (peeled & seeds scooped out), cut into 3/4-inch pieces
2 Tablespoons extra-virgin olive oil
1 cup (or more) chicken broth
1/4 teaspoon ground cumin
1/4 teaspoon salt
1/4 cup whipping cream (or half and half cream)

CHICKEN:
4 boneless & skinless chicken breast halves (about 1 1/2 pounds total)
1/2 cup grated white cheddar cheese (or Jack)
1 Tablespoon olive oil
2 Tablespoons unsalted butter
flour for dredging

Instructions:

1. Prepare Pumpkinseed Filling: Heat a large skillet to medium-heat. Add pumpkin seeds and cook, stirring and shaking the pan, until fragrant and slightly golden, about 4 minutes. (They'll pop a bit as they cook, so watch out for flying seeds!) Slide onto a paper towel on the counter to let cool.

2. In the same skillet, heat olive oil over medium-low heat. Add garlic & sauté until softened, about 2 minutes. Stir in jalapeños and cook another minute or so. Stir in the chicken broth, turn heat to medium, and cook simmer until the liquid is slightly reduced and the chilies soften. Scrape mixture into food processor; add cooled pumpkin seeds in there too. Process until the mixture is a coarse but spreadable paste. Scoop into a bowl and let cool while you prepare the sauce. Wipe out food processor with paper towels so it's ready to use for the sauce.

3. Prepare Sauce: In a large skillet, heat olive oil over medium heat. Add leeks and sauté until soft, about 3 minutes. Add squash and chicken broth, increase heat to high, and to a boil. Reduce heat and simmer, covered, until squash is tender (10 to 15 minutes). Transfer to food processor. Add cumin, salt and cream. Puree until the sauce is completely smooth. Return to skillet. If the sauce seems too thick, thin it out a little bit with additional chicken broth.

4. Prepare Chicken: Lay each breast flat between two pieces of waxed paper. Pound until about 1/4-inch-thick. Spread 1/4 of the pumpkinseed pesto across each breast. Sprinkle 1/4 of the cheese over the filling. Fold each breast in half to create a pocket.

5. Heat olive oil and butter over medium heat. Place flour in a shallow bowl and carefully dredge each chicken pocket in the flour. Add to the pan, one by one. Cook until pink is gone, about 5 minutes on each side. Reheat sauce & serve- Chicken topped with a spoonful of sauce.

Tips:

*This chicken is terrific served over rice too.