In this Chocolate Guinness Stout Cake recipe, the guinness is cooked within the cake, and it's also incorporated into a "sauce" that you drizzle into the cake before you top it with ganache.
It turns out to be a very moist cake. The guinness just gives it a slight malty taste- not liquory or anything. Extra ganache piped on top provides for a good deal more sweetness. I'm a frosting-girl so that works for me!
Chocolate Guinness Stout Cake
Super yummy chocolate cake- and perfect for St. Paddy's Day!
Yield:
One 8 or 9-inch cake
Prep Time: 45 min
Cook Time: 50 min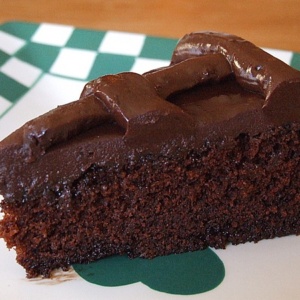 Ingredients:

CAKE:
1/4 cup unsweetened cocoa powder
1/3 cup Guinness draught stout
1 cup all-purpose flour
3/4 teaspoon baking soda
1/4 teaspoon baking powder
1/8 teaspoon salt
1/3 cup butter, softened
1 cup granulated white sugar
2 large eggs
1/2 teaspoon vanilla extract
1/3 cup low fat buttermilk

CHOCOLATE GUINNESS SAUCE:
1/4 cup Guinness draught stout
4 Tablespoons brown sugar
2 Tablespoons unsweetened cocoa powder
1/2 teaspoon vanilla extract

CHOCOLATE GANACHE GLAZE:
1 1/4 cups heavy whipping cream
10 ounces semi-sweet chocolate chips (or bar broken into small pieces)

Instructions:

1. Preheat oven to 350°F. and place rack in middle of oven. Grease and lightly flour 9-inch cake pan (or use 8-inch pan if you'd like a slightly taller cake.)

2. Prepare cake: In a small saucepan, combine cocoa powder and stout. Heat over low-moderate heat until smooth and warmed. Set aside to cool.

3. In a medium bowl, sift together flour, baking soda, baking powder and salt. In a large bowl with an electric mixer on low- medium speed, beat butter until creamy. Gradually add sugar and beat until pale yellow in color. Beat in eggs, one at a time, and vanilla.

4. Stir buttermilk into cooled cocoa and stout mixture.

5. With the mixer on low, slowly add 1/3 of the buttermilk mixture into creamed butter until incorporated. Add the flour mixture in three parts, alternating with the remaining two parts of the buttermilk and ending with the flour. Batter will look grainy or appear to be breaking up.

6. Pour batter into prepared cake pan and bake 25-35 minutes or until cake pulls away from the sides of the pan and a toothpick inserted in the middle comes out clean. Remove to wire rack with parchment or waxed paper beneath it. Allow cake to cool in pan for 10 minutes, then slide knife around the edge of pan and invert to release cake, bottom side up, onto wire rack. When cool, use a fork to poke holes generously into bottom side of cake.

7. To prepare sauce: Mix sauce ingredients in a small saucepan and heat over low heat until smooth. Allow to cool. Spoon 3/4 of the sauce over bottom of cake, allowing sauce to seep into cake. Invert cake right side up onto serving platter. Poke holes in top of cake and spoon remainder of sauce on top of cake.

8. Prepare glaze: Bring cream to a simmer in a small saucepan. Turn off heat and stir in chocolate until sauce is smooth and creamy. Pour onto finished cake, smooth ganache atop and along sides of cake. Ganache will pool at bottom of cake and can be removed with a knife.

9. If desired, spoon extra ganache into zip baggie, snip corner and squeeze atop cake in zigzag lines or decorative pattern. If ganache is too runny, allow to thicken in bag until stiff.

Tips:

*Reserve any extra ganache in refrigerator to spoon over ice cream or form into truffles.