Here's a very pretty red and green Christmas Frittata that is so nice for breakfast or brunch during the holiday season.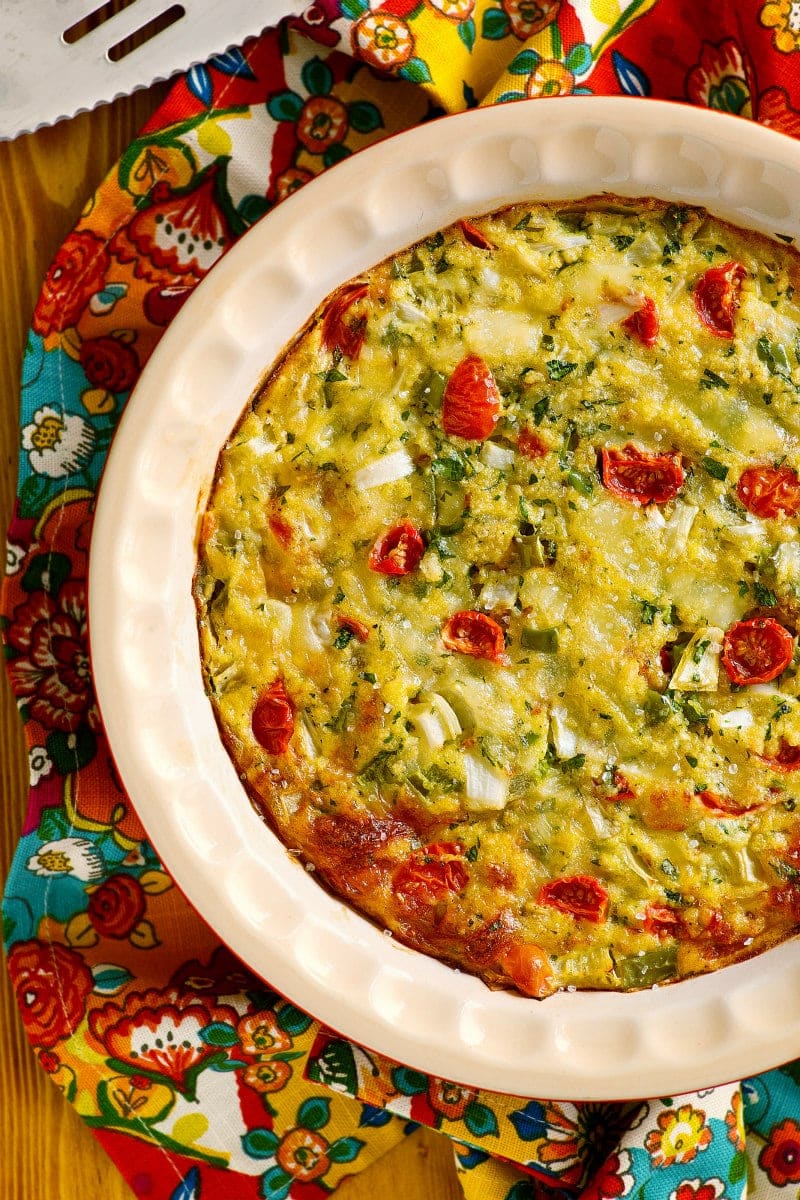 I feel strongly that Christmas morning should be treated properly with a breakfast celebration.  It's so nice to wake up and prepare breakfast with the family while sharing gifts with each other, and it's a delicious way to start a lovely holiday too.
This Christmas Frittata is a good place to begin.  It's sort of like a quiche, but there is no crust to speak of.  Onion, bell pepper and tomatoes are the veggies that will be added to eggs combined with mozzarella cheese, breadcrumbs and Worcestershire sauce.  25 minutes in the oven, and it turns out such a pretty, red and green breakfast to enjoy.
I love to pair this frittata with my Cranberry Orange Bread with Grand Marnier Glaze (you can make it a day or two ahead).  If you want something more decadent, you an prepare these easy Sticky Buns too.  My Grandma Billie's Cinnamon Rolls have always been a Christmas morning tradition in our house.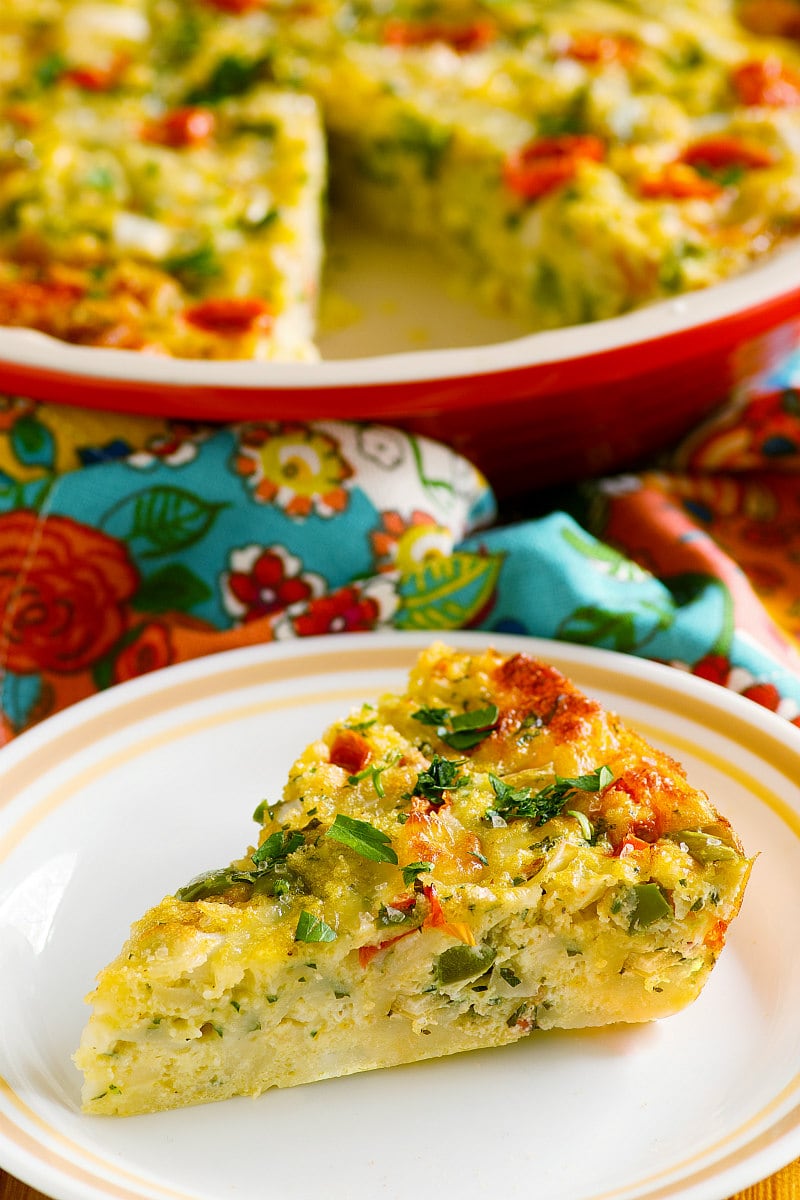 What's the difference between a Frittata and a Quiche?
A quiche has the base of an egg custard made with cream, and it often has a crust.  A frittata is more like a baked omelet.  Sometimes the preparation of a frittata begins on the stove, and then it's baked in the oven to finish it off.  There is no cream or crust in this recipe, so this is a frittata.
What kind of pie plate should I use to make this Christmas Frittata?
I love the Emile Henry Classic Pie Dishes.  They come in yellow, red, blue, green and white.  I have three of them!  Sometimes you can find them at HomeGoods, so take a peek next time you're shopping.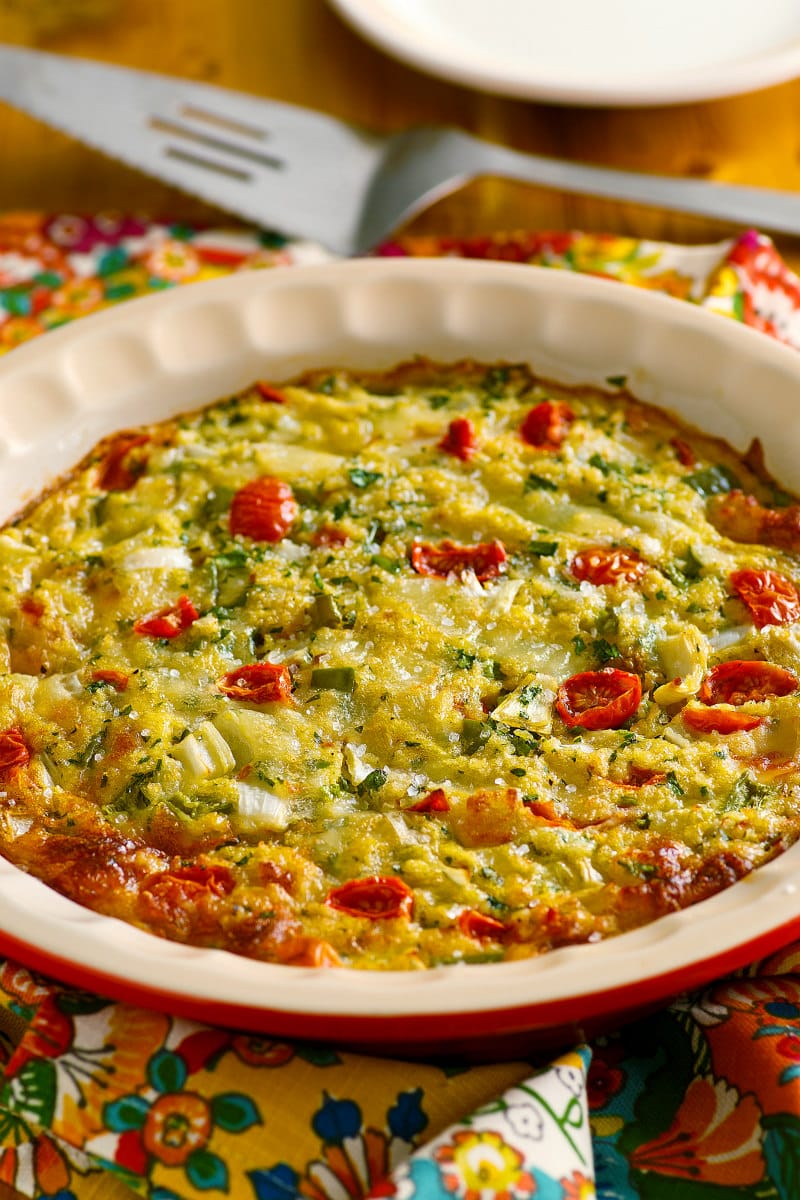 Can this recipe be made ahead and re-warmed?
This Christmas Frittata is best if you make it and eat it right away. Leftovers can certainly be re-warmed and enjoyed.  If you wish to make ahead, I'd suggest just cooking the vegetables ahead of time.  Then you can just combine the veggies with the rest of the ingredients, pour it into your pie plate and pop it into the oven.  That should save a little bit of time.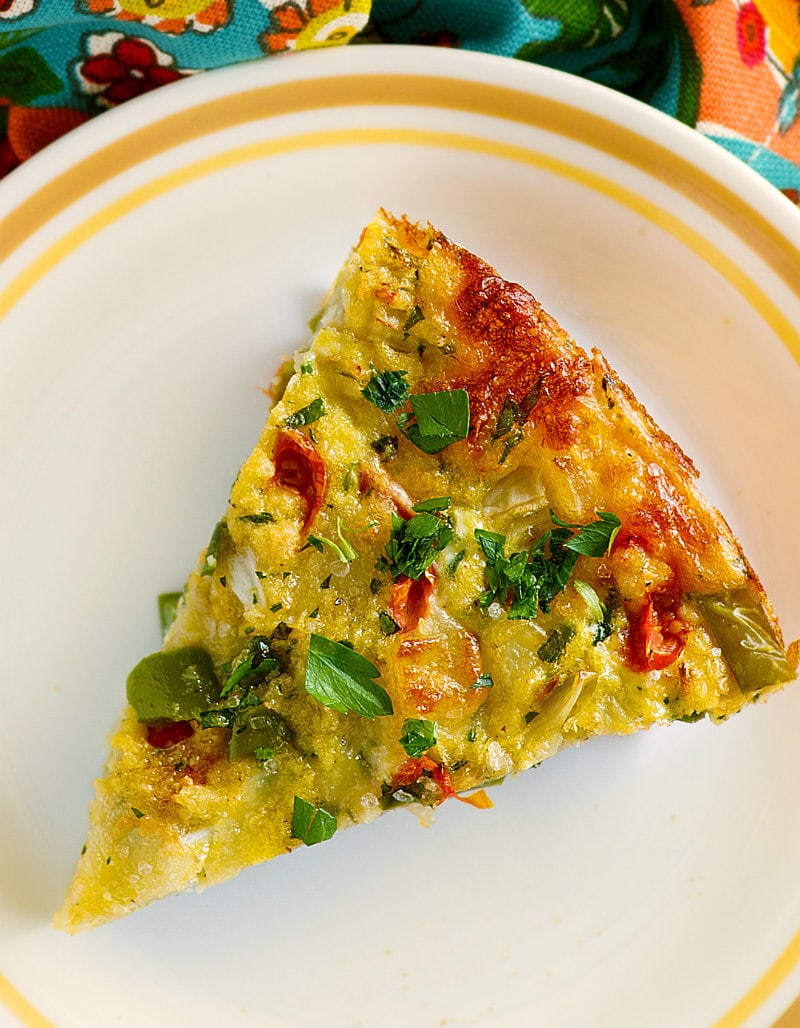 Are there some ways to adapt this recipe and change the ingredients?
Yes!  Add ham or cooked and crumbled sausage to the mix, and if you do so… add a couple of extra eggs.  Use cheddar cheese in place of mozzarella.  Add in sauteed mushrooms or zucchini.  It's okay to make some minor substitutions like this.  If you want the frittata to be a little more egg-like (more similar to a quiche), add a couple more eggs to the recipe.
If you're looking for more recipes that might be nice for Christmas morning, consider making my French Toast Casserole or this Buffet Breakfast Casserole. Those are both great for feeding a lot of people on Christmas morning! Both of those recipes have always big time favorites at my house for any kind of breakfast or brunch.  And leftovers of both recipes are fabulous.
Night Before Christmas Coffee Cake and Christmas Tree Cream Cheese Danish are delicious choices too. This Donut Hole Christmas Tree is really cute! And Cranberry Mimosas are a must for the adults!
Christmas Frittata
A beautiful, festive, red and green frittata for Christmas.
Recipe Details
Ingredients
2

tablespoons

salted butter

1

medium

onion,

chopped

1

medium

bell pepper,

chopped

1

medium

garlic clove

minced

1/2

cup

chopped tomatoes

1/4

cup

minced fresh Italian parsley

5

large

eggs,

lightly beaten

2

cups (8 ounces)

shredded mozzarella cheese

1/2

cup

soft breadcrumbs

1

teaspoon

Worcestershire sauce

1/2

teaspoon

salt

1/4

teaspoon

freshly ground black pepper
Instructions
Preheat oven to 350°F.

In a skillet over medium-low heat, melt the butter and cook the onion, bell pepper and garlic for 5 minutes or until tender. Remove from the heat. Stir in the tomatoes and parsley, and set aside. In a large bowl, combine the remaining ingredients. Stir in the cooked vegetables.

Pour into an ungreased 9-inch pie plate. Bake, uncovered, for 25 to 30 minutes or until a knife inserted near the center comes out clean. Let stand for 5 minutes before cutting.
Notes
If you are preparing this recipe as gluten-free, use GF breadcrumbs in place of regular breadcrumbs and be sure to use a brand of Worcestershire sauce that is known to be GF.
Nutrition
Serving:
1
serving
,
Calories:
254
kcal
,
Carbohydrates:
10
g
,
Protein:
15
g
,
Fat:
16
g
,
Saturated Fat:
8
g
,
Cholesterol:
194
mg
,
Sodium:
599
mg
,
Potassium:
199
mg
,
Fiber:
1
g
,
Sugar:
2
g
,
Vitamin A:
920
IU
,
Vitamin C:
21.4
mg
,
Calcium:
238
mg
,
Iron:
1.6
mg