Made from just a handful of ingredients, these Classic Popovers are great any time of day and can be enjoyed sweet or savory.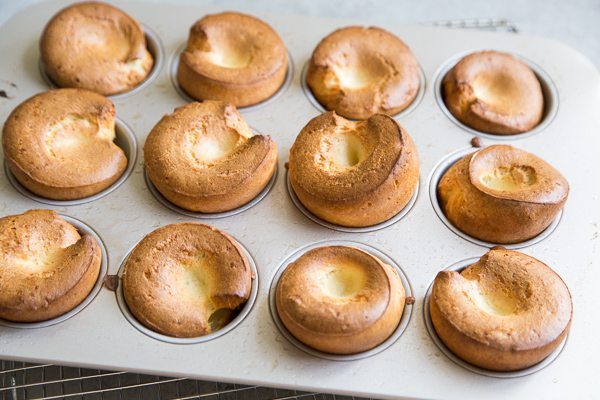 Popovers are similar to Yorkshire pudding and Dutch baby pancakes. The batter is made by mixing together milk, eggs, and flour. The light and thin batter does not contain any leavening powders (such as baking powder or baking soda). It's the steam that builds inside the popovers that allows it to rise and "pop over" the sides of the baking tin.
While there are dedicated popover tins available for sale, you can make popovers in a regular muffin tin with similar results. The main difference between popover tins and muffin tins are the straight vertical sides of the popover tin. This allows the popovers to raise taller. Whereas, muffins tins traditionally have slightly angled sides. (The photo above shows popovers baked in a standard 12-cup muffin tin while the photo below are baked in a traditional popover tin.) Popovers can also be baked in individual ramekins cups normally used for soufflés and creme brûlées.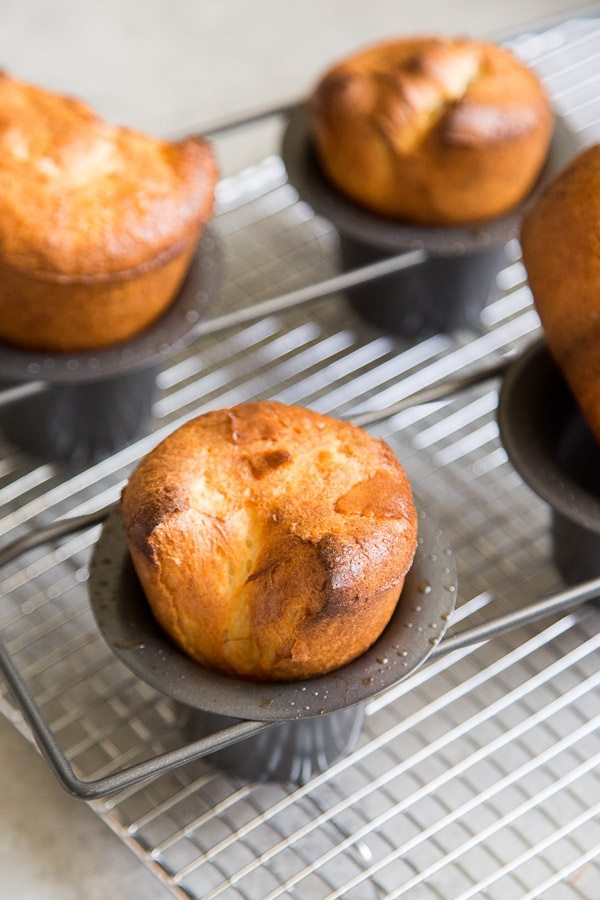 Popovers are super easy to make. I prefer to whip the batter using an immersion blender (or standard blender) for the quickest prep. However, with a little arm strength, you can also mix the batter by hand. No matter which way you choose to mix the batter, make sure the eggs are thoroughly whisked. (You shouldn't be able to see any streaks of whites or yolks in the batter.)
These classic popovers are no flavored. They're rather plain with a slight egg custard taste. They are wonderful served alongside butter and jam for breakfast or with gravy/sauce from pot roast, roast beef, or ham with dinner.
Popovers are extremely versatile. You can add all sorts of toppings to transform them into sweet or savory applications. Add shredded cheese for a pop of flavor. It's great with chopped rosemary or thyme. To make a sweet version, add a little cinnamon sugar.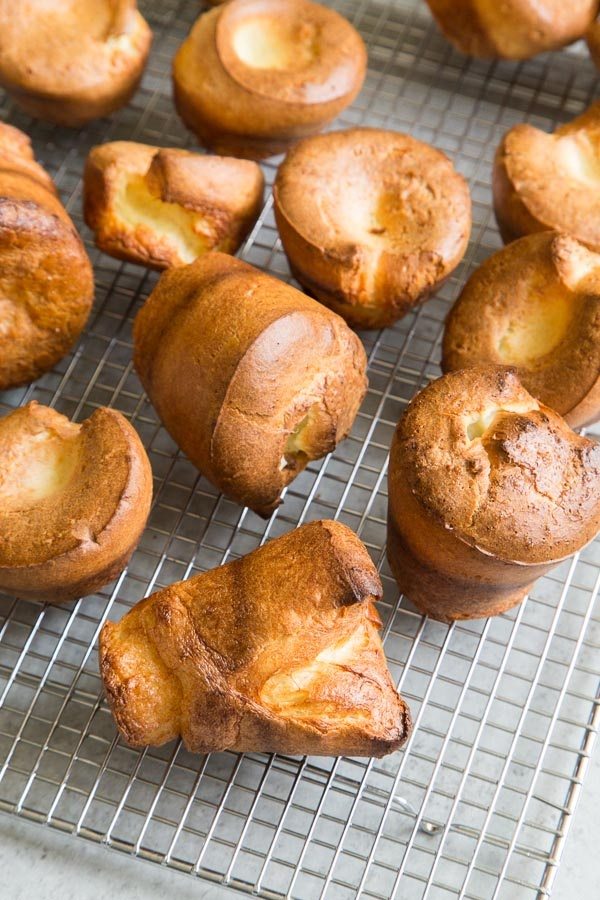 The baked popovers should be golden brown on the outside. They're a little crisp on the outside and soft and chewy on the inside. They should feel light in weight and hallow on the inside. They're best served warm, straight from the oven. Don't worry if you're serving them for later use. Popovers can easily be reheated in the oven.
Yield: 10 to 12 popovers
Prep Time: 5 minutes
Cook Time: 40 minutes
Classic Popovers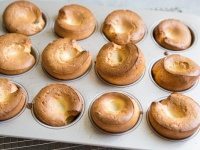 Ingredients:
1 1/4 cup whole milk
2 large eggs
1/4 teaspoon fine sea salt
1 cup all-purpose flour
2 tablespoons unsalted butter, melted
additional melted butter, for greasing tin
Directions:
Preheat oven to 425 degrees F. Generously grease muffin tin or popover tin with melted butter. Set aside.
Using an immersion blender (or standard blender), mix together milk and eggs until there are no longer any streaks of whites or yolks. Add salt and flour and pulse until combined. Add melted butter and pulse until batter is thoroughly incorporated. Alternatively, whisk batter by hand.
Fill greased muffin tin or popover tin 2/3- 3/4 full of batter. Place tin in the center or bottom third of oven. Bake for 20 minutes undisturbed. Do not open to peek at the popovers during this time. The batter needs all the heat from the oven to rise. After 20 minutes, the baking time will vary depending on the tin used. Bake for another 13 to 15 minutes if using a standard muffin tin. Bake for another 18 to 20 minutes if using a popover tin.
The finished popovers should be golden brown on the outside and feel light in weight. They should be crisp on the outside and slightly soft and chewy on the inside. Serve popovers warm. Popovers are best served with butter or jam, or with gravy or sauce from pot roast or roast beef.
To make a cheese variation: add 1/2 cup shredded cheese to the batter.
Alternatively, you can also add herbs and spices to taste.
SOURCE: RecipeGirl.com
Here are few more baked goods you might enjoy:
Comments