These Cream Puffs are filled with fresh whipped cream and are the perfect after dinner treat!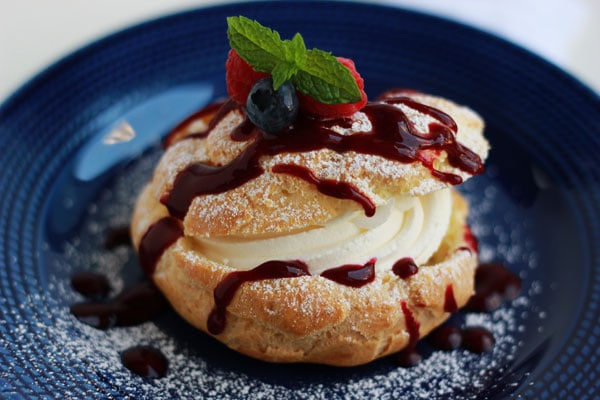 In case you have never had one, cream puffs are a light and hollow pastry. Typically you'll want to fill them with a custard or cream and dust with a bit of brown sugar. Sounds delicious and maybe a tad bit difficult, right? That was my thought whenever the idea came swirling around. I always pushed it back to the bottom of my must-make list until today.
Today I put on my apron, rolled up my sleeves, washed my hands, and prepared to dive in to this possibly complex recipe. The good news? Difficult and hard are two words that should never be used to describe these pastries. They are more simple and elegant than anything I have ever made!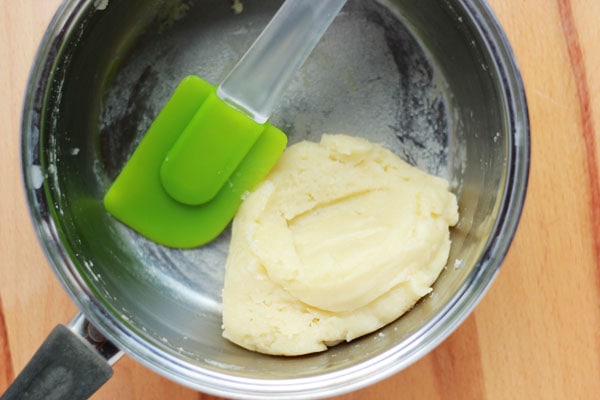 It all starts with a dough. Instead of throwing everything straight into a mixer you actually start stove top. The base ingredients are most likely already in your fridge so all you need to do is whisk together a water, butter, and sugar in your pan. Bring to a boil and stir in the flour. You'll get a wonderful dough ball like the one above. Let it cool down, transfer to a mixer, add a few more basic ingredients and you're ready to bake.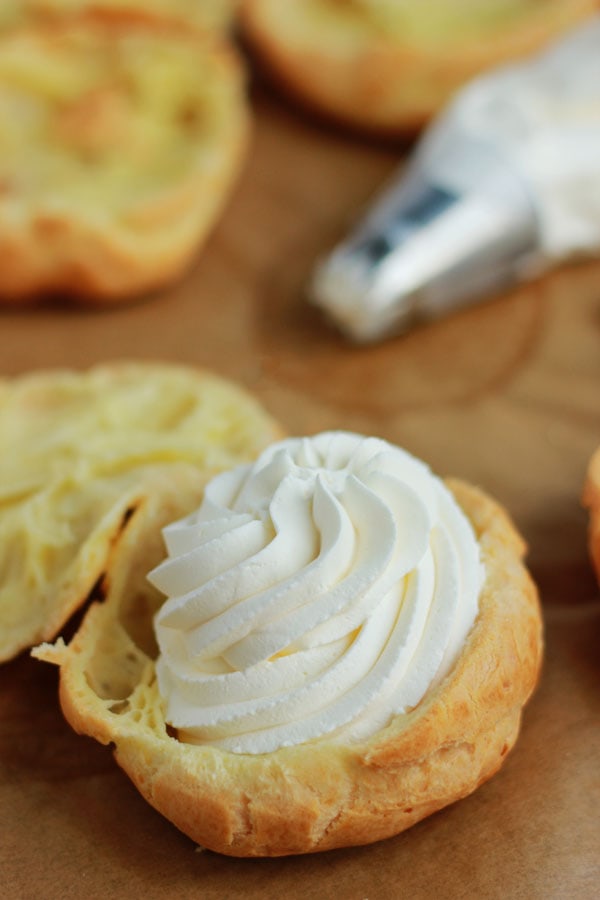 These puff up wonderfully in the oven. We made ours a bit bigger and topped them with some mixed berries that I picked up at our local farmers market as well as some fresh whipped cream and quick berry sauce.  Next time I plan to try a pastry cream or maybe even a simple vanilla buttercream! You can't go wrong with whatever you choose for the filling.
Cream Puffs
Yield:
12 large or 24 small
Prep Time: 15 minutes
Cook Time: 35 minutes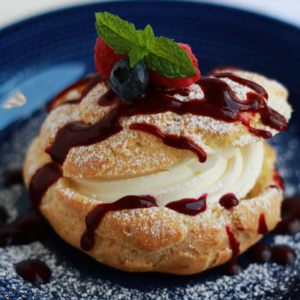 Ingredients:

1 cup water
1/2 cup (1 stick) butter
1/2 teaspoon salt
2 teaspoons granulated white sugar
1 1/4 cup all-purpose flour
4 large eggs
desired fillings and toppings

Instructions:

Preheat your oven to 425 degrees.
Line two large baking sheets with parchment paper and set aside.
In a large saucepan bring the water, butter, salt, and sugar to a full boil. Remove the pan from the heat and stir in all of the flour until a ball is formed. Return to the heat and cook an additional 30 seconds.
Transfer the mixture to the bowl of an electric mixer. Allow to cool for ten minutes.
Stir in the eggs one at a time. Stir until the dough is combined and shiny.
Drop the dough onto your prepared sheet using a large cookie scoop or 1/4 cup measuring cup.
Bake for 15 minutes. Reduce the heat to 350 and continue to cook for an additional 20 minutes or until golden brown.
Cool, slice and add your desired filling.
SOURCE: RecipeGirl.com