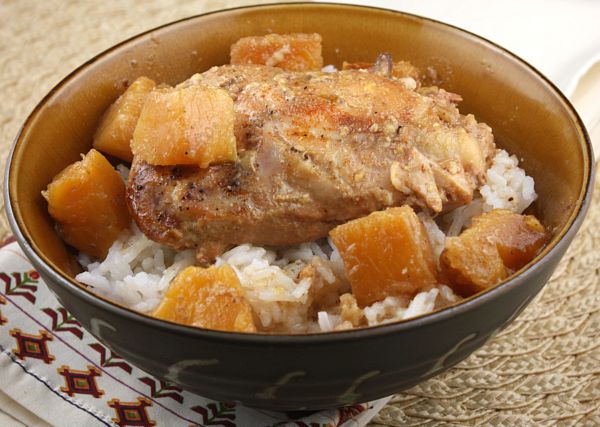 Crockpot Pineapple Chicken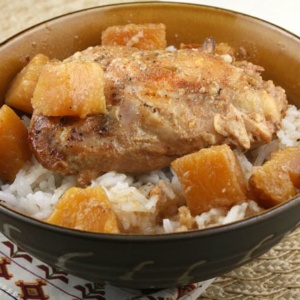 This simplistic recipe for crockpot pineapple chicken is perfect for a busy weeknight where you're running the kids around to sport's practices and games. Come home to dinner cooked and ready to eat.
Yield:
4 servings
Prep Time: 10 min
Cook Time: 3 hours
Ingredients:
4 bone-in chicken breasts (30 ounces), skin removed
1 dash pepper
paprika to taste
1 (20-ounce) can pineapple tidbits in juice
2 Tablespoons Dijon mustard
2 Tablespoons soy sauce
1 large clove garlic, minced
Directions:
1. Arrange chicken in bottom of crockpot. Sprinkle with pepper and paprika. In a small bowl, combine drained pineapple tidbits, mustard, soy sauce and garlic. Pour over chicken. Cover and cook on LOW 7-9 hours or HIGH 3-4 hours.
2. Remove chicken from crockpot and serve immediately. For serving: serve alongside potatoes, or shred the chicken and serve it over rice. Drizzle juices over.
Tips:
*I prefer to use chicken thighs for this dish- 8 bone-in chicken thighs- pull off the skin before placing in the crockpot. Using thighs will change the calorie count.
*If preparing this recipe as GLUTEN FREE, be sure to use GF soy sauce.
Nutrition:
Nutritional Information per serving:
Serving size: 1 chicken breast with juices and pineapple poured over
Calories per serving: 247
Fat per serving: 3.8g
Saturated Fat per serving: 0g
Sugar per serving: 9.9g
Fiber per serving: .8g
Protein per serving: 37g
Cholesterol per serving: 97mg
Carbohydrates per serving: 11.9g
WW POINTS per serving:
Points Plus Program: 6 Old Points Program:5