My family is in the midst of this crazy-long road trip across the entire USA and back again.  If you've been following my blog a while, you might remember that we did the same thing two summers ago.  We packed up our SUV, and we set off on our adventure!  Cross country road trips with the family are a lot of fun.  We have one 11 year old child, and he's a very good traveler.  Well supplied with books, dvd's of old tv shows and movies, iTouch, snacks and music, and we're all happy in the car!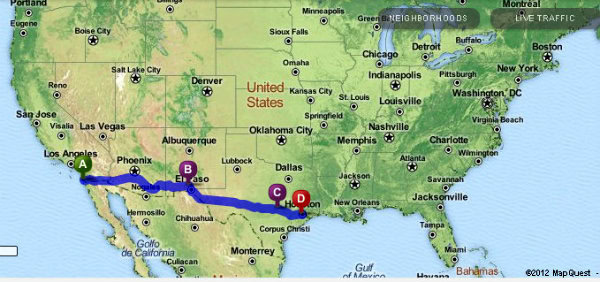 This is the first chunk of our route- we will travel all the way to Florida, then up the East coast to Boston, then across the Northern Route to Montana and down thru Idaho and Lake Tahoe and back to San Diego.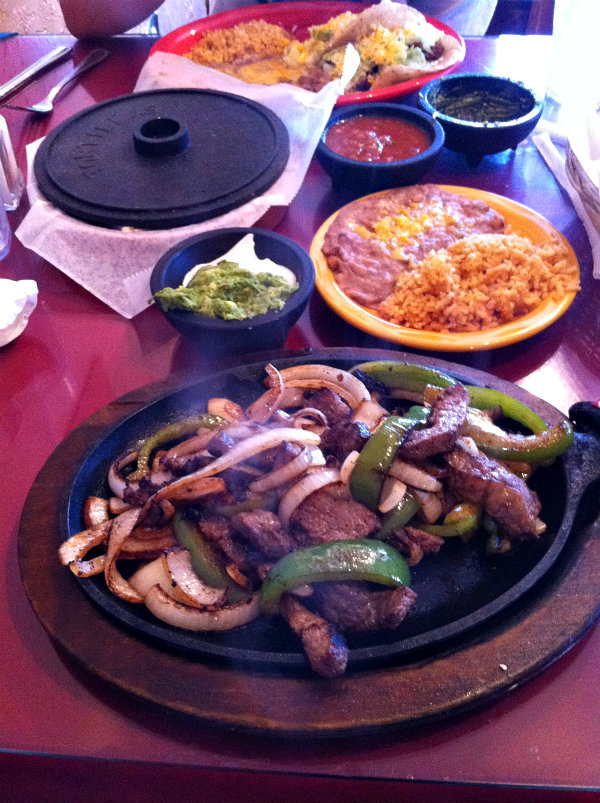 1st leg:  San Diego, CA to Las Cruces, NM.  I wish we had more time to spend in Las Cruces since there are some very cute parts of the city (check out the Mesilla area).  For us though, it was a quick one night stop on our journey.  We ate at El Comedor, where we had some excellent beef fajitas and enchiladas. Word to the weary, thirsty traveler: they don't serve alcohol there, but the food is very good!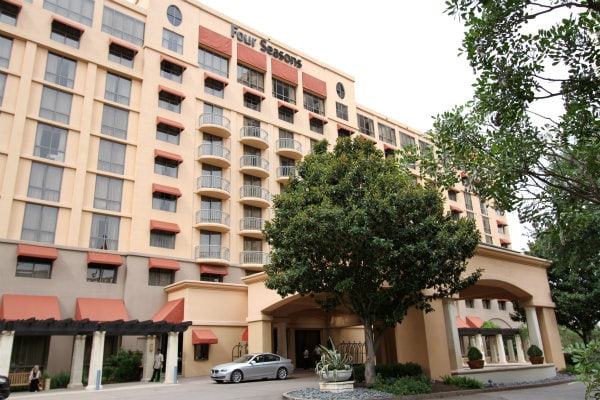 2nd leg:  Las Cruces, NM to Austin, TX– After a long day of driving the first day, the 2nd day  seemed to take forever.  The driving was all up to me at this point since my husband was flying into Austin to meet us there.  I was very happy to finally arrive at the beautiful Four Seasons Hotel in Austin, where we would be staying.  I wrote up a whole post on the Four Seasons Resort- if you'd like to find out more about it: HERE.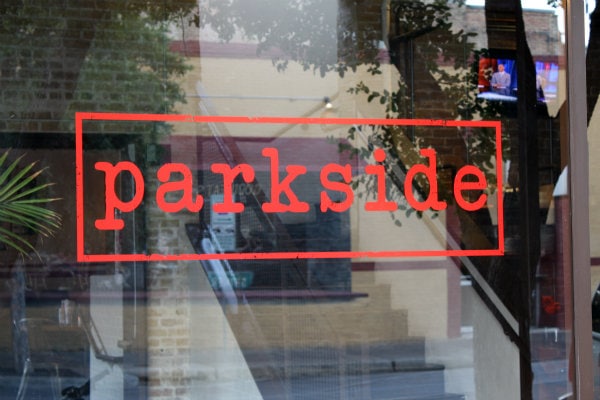 That evening, my son Brooks and I braved a warm windstorm to walk into crazy and cool downtown Austin.  We found this awesome restaurant called Parkside, and they had a table for us.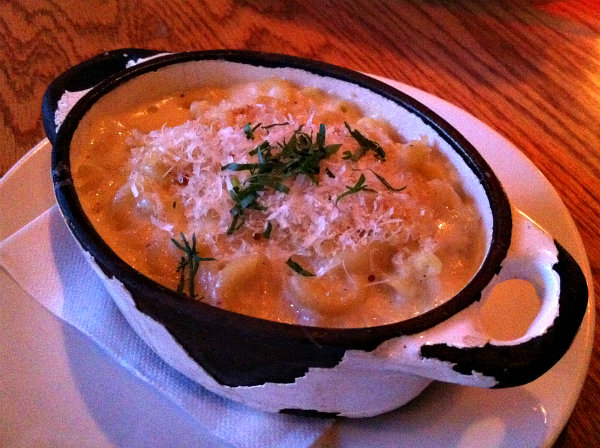 Brooks bravely tried the Hill Country Rabbit with green onion, potato and pesto and I devoured the Eden Farm Pork Chop with grilled green tomatoes, peas and green tomato jam (both amazing), but we especially loved this very cheesy and decadent baked Macaroni and Cheese.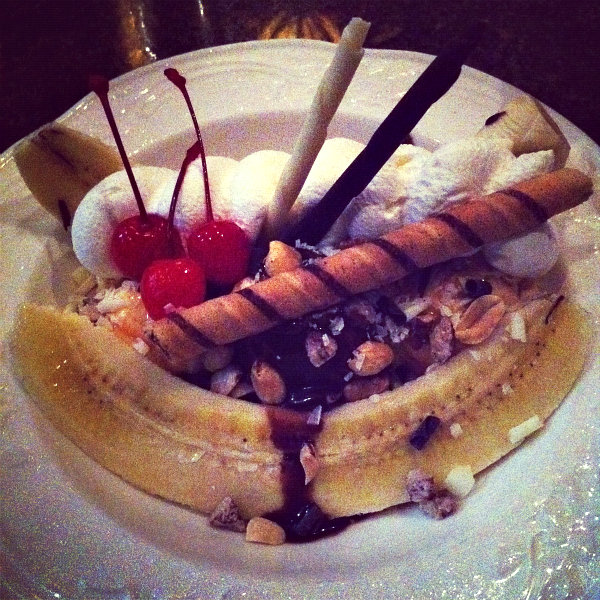 After dinner, we walked to the Driskill Hotel to enjoy a banana split for dessert.  Our waiter at Parkside had tipped us off to this historic place that is full of ghost stories.
If you've never been to Austin, the downtown area is a neat place for people watching- lots of very interesting bars with all kinds of bands playing, unique shops and great food.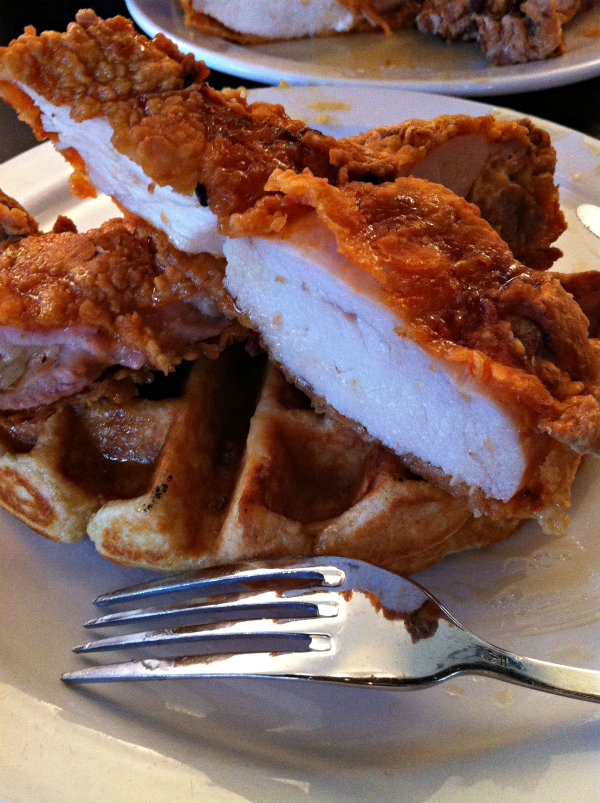 The concierge at our hotel told us the best place to grab Chicken and Waffles (something neither of us had never, ever tried!)  We went to 24 Diner and ordered our desired dish.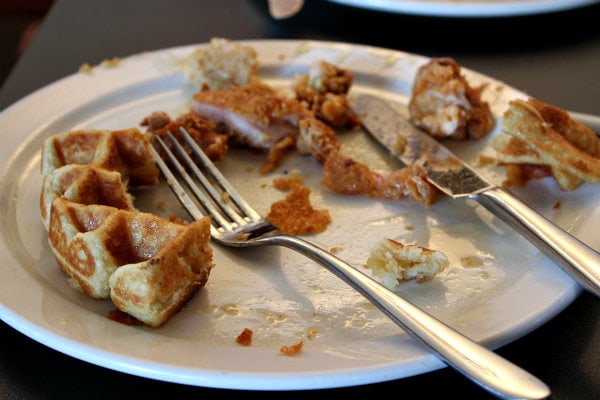 We didn't like it at all 😉  OH MY!  Who ever thought to put fried chicken and waffles together?!  So good!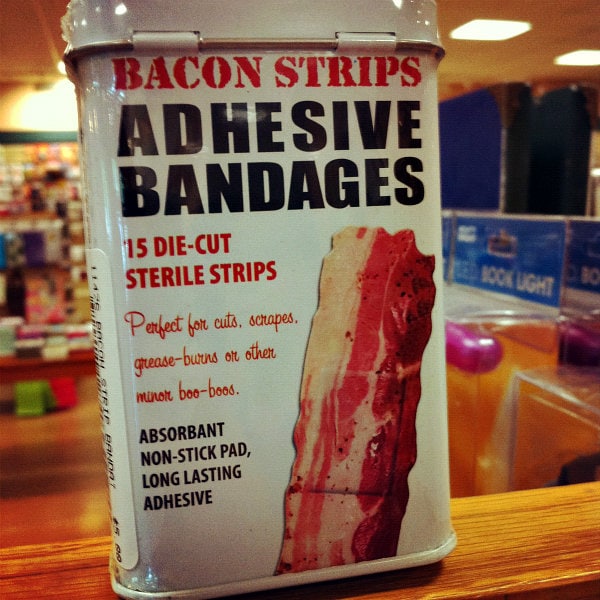 Across the street from that cool diner was a bookstore (remember those) called Book People.  It was really cool to see on their marquis that Joy the Baker was coming to town soon for a book signing!  My son Brooks bought bacon bandaids at Book People.  They've been quite the conversation piece!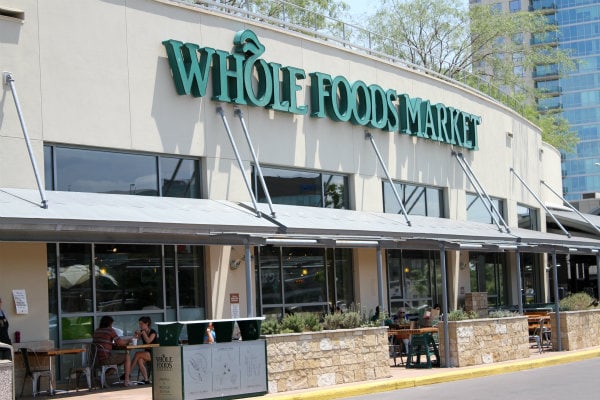 Near the bookstore is the biggest Whole Food's Market you've seen in your entire life.  It's their 80,000 square foot flagship store, and it's worth taking a peek.  If I lived in Austin, I'd be shopping here!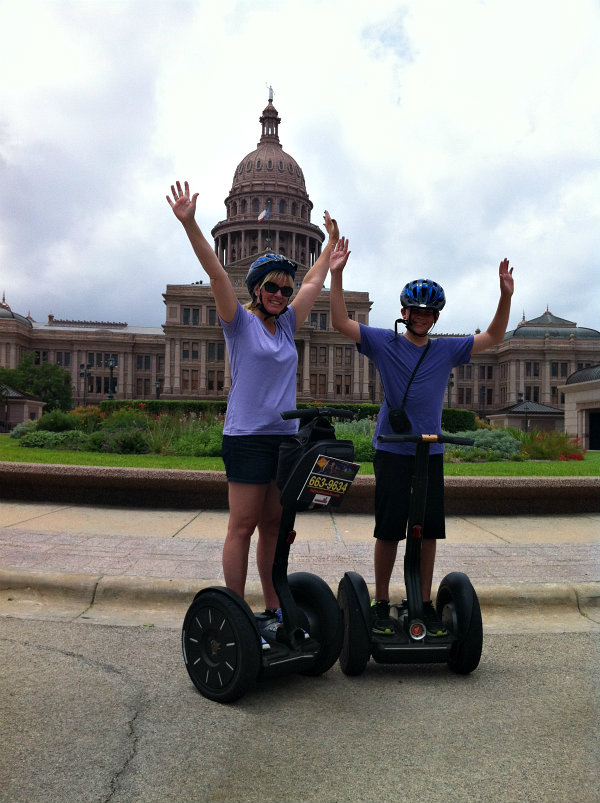 We figured a fun way to see Austin on a warm day would be to take a Segue Tour.  Brooks (age 11, but a tall kid) was deemed old enough to ride one by himself.  They give you a short lesson, and if you pass the coordination test, you're good to go.  Here we are in front of Austin's capital building.  It was definitely a fun way to see the city.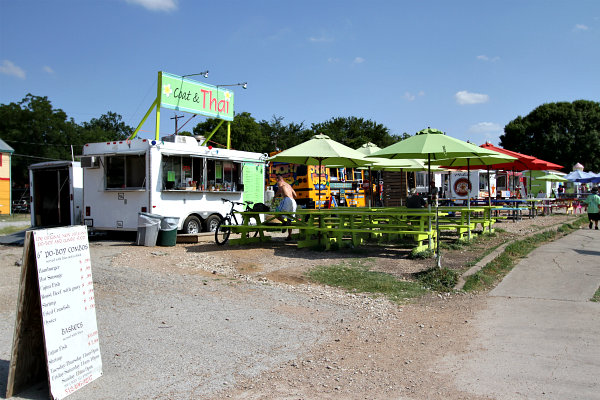 Our Segue Tour guide told us to go check out the food trucks on South Congress Street (an area they call SoCo).  It's definitely a fun place to grab some good grub, and there are a lot of different trucks to choose from.  Unfortunately, we arrived rather late on a weekday so most of them were closed.
This area is also really fun for unique shopping.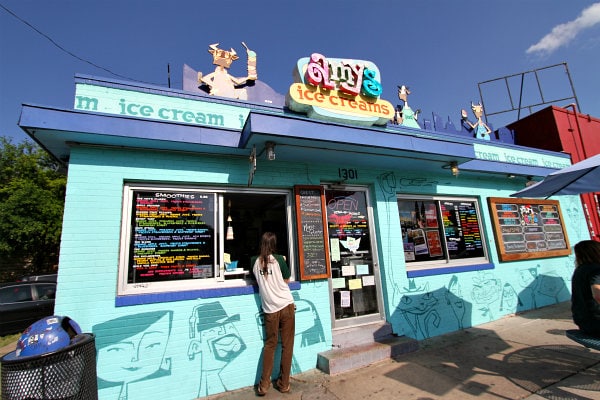 We grabbed a couple of scoops of Amy's Ice Cream.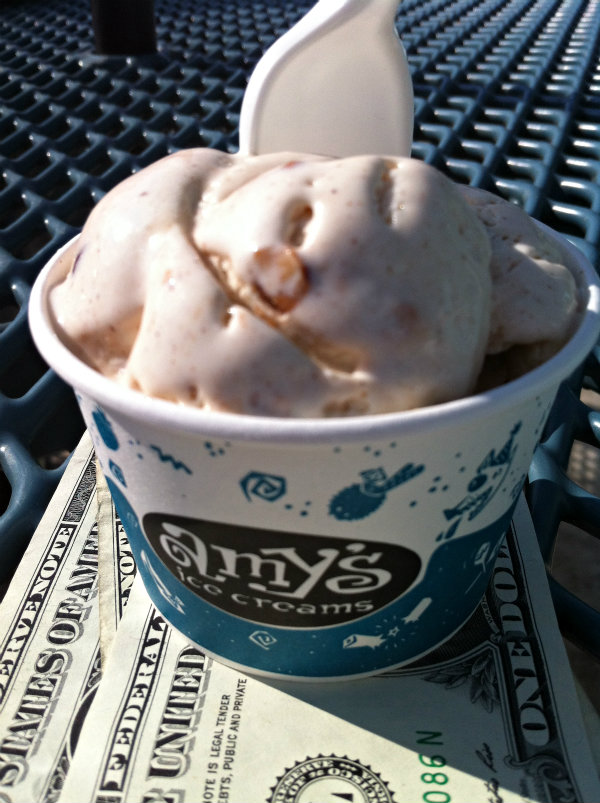 By this time of day, it was so incredibly hot that the ice cream practically melted before we reached the table.  But the ice cream was really good stuff!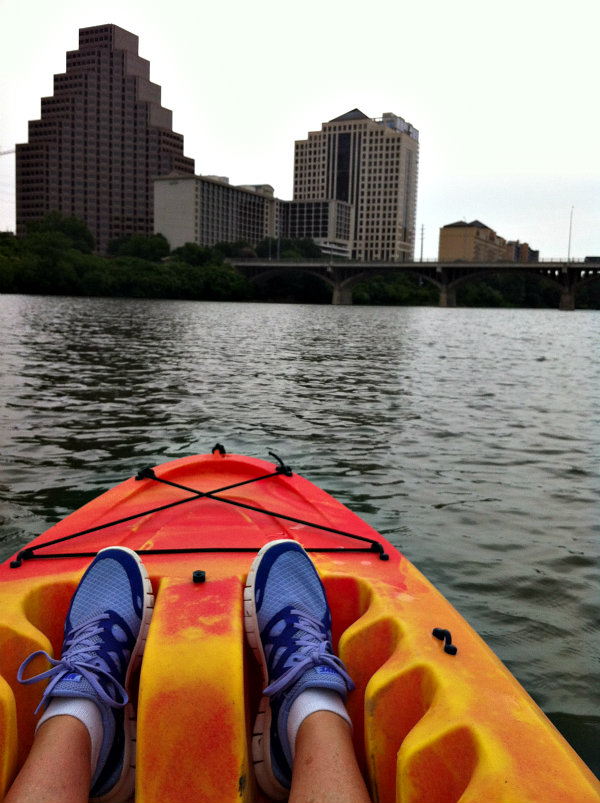 On this crazy-hot Austin day, we decided to get out on the lake behind the Four Season on some kayaks.  It was nice and relaxing to paddle around and feel the breeze on the lake.  How do people live in this extreme heat?!?!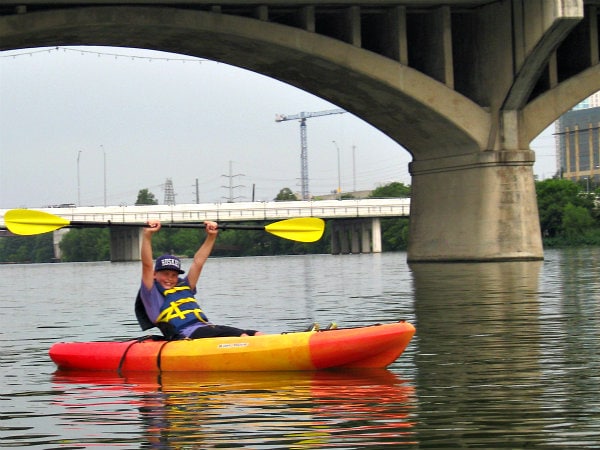 Brooks thought it was cool to paddle under the bridge, where you can hear a zillion bats squeaking in their sleep!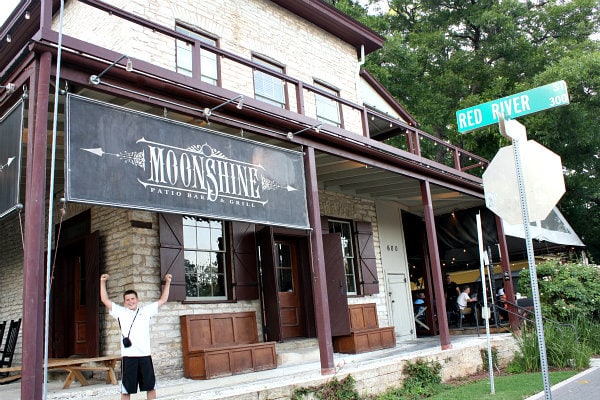 My husband arrived in Austin in time for dinner, so we took him to a good 'ol down-home Southern comfort food restaurant called, "Moonshine."  It was just on the outskirts of downtown Austin, walkable from our hotel.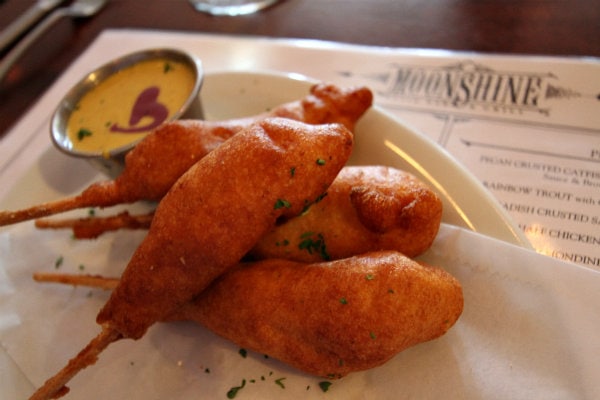 This appetizer:  Corn Dog Shrimp – was one of the highlights.  It's just what you think it probably is- shrimp strung up on a stick, dipped in corn batter and fried.  It was soooo good!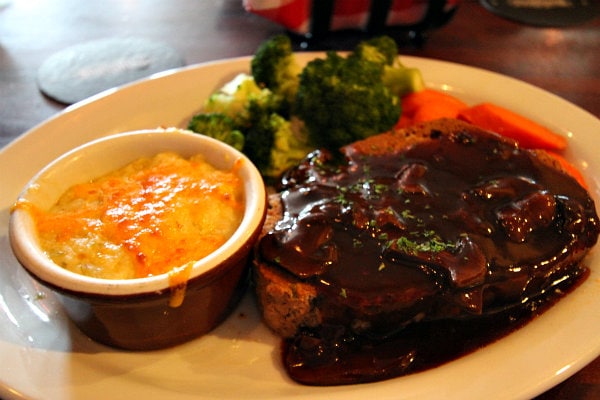 My entree was the Buffalo Meatloaf with Mushroom Gravy with Green Chile Cheddar Grits.  All I can say is omg.  And I owe the treadmill about 10 miles for this one.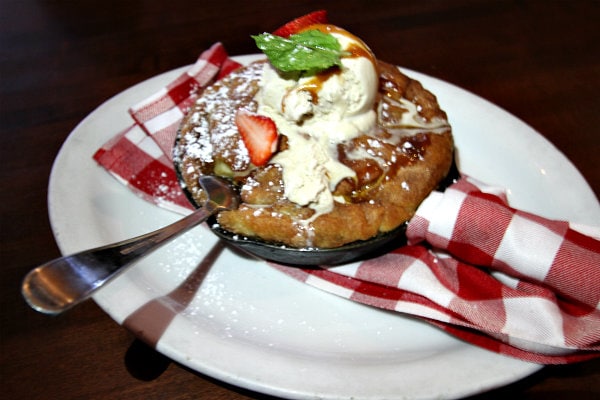 Since all of that food just wasn't enough, we also ordered this Skillet Apple Pie with Maple Ice Cream for dessert.  It was plenty big for three people… in fact, we couldn't even eat it all.  And it was so good that I'd like to try and replicate it on my site one of these days- maple ice cream and all!
More food recs that I received for Austin:
Freddie's Place– casual, great for families, live music stage & playscape for kids
Salt Lick or County Line on the Lake– for the best barbecue
Franklin BBQ– Food & Wine dubbed as best BBQ in US
Sweetish Hill Bakery– for delicious homemade baked goods
Jo's Coffee– the anti-Starbuck's establishment
Homeslice Pizza or Little Deli– for the best pizza
Torchy's Tacos– food truck on S. 1st street for the best tacos
Hopdoddy, Huts or Flat Top Burger– for best burgers
Gourdoughs– food truck off S. Congress for fun donut combinations
Olivia's– Farm to Table, southern food- Food & Wine best new chef
Olive & June– Northern Italian Tapas concept
Uchi– for the best sushi
La Condessa– high end Mexican food
Perla's– trendy, but good seafood & oyster bar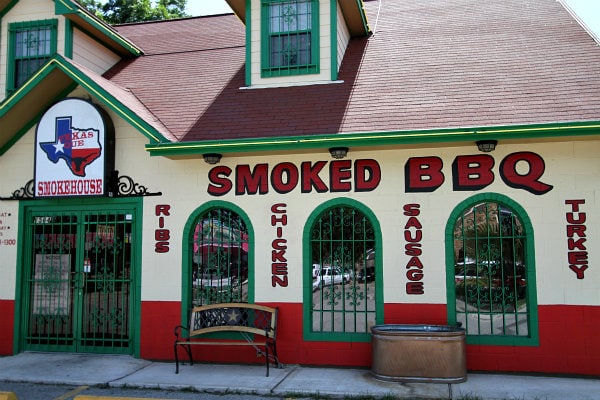 After two nights in Austin, we were ready for the 3rd leg of our trip:  Austin to New Orleans.  I'll be writing about New Orleans in my next post, but we did stop for lunch in Houston.  As we were driving, I frantically searched Yelp and called on my Twitter friends to direct me to the best BBQ in Houston.  This restaurant is one I found on Yelp.  It had some good reviews, and it wasn't too far off of the 610 fwy:  Texas Que Smokehouse.  We arrived 10 minutes before they opened, and stood outside the doors waiting with anticipation.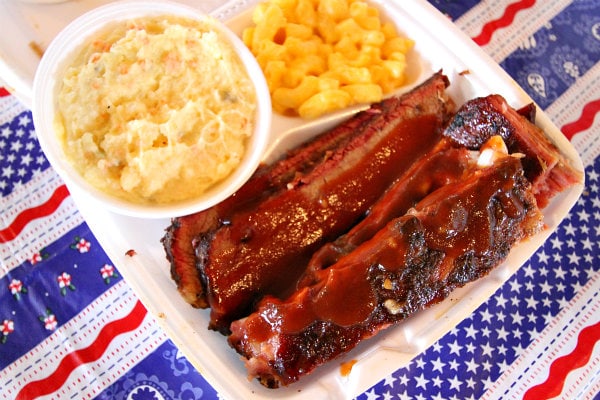 The folks had noticed my car waiting outside- there are some things on the car that identify me as RecipeGirl!  They seemed nervous that I was there to review the restaurant.  I don't know why they were nervous.  The bbq'd ribs were pretty much the best I've ever had (or maybe I was really hungry).  No, seriously, they were really good!!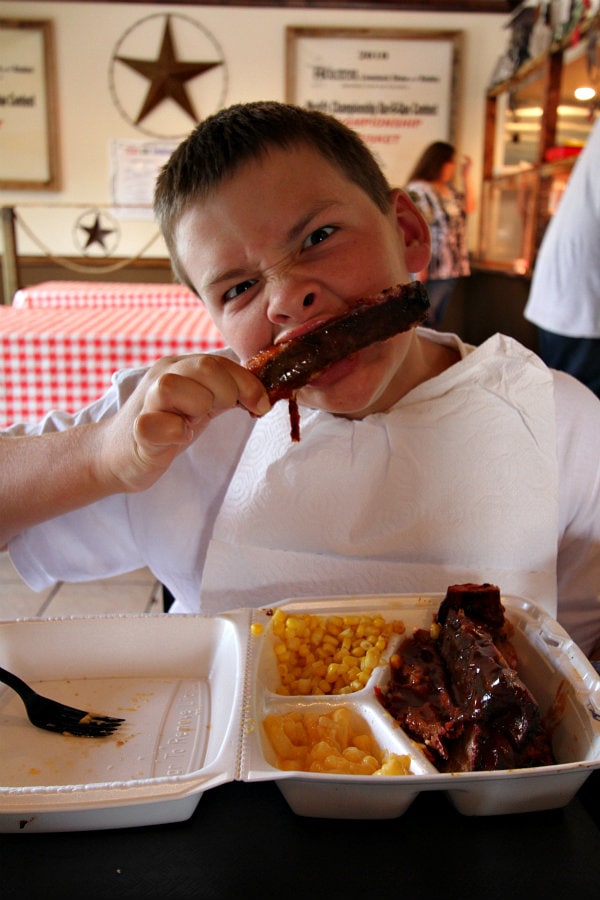 Just ask this guy!
Along with recipes as usual, I'll share more road trip details coming soon… we're driving all over the USA- eek!
P.S. If you'd like to see more about the Four Seasons Hotel in Austin, please click over to my post where I wrote about that.  It's truly an amazing hotel in the perfect location to access downtown Austin.