This is one of my favorite meals of all time: Crunchy Shrimp with Toasted Couscous and Ginger-Orange Sauce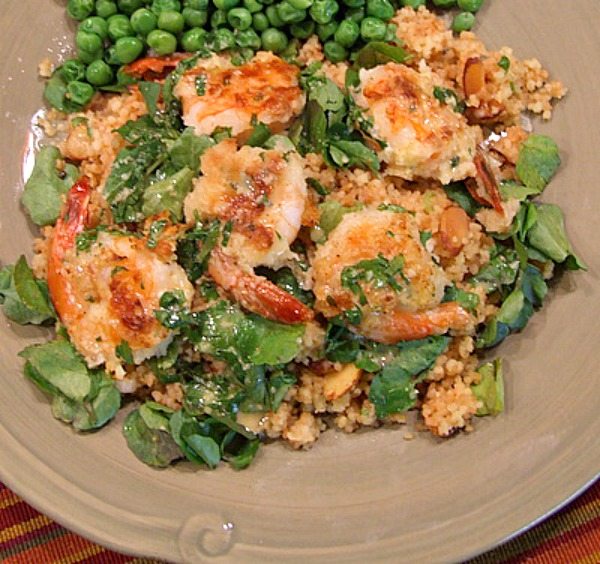 Crunchy Shrimp with Toasted Couscous and Ginger- Orange Sauce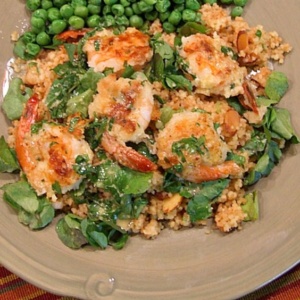 Yield:
4 servings
Prep Time: 30 min
Cook Time: 25 min
Ingredients:
SAUCE:
1 cup orange juice
1 tablespoon chopped fresh cilantro
2 tablespoon reduced-fat mayonnaise
1 1/2 tablespoons fat-free, lower-sodium chicken broth
1 teaspoon grated fresh ginger
1 teaspoon freshly squeezed lime juice
1/2 teaspoon ground cumin
1/4 teaspoon salt
1/4 teaspoon ground red pepper
COUSCOUS:
1 cup uncooked couscous
1 1/2 cups fat-free, less-sodium chicken broth
1/2 cup orange juice
1/2 teaspoon salt
1/3 cup chopped green onions
2 tablespoons sliced almonds, toasted
1 tablespoon unsalted butter
SHRIMP:
20 jumbo shrimp, peeled and de-veined (about 3/4 pound)
1 large egg white, lightly beaten
1/2 cup panko (Japanese breadcrumbs)
1 teaspoon chopped fresh cilantro
1/2 teaspoon grated fresh ginger
1/8 teaspoon freshly ground black pepper
1 tablespoon canola or vegetable oil
2 cups trimmed watercress
Directions:
1. To prepare sauce: Bring 1 cup orange juice to a boil in a small saucepan over medium-high heat; cook until reduced to 1/4 cup (about 10 minutes). Remove from heat; cool completely. Stir in 1 Tablespoon cilantro and remaining sauce ingredients; set aside.
2. To prepare couscous: Place couscous in a large nonstick skillet over medium-high heat; cook 3 minutes or until toasted, stirring constantly. Add 1 1/2 cups broth, 1/2 cup orange juice, and 1/2 teaspoon salt; bring to a boil. Remove from heat; cover and let stand 5 minutes. Fluff with a fork; add onions, almonds and butter, stirring until butter melts.
3. To prepare shrimp: Combine shrimp and egg white in a large bowl, tossing to coat. Combine panko, 1 teaspoon cilantro, 1/2 teaspoon ginger, and black pepper in a large zip-top plastic bag. Add shrimp to the bag; seal and shake to coat.
4. Heat oil in a large nonstick skillet over medium-high heat; arrange shrimp in a single layer in pan. Cook 2 minutes on each side or until done.
5. Place 3/4 cup couscous on each of 4 plates; top each with 1/2 cup watercress and 5 shrimp. Drizzle each with 1 1/2 tablespoons sauce.
Nutrition:
Nutritional Information per serving:
Serving size: 3/4 cup couscous, 1/2 cup watercress, 5 shrimp, and 1 1/2 tablespoons sauce
Calories per serving: 376
Fat per serving: 10.6g
Saturated Fat per serving: 2.7g
Sodium per serving: 763mg
Fiber per serving: 3.9g
Protein per serving: 17.6g
Cholesterol per serving: 61mg
Carbohydrates per serving: 51.9g
WW POINTS per serving:
Points Plus Program: 11 Old Points Program: 8