It's kind of like one of those age-old questions. Do we give our kids too much? As little ones, they "want want want" everything they see. As they get older their demands become a bit more polite, turning into "please please please!" Sometimes it's hard to resist those cute, little dimples. And probably, more often than not, we give in because we're sick and tired of hearing the begging.
I took my (now 10 year old) son school shopping last week. We picked up $80 worth of school supplies from a list that the school provided (thankfully, the backpack from last year still works), and then we headed to the mall. My son has recently decided that he'd like a say in what sorts of clothes he wears to school. The skinny jeans, shorts that are just the right length, certain brands of t-shirts, and kid-approved, Mom-makes-me-wear-these collared shirts were among our purchases. All were on sale for pretty good prices, and I was feeling pretty good about what I had spent. And then we moved on to purchase the fashionable item that my son cares about most: sneakers. He pleaded with me for a few minutes to buy some $90 Nike feather-light running shoes that "all of his friends have" (until the sales gal told him that they did not have his size), and then his heart fell onto these Reebok ReeZigs.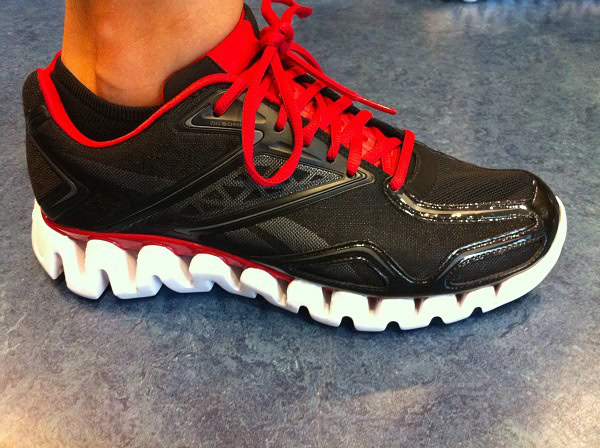 Upon first glance, I thought they were kind of ugly. They're not understated in any sort of way, and they won't exactly match a whole lot of outfits. But then he tried them on. He jogged around the store with such excitement and pride that I thought… I'm really going to have to consider these. They were on sale for $80. My husband happened to call on my cell phone at that very moment and told me not to buy our son $100 sneakers. I didn't listen. I bought them anyways.
Reflecting upon my decision later that week, I came to the following conclusions to make myself feel better about this grand purchase for my 10 year old:
1. I had gotten all of his school clothes on sale for good prices.
2. He's a runner, and these are supposed to be good running shoes.
3. I actually DID make him contribute $20 toward the purchase of the shoes.
When I admitted to my husband that I bought the shoes (that he requested I not purchase), I dissolved into tears. I explained that when I was a child I always wanted those "cool" shoes that other kids were wearing, and we were never able to get them. I wanted our son to have them.  Perhaps I've sent the wrong message… he asked, I bought, and now I'm stuck with buying uber-expensive sneakers from here on out.
So what do you think…do we give our kids too much? Are you able to hold back and just give your kids what they need? Or do you fall into the trap of wanting your kids to have things you didn't have as a child?