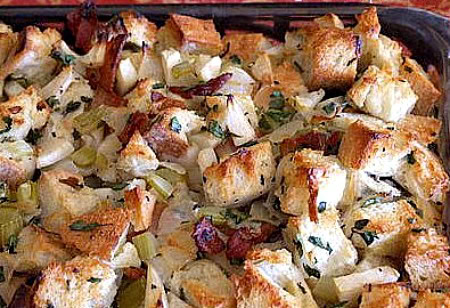 Dressing w/ Apples, Bacon & Caramelized Onions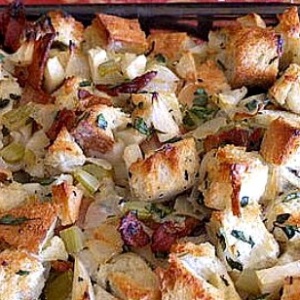 Yield:
8 servings
Prep Time: 1 hr
Cook Time: 1 hr, 25 min
Ingredients:
butter for the pan
1 loaf day-old rustic-style white bread (15 to 16 ounces)
8 ounces sliced bacon, cut into 1-inch squares
1 large onion, cut into 1/2-inch dice (about 1 1/2 cups)
1 Tablespoon granulated white sugar
2 medium Granny Smith apples, peeled, cored, and cut into 1/2-inch dice (about 2 1/2 cups)
3 large ribs of celery, chopped (about 1 1/2 cups)
2/3 cup chopped fresh flat-leaf parsley
1 Tablespoon fresh thyme, lightly chopped
1 Tablespoon chopped fresh sage
1 teaspoon kosher salt
freshly ground black pepper to taste
3 large eggs, lightly beaten
3 1/2 cups low-sodium canned chicken broth
Directions:
1. Butter a 9x13-inch baking pan. Cut the bread into 1-inch cubes and spread them on a baking sheet to dry at room temperature while you prepare the other ingredients.
2. In a large skillet over medium heat, cook the bacon until crisp, about 15 minutes. With a slotted spoon, transfer the bacon to a plate lined with paper towels. Pour off all but 2 Tablespoons of fat from the skillet; reserve the extra. Put the onion in the pan and sauté over medium-high heat until soft and lightly browned, about 5 minutes. Sprinkle the sugar over the onion and sauté, stirring constantly to prevent sticking or burning, until the onion turns deep golden and the edges caramelize, 3-5 minutes. Scrape the onion into a large mixing bowl.
3. Return the pan to medium heat and add 2 Tablespoons of the reserved bacon fat. Add the apples and celery. Sauté until softened, 5-7 minutes. Add the parsley, thyme, sage, 1/2 teaspoon of salt, and a few grinds of pepper; sautê another minute. Scrape the contents of the pan into the bowl with the onion.
4. When you're ready to bake the stuffing, add the bread cubes and bacon to the bowl of sautéed vegetables and toss. Add the beaten eggs, broth, the remaining 1/2 teaspoon of salt, and a few more grinds of pepper; mix well. Transfer to the prepared baking pan.
5. Half an hour before the turkey is done (an instant-read thermometer in the thickest part of the thigh should read 155° to 160° F), put the stuffing in the oven next to the turkey and bake uncovered at 350° F. until the top is light and crusty, about 1 hour.