This French Onion Pork is a delicious, quick and easy weeknight dinner recipe.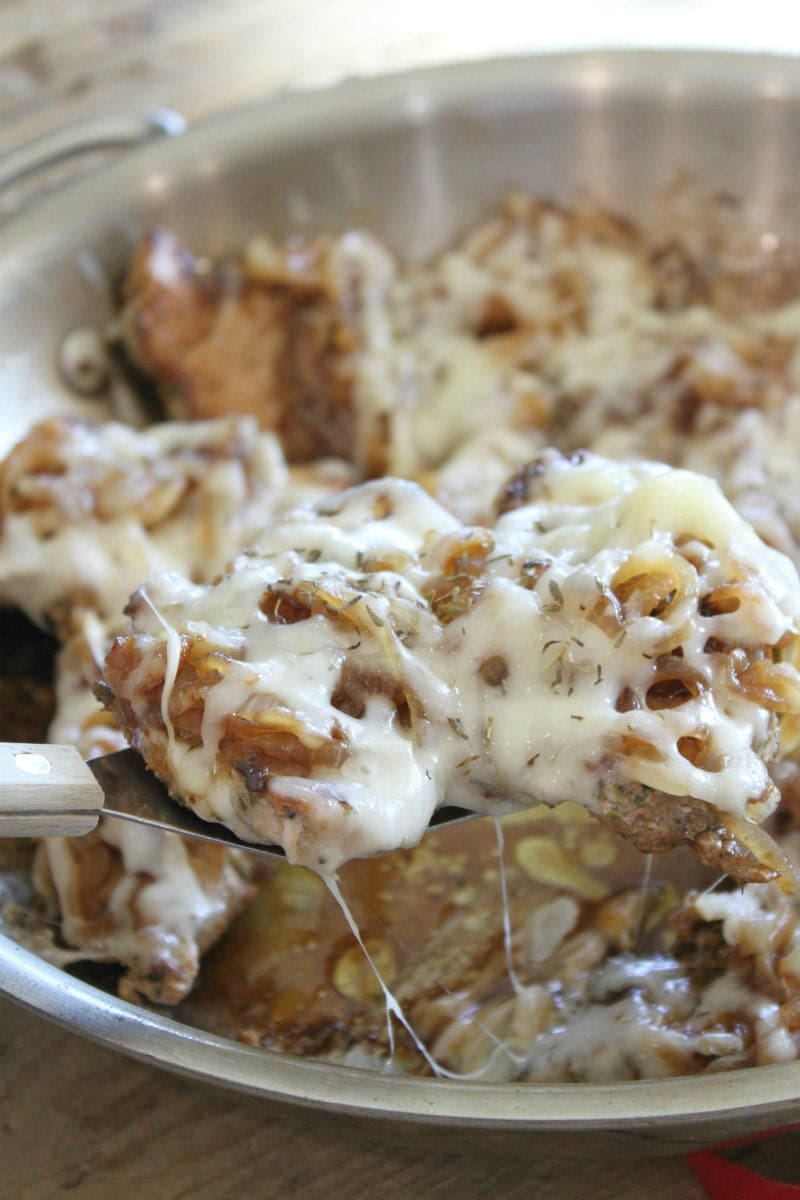 I'm all about flavor when it comes to creating a good dinner recipe. My family gets tired of having the same old thing for dinner, so I like to change things up and surprise them with new and flavorful options! And I definitely like to focus on recipes that are easy to make too- especially with the hectic beginning of the school year!
This is another recipe I've created using Smithfield's line of already marinated pork. It's so easy to work with their products because you get to work with pork that already has a base of great flavor because it's conveniently pre-seasoned. There is no extra prep or time needed to marinate the pork because it's already done! You should be able to prepare this dinner in about 30 minutes.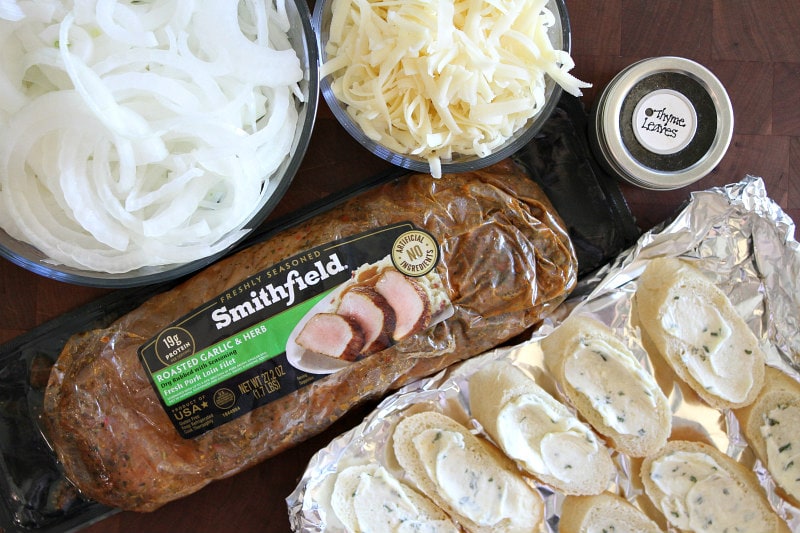 This dinner is reminiscent of French Onion Soup! You'll be using the Smithfield Marinated Pork, and then you'll make some caramelized onions, bringing all the flavors together with Swiss cheese and garlic toast.
Smithfield is helping at-home cooks save time in the kitchen with the "Real Fresh, Real Flavor, Real Fast" contest and sweepstakes. From now through September 13, visit SmithfieldRealFlavorRealFast.com to submit your time-saving cooking tips featuring Smithfield Marinated Fresh Pork for a chance to win the ultimate Wine Country experience – a four-day/three night trip for two to Napa Valley, California. How fun does that sound?!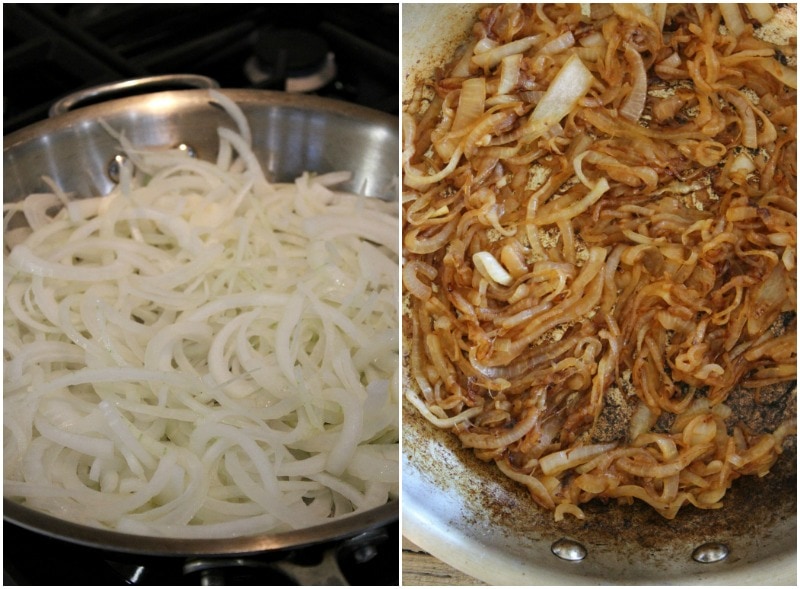 Caramelized onions are the absolute best. They take about 25 minutes to make, but they're completely worth it (I promise!) You can get those going in a pan, and then prepare the rest of the meal while those are cooking. Onions are placed into a skillet with a little bit of olive oil, and then they are left to saute over medium heat until they begin to soften up. Then you'll add a tiny bit of sugar and salt and continue to cook until they are browned and caramelized. They just need stirring every so often.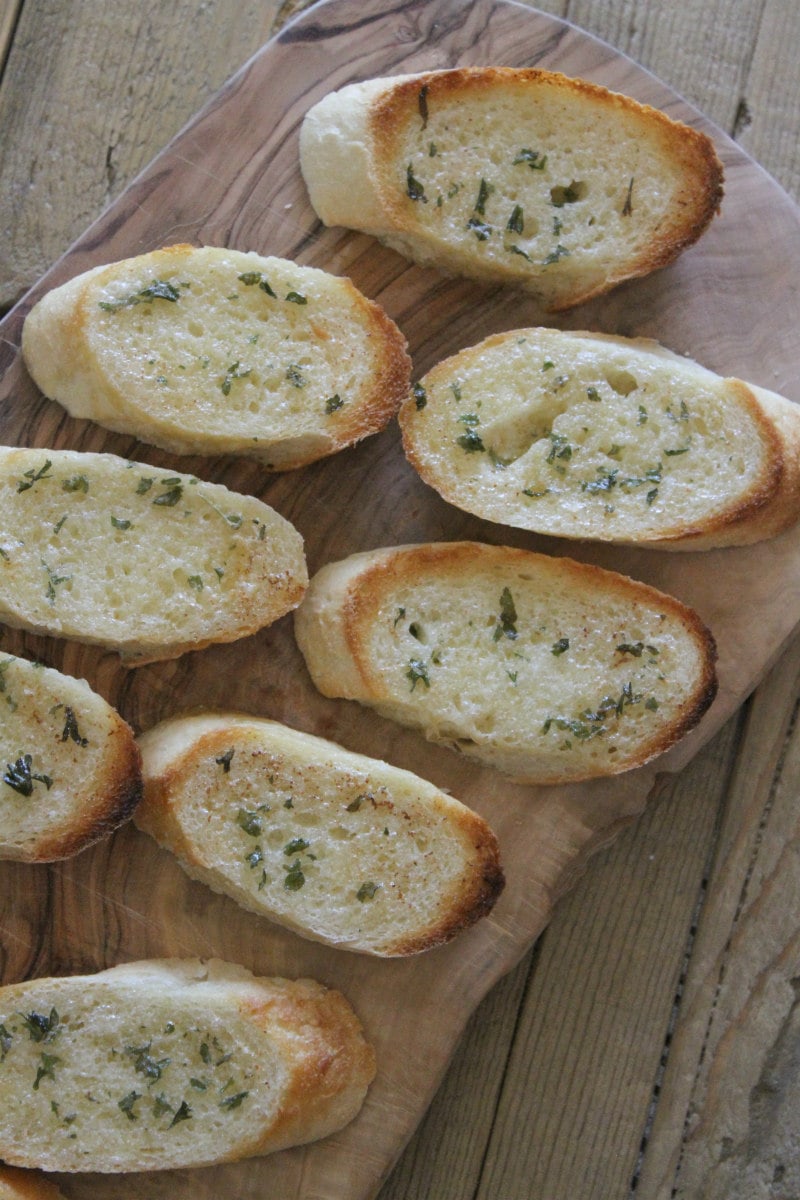 While your onions are cooking, you can get to work on the garlic toasts. Baguette slices are topped with garlic butter and toasted in the oven broiler. That's it!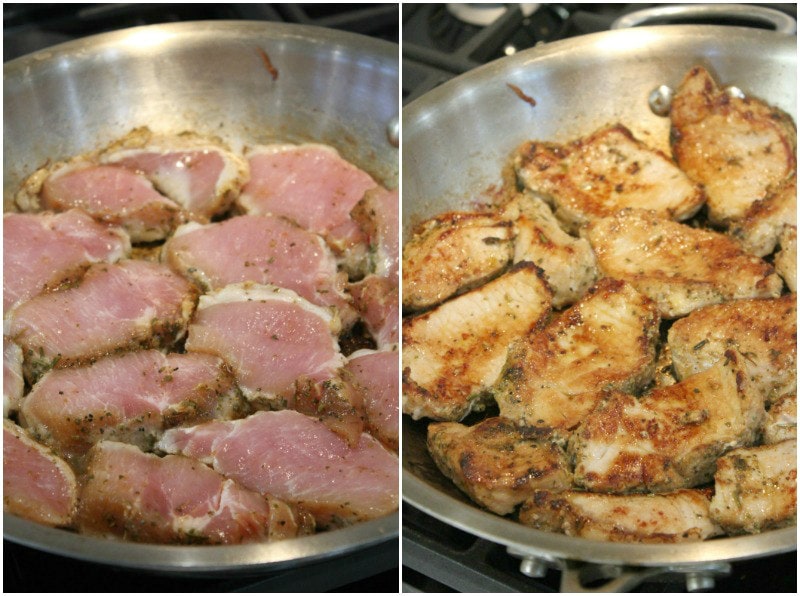 Next you'll cook the pork. The already marinated pork tenderloin has a ton of flavor, so you don't need to add any additional flavor to it at all. It's simply cut into medallions and sauteed in a little bit of oil until browned on both sides. It cooks up very quickly since you're cutting the pork into smaller pieces.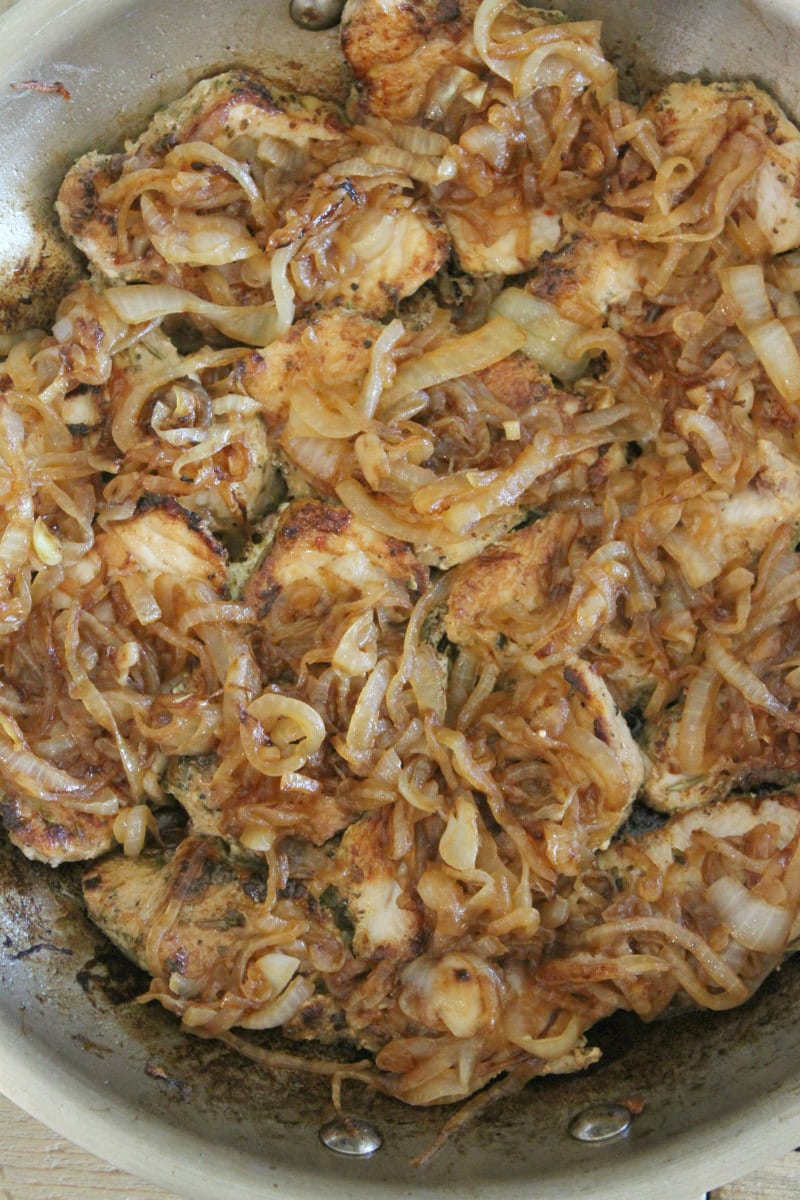 To finish up the dish, the caramelized onions are spooned on top of the cooked pork.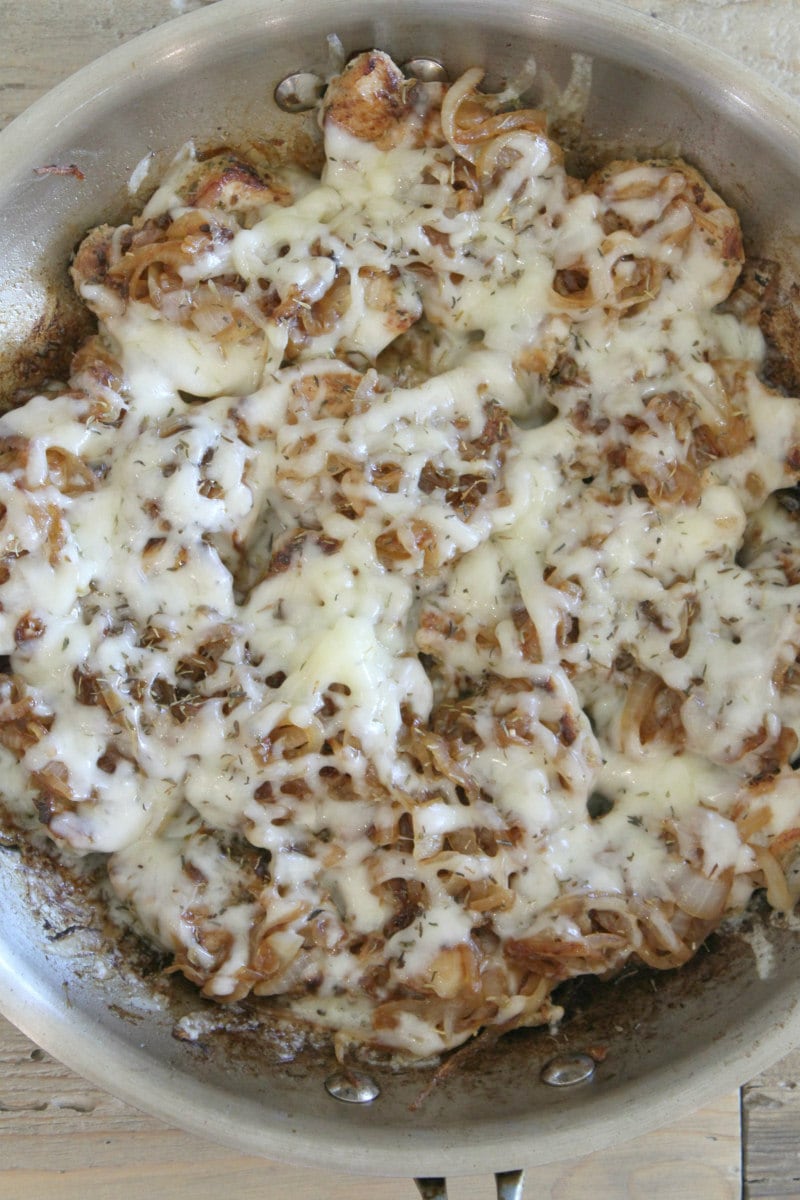 Swiss cheese is sprinkled on top with some thyme leaves too. The lid is placed onto the skillet at this point- giving the cheese a chance to melt. That's all you do to prepare this meal. It's such an easy dinner recipe, and it's full of fabulous flavors.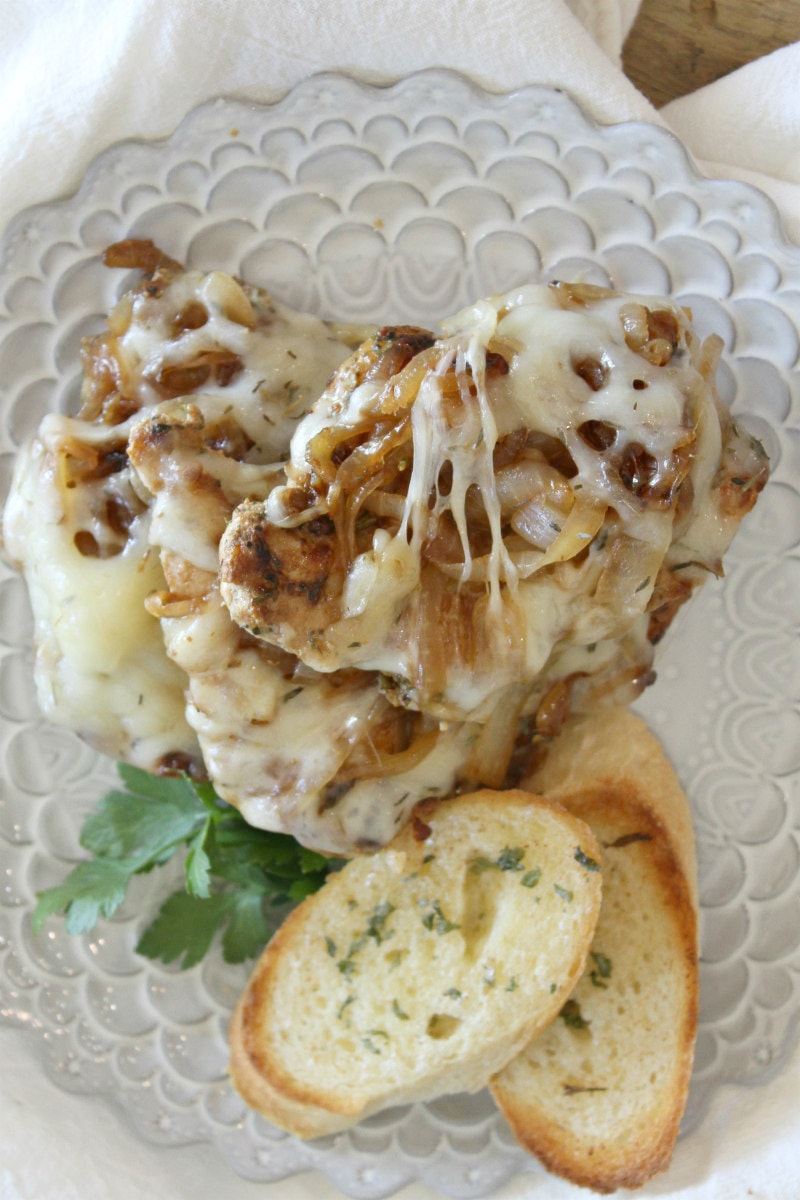 To serve, plate a couple of pork medallions topped with that melted cheese. Add the garlic toast, and you're good to go. It's an impressive dinner!
Smithfield marinated pork is available in assorted flavors and in a wide variety of fresh cuts. You can find it at select grocery stores and retailers nationwide, including ShopRite, Food Lion, Publix, Albertsons/Safeway, Save a Lot and Walmart.
From September 18 through October 11, you can vote on your favorite tips and tricks to win hundreds of sweepstakes prizes. For official rules, entry details, recipe ideas and more, visit SmithfieldRealFlavorRealFast.com.
Here are a few more pork recipes you might like to try:
French Onion Pork
Sauteed pork medallions topped with caramelized onions and Swiss cheese. Amazing!
Ingredients
CARAMELIZED ONIONS:
2

tablespoons

olive oil

2

large

sweet onions,

sliced thinly

1/2

teaspoon

granulated white sugar

pinch of

kosher salt
GARLIC TOASTS:
1/4

cup (1/2 stick)

butter,

at room temperature

1/2

teaspoon

garlic powder

1/2

teaspoon

parsley flakes

12

baguette slices
PORK:
1

tablespoon

olive oil

One

27.2-ounce

Smithfield Roasted Garlic & Herb Fresh Pork Loin Filet

1 1/2

cups

shredded Swiss or Gruyere cheese

1/2

teaspoon

dried thyme
Instructions
PREPARE THE ONIONS:
In a large skillet, heat oil and add onions. Saute onions until they are softened. Add the sugar and salt. Continue to saute and stir often until the onions have reduced greatly and are lightly browned and caramelized- total cooking time for the onions should be 20 to 25 minutes. Remove the onions from the pan and set aside.
PREPARE GARLIC TOASTS:
While the onions are cooking, prepare the toasts. Preheat your oven broiler. Combine butter, garlic powder and parsley in a small dish. Spread the butter on the baguette slices. Put the baguette slices on an oven-safe baking sheet or foil pan and toast for about 3 minutes, just until golden.
PREPARE THE PORK:
Slice the pork filet into 1/2-inch slices. Heat oil in the skillet, and add pork. Cook about 3 minutes on each side, just until cooked through. Place caramelized onions on top of the pork. Sprinkle cheese on top. Turn off the heat. Put lid on the skillet and give it a few minutes to melt the cheese.

Plate individual servings of the French onion pork with two slices of garlic toast.