Here's a healthier option for an appetizer dip- Triple Onion Dip– to serve when you want to watch your calorie intake.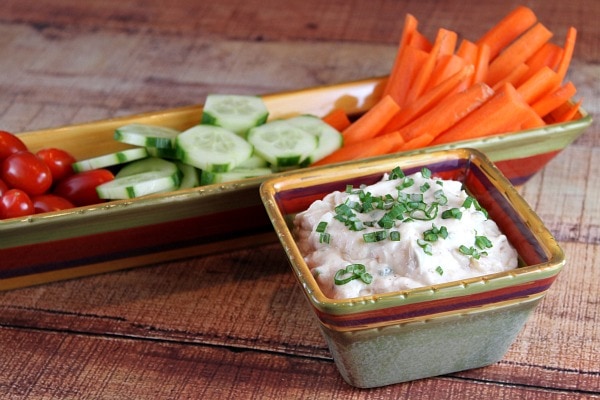 So let's talk about the Big Game.  We've got Broncos vs. Seahawks this year.  Not my favorite choices, but I must admit… those two teams deserved to be in the finals.  The Seahawks just really killed it and played well this year.  My family in Washington is super happy about that.  The Broncos… well, Peyton Manning set all kinds of records and the team did well in general too.
I'm not really sure who I'll be rooting for, but I do like to watch football so I'll enjoy watching the game.  But MORE THAN THAT, I love the food surrounding the Super Bowl.  That's what it's REALLY all about, isn't it?  I know that some of you don't care about the game at all, but surely you care about football food.  It's a darn-good-excuse to make some amazing grub, that's for sure.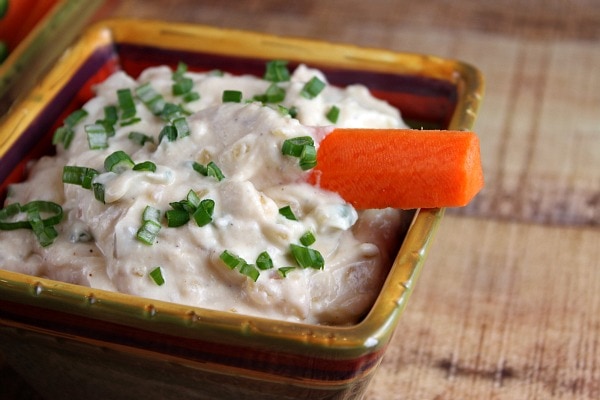 This Triple Onion Dip comes from one of Ellie Krieger's cookbooks:  Comfort Food Fix.  Ellie is my go-to-gal for light recipes that are always fabulous.  This dip has a (mostly) Greek yogurt base.  The triple onion comes from  sweet onions, green onions and onion powder.  There is plenty of flavor to make it taste awesome… even for those of you NOT watching your calories this year.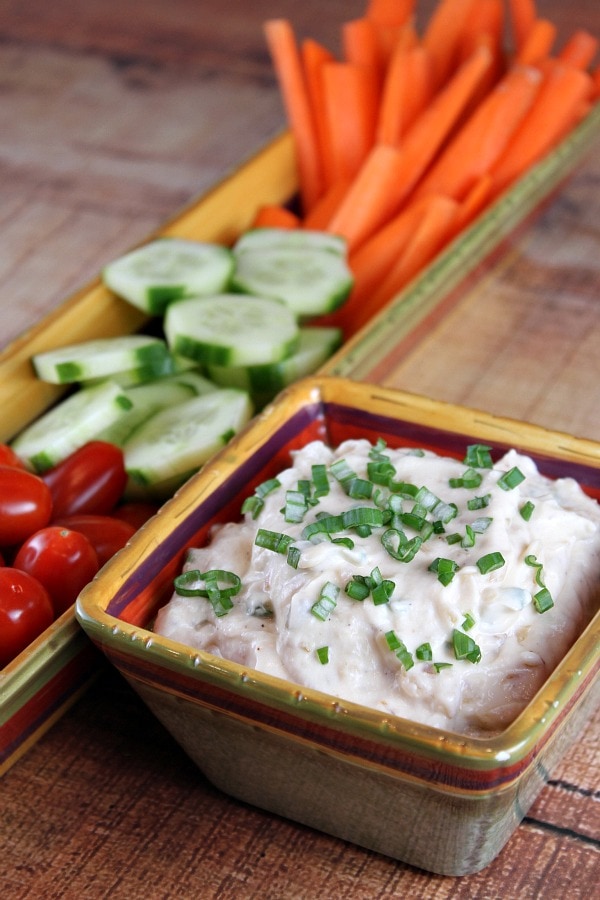 Wishing to save as many calories as possible (to leave enough room for other evil things to eat), I opted to serve my Triple Onion Dip with all-veggies.  It was mighty good.
I'm not hosting a party this year, and I haven't figured out exactly what I'm bringing to the party that I'll be attending.  But this recipe is definitely on the short list– and maybe some ham & cheese sliders too.  Go teams! 🙂
Triple Onion Dip
Yield:
6 servings (1/4 cup per serving)
Prep Time:25 minutes
Cook Time:10 minutes
Ingredients:
2 teaspoons olive oil
2 small sweet onion, minced
2 green onions, thinly sliced, green and white parts separated
1 1/4 cups plain Greek nonfat yogurt
1/4 cup light mayonnaise
3/4 teaspoon garlic powder
3/4 teaspoon onion powder
1/2 teaspoon salt, plus more to taste
1/4 teaspoon freshly ground black pepper
Directions:
Heat the oil in a medium nonstick skillet over medium heat. Add the sweet onion and green onion (white part only) and cook, stirring often, until golden brown and soft, about 10 minutes. Allow to cool completely.
In a large bowl, stir together the onion mixture, yogurt and all remaining ingredients. Chill for 1 hour to let flavors meld (or up to 3 hours). Top with chopped green onions (green parts) just before serving. Serve with vegetables, crackers or potato chips.
Tips:
If you are preparing this recipe as GLUTEN-FREE, just be sure to use a brand of mayonnaise that is known to be GF.
Nutrition:
Nutritional Information per serving (Serving size:

1/4 cup) 

Calories:

90, 

Fat:

5g, 

Saturated Fat:

.5g, 

Sodium: 280mg, Fiber:

0g, 

Protein:

5g, 

Cholesterol:

5mg, 

Carbohydrates:

6g

Weight Watchers POINTS:  Freestyle SmartPoints: 1, SmartPoints: 2, Points Plus Program: 2, Old Points Program: 2
Source:
 RecipeGirl.com (adapted barely from Ellie Krieger's cookbook:  
Comfort Food Fix
)
Here are a few more dip recipes you might enjoy:
Disclosure:  There are Amazon affiliate links included within this post.