Here's a recipe for Grilled Pork and Vegetable Teriyaki Noodle Bowls that is a good one to make for an easy weeknight dinner.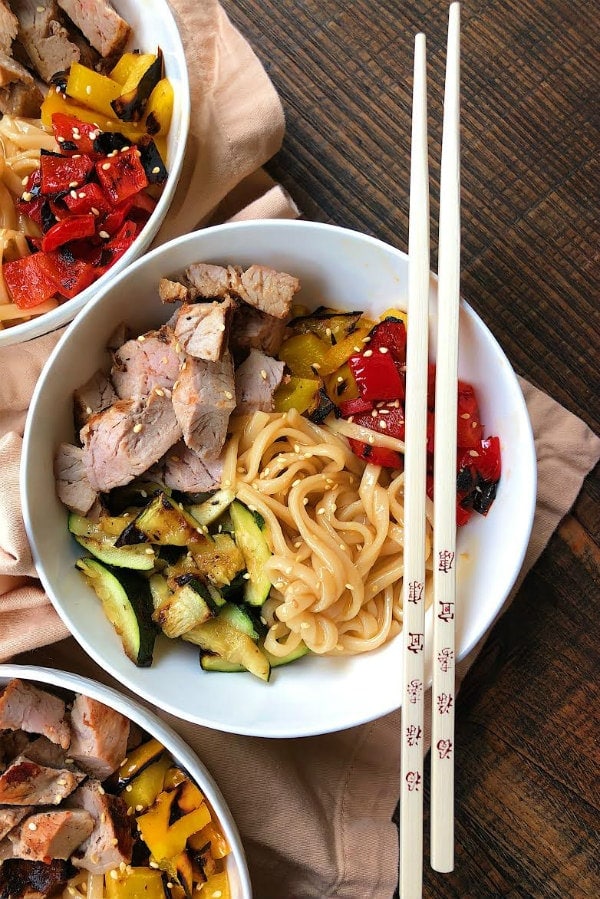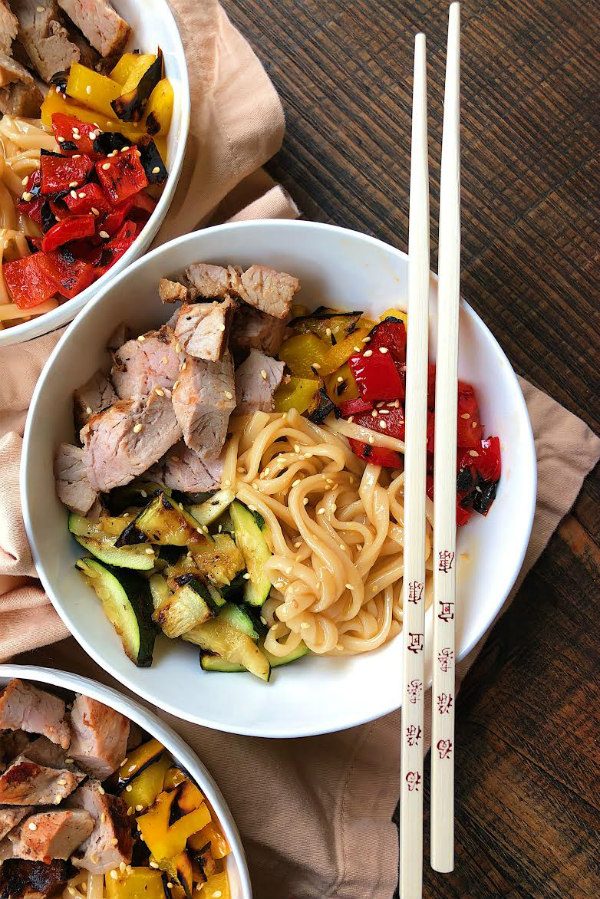 This is a totally stress-free recipe where you get take advantage of the beautiful summer weather and use your grill.  Both the pork tenderloin and the vegetables for these Teriyaki Noodle Bowls are cooked on the grill!  I love outdoor grilling because it's so easy, and there is very little clean-up involved.  
Plus, there's just something to be said about creating a meal in your backyard.  I love to grab a glass of wine, turn on some 80's classic rock, sit in my poolside lounge chair and let my husband do the grilling.  He doesn't seem to mind the routine either.  Summer is the best season for creating delicious meals!
The recipe begins with Smithfield Sweet Teriyaki Pork Tenderloin.  100% fresh pork is slow-marinated and perfectly seasoned (no artificial ingredients).  I use Smithfield's already-marinated pork quite often because the flavors are always spot-on and so easy to make for dinner.
This variety of pork is so perfect for this recipe because it has already been seasoned, and you don't have to wait for anything to marinate.
Where do you buy Smithfield pork?
I see the Smithfield pork products most often at Walmart, but several grocery retailers around the country carry their products too.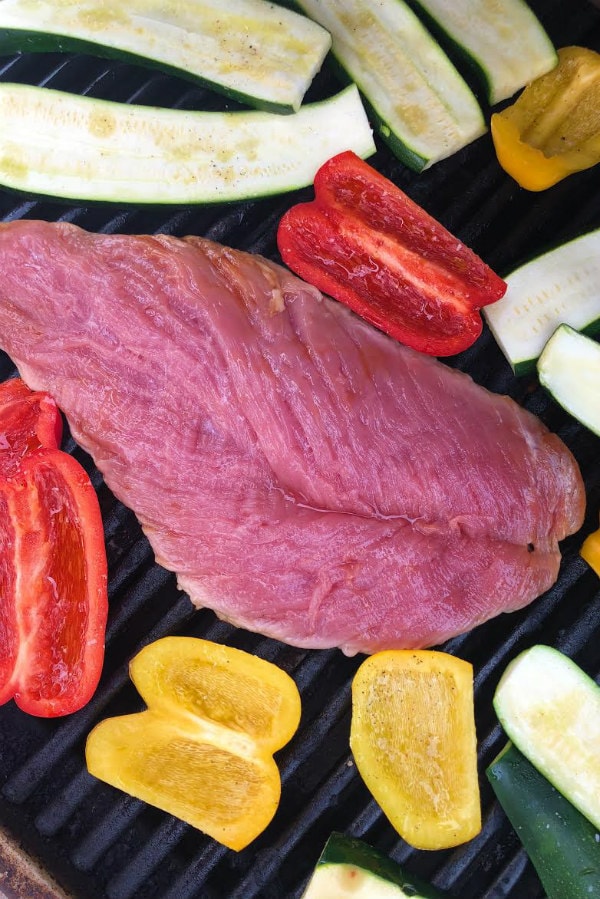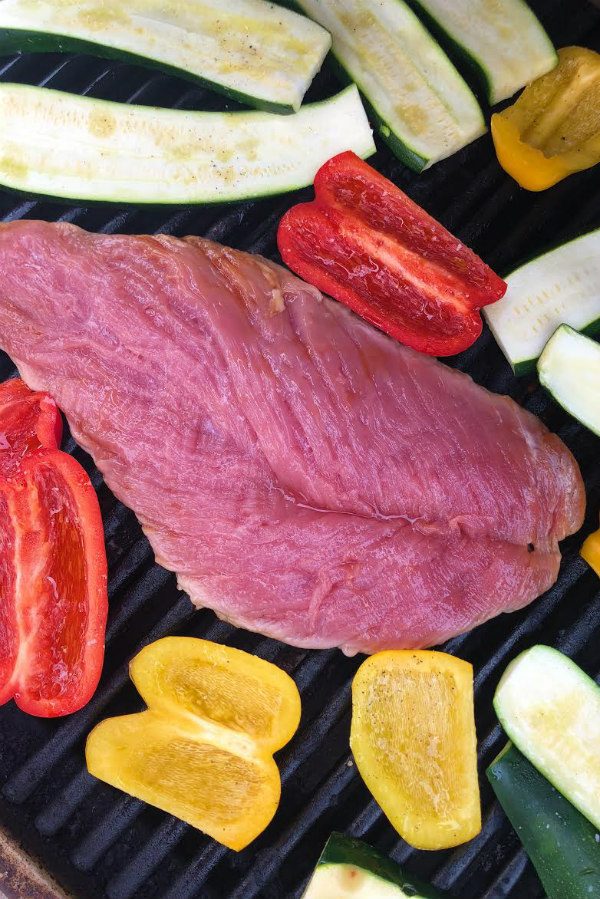 For a quicker cooking time, you'll cut the pork tenderloin lengthwise to butterfly it open for a super quick grilling time. When you open the package of pork, you'll find that it has been sitting in a nice pool of marinade.  Just drain the marinade at this point.  That pork will retain those juices during the grilling process.
The veggies are cooking alongside.  Everything will be done in about 10 minutes.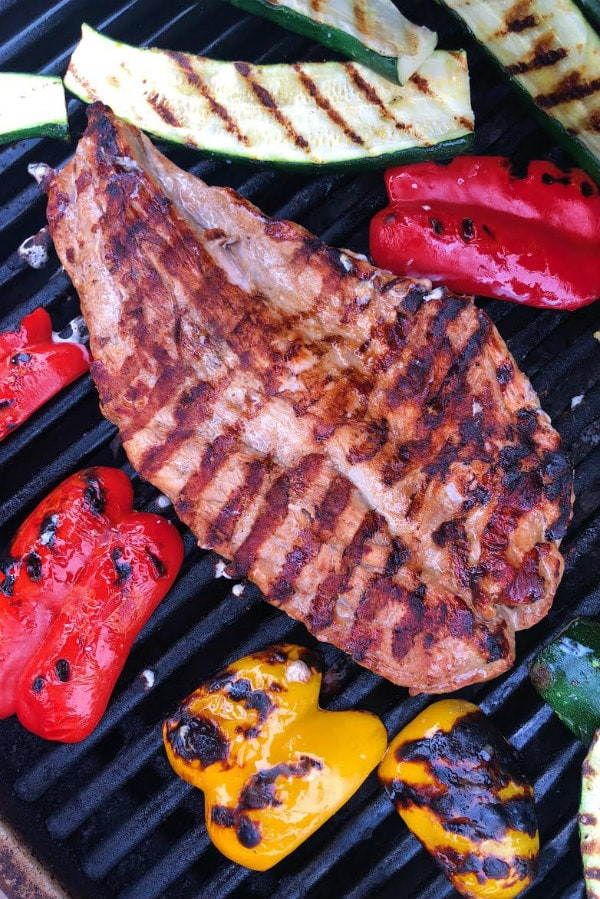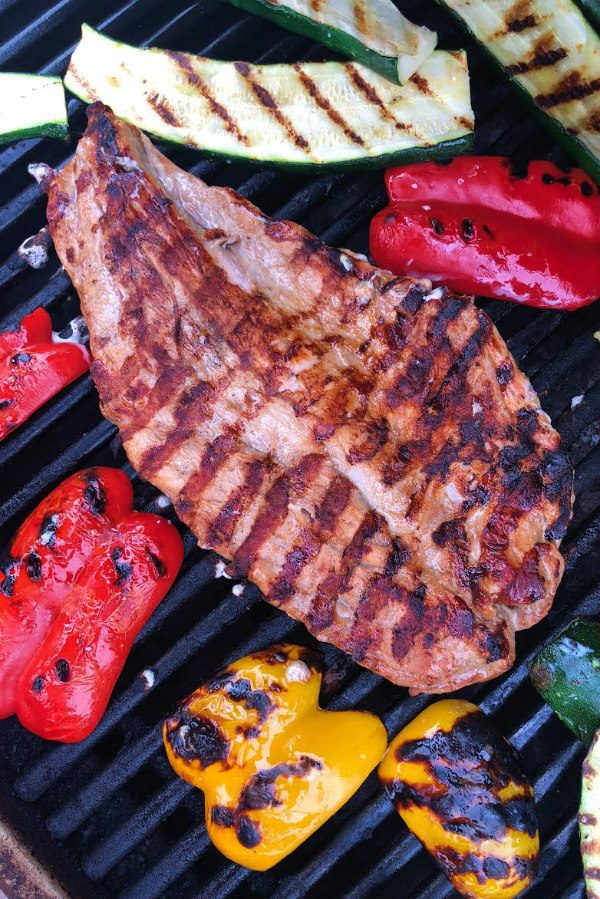 Once you have some great grill marks (I like to see some black on my veggies!), it's all ready to be taken off the grill and removed to a cutting board for chopping.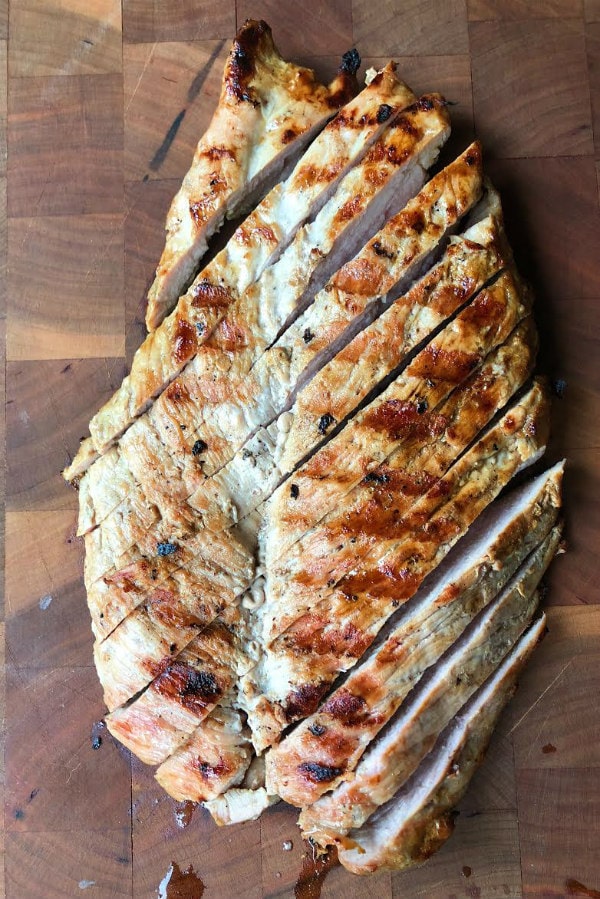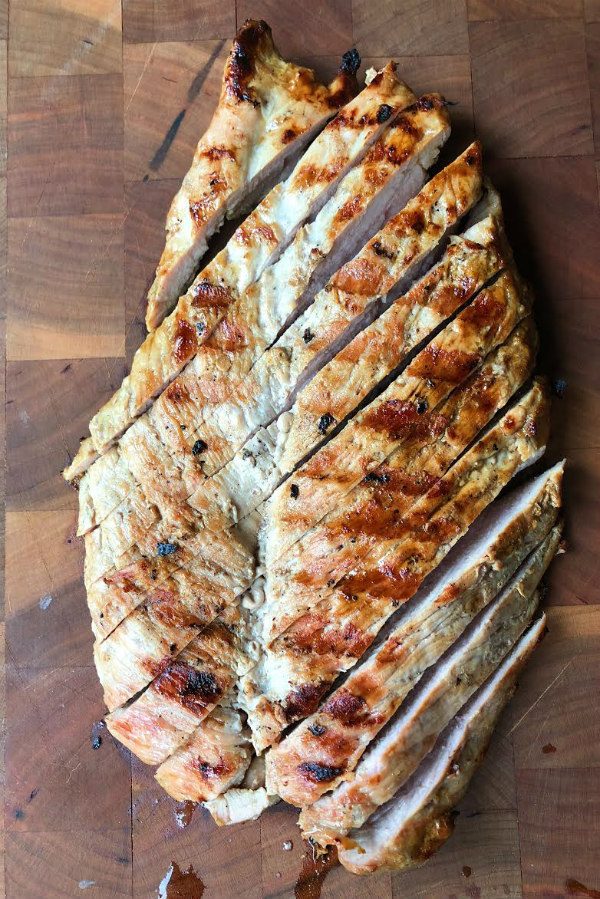 There's the beautiful piece of grilled pork.  You can see how well it retained its juices on the grill, and it's packed full of flavor too!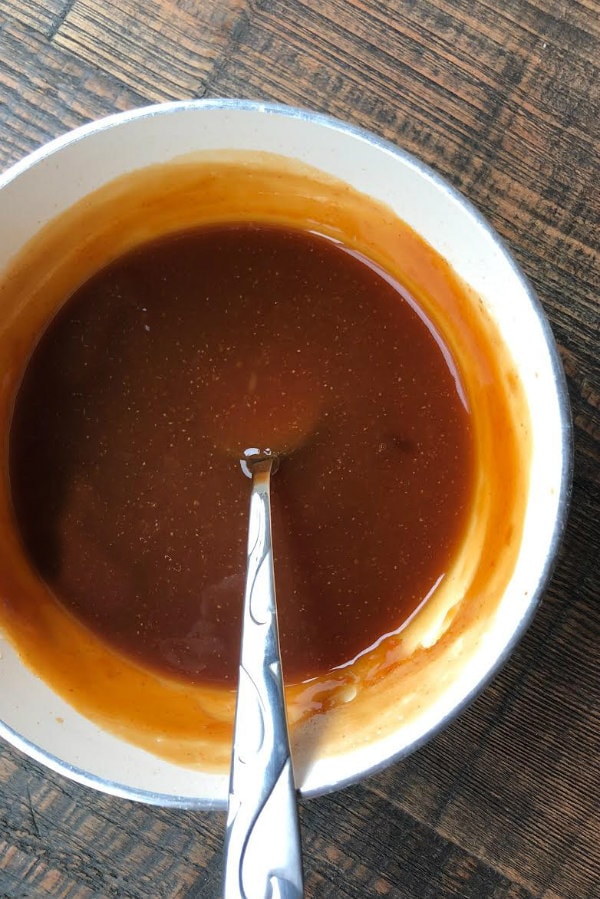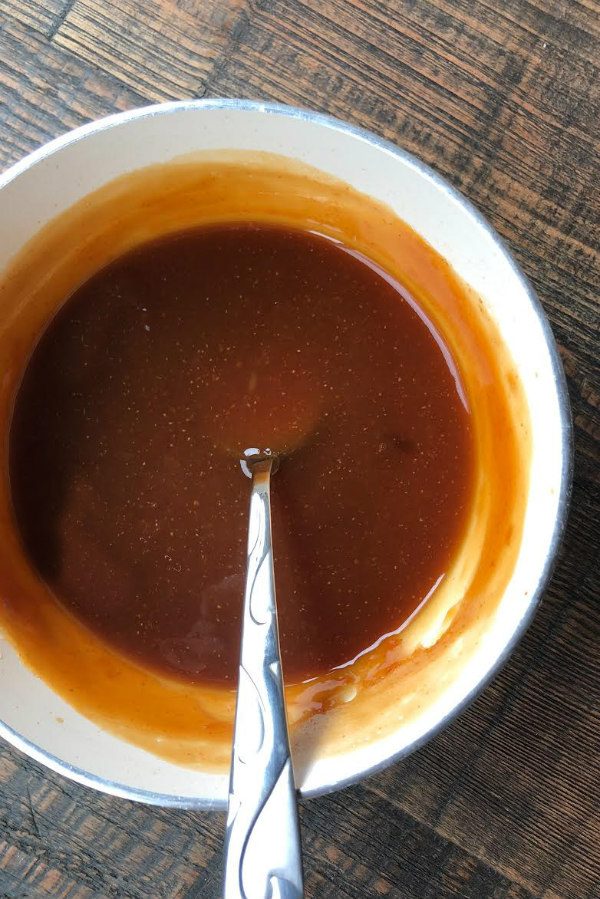 I make a super quick and easy homemade teriyaki sauce for this recipe, but if you're in a time crunch (or you'd just rather not put in the effort) it's totally okay to pick up some teriyaki sauce at the store.  I'd look for a variety that is more syrupy than liquid.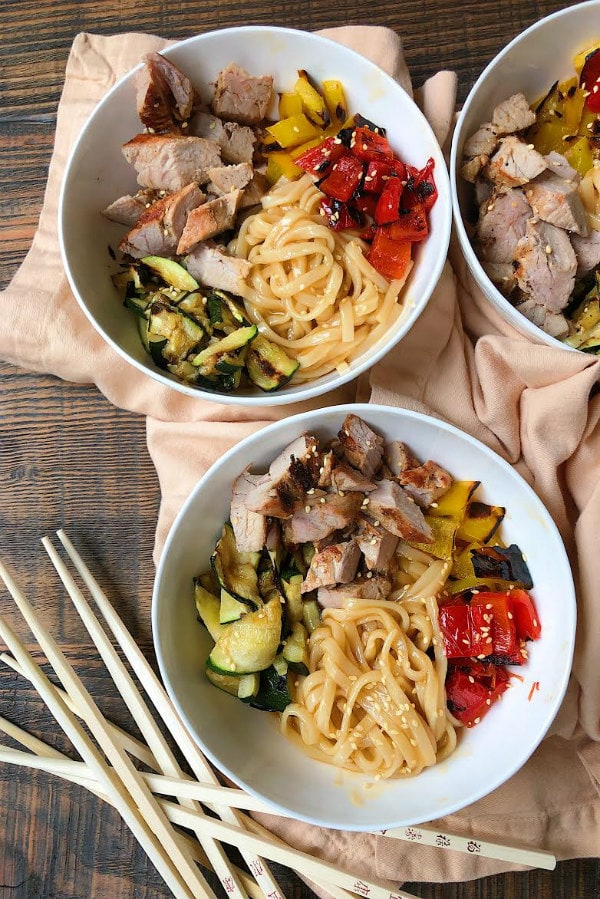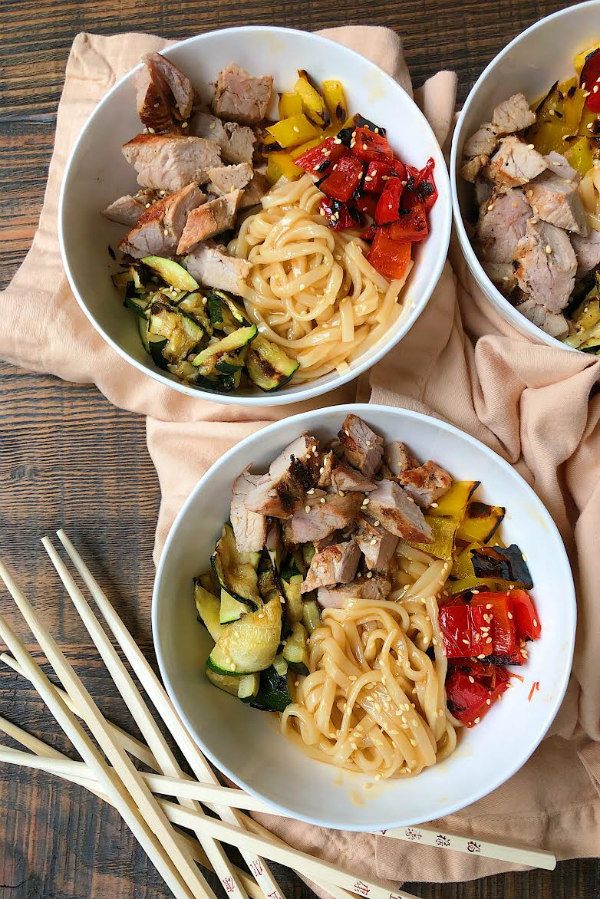 This Grilled Pork and Vegetable Teriyaki Noodle Bowls recipe feeds four people.  To assemble the bowls, you'll toss the noodles with the teriyaki sauce and divide between the four bowls.  Chop the pork and veggies, and divide those up too.  Sprinkle with a few sesame seeds, and you're good to go!
We always have chopsticks on hand for Asian inspired dishes like this.  But some of us are not very adept in using chopsticks, so forks are a good option too.  My whole family loves this quick and easy dinner!  Try thee Teriyaki Noodle Bowls, and let me know what you think!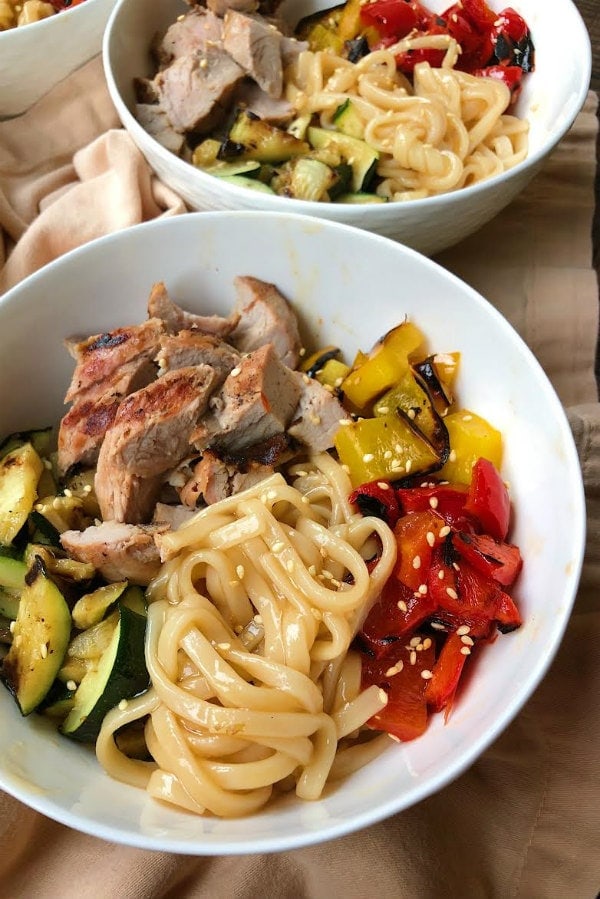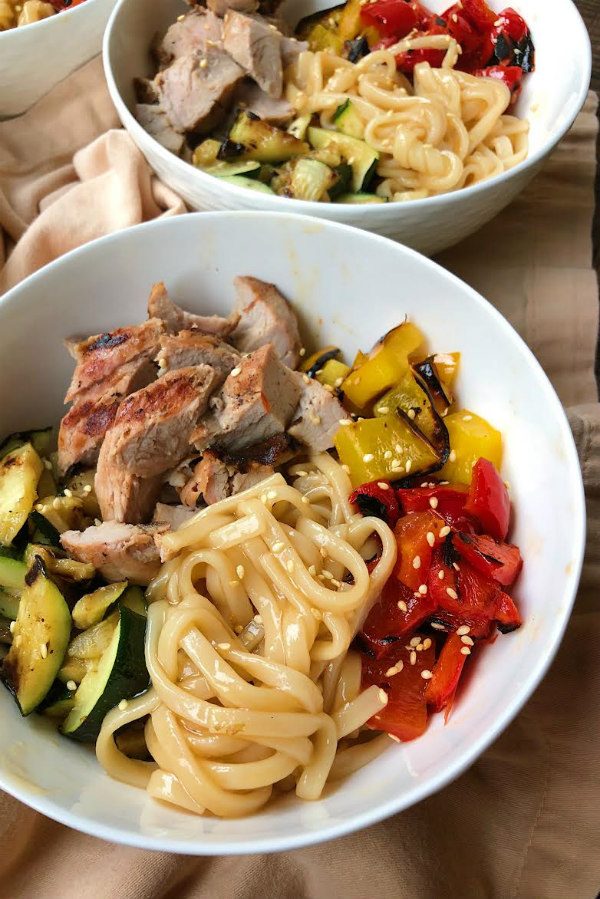 Smithfield wants to celebrate grilling heroes and inspire everyone to get grilling all summer long with their "Hero of the Grill" contest. Submit your nominee and give your grilling hero a chance to win $5,000. Plus, the first 10,000 nominees will have the chance to have their name featured on Aric Almirola's #10 Ford at the Richmond race this September. For more information, recipe inspiration, and full contest details, visit www.SmithfieldGetGrilling.com.
If you're looking for more easy dinner recipes using pork tenderloin, you might try One Pan Pork with Creamy Mushroom Sauce or Slow Cooker Cuban Pork.  Slow Cooker Carnitas Burritos and Garlic Herb Grilled Pork Loin are good choices too.
Grilled Pork and Vegetable Teriyaki Noodle Bowls
This is the perfect, simple recipe for marinated pork tenderloin.
Ingredients
TERIYAKI SAUCE:
1

cup

pineapple juice

1/4

cup

reduced sodium soy sauce

1

tablespoon

brown sugar

1/2

teaspoon

ground ginger

1/4

teaspoon

garlic powder

2

tablespoons

cornstarch

1/4

cup

cold water
NOODLE BOWLS:
18.4

ounces

Smithfield Sweet Teriyaki Pork Tenderloin,

cut lengthwise to butterfly

2

large

zucchini,

sliced lengthwise

1

large

red bell pepper,

sliced into large chunks

1

large

yellow bell pepper,

sliced into large chunks

1

tablespoon

olive oil

salt and pepper

10

ounces

dry Japanese udon noodles,

cooked according to package directions

sesame seeds,

for garnish
Instructions
PREPARE TERIYAKI SAUCE:
In a medium saucepan, combine the pineapple juice, soy sauce, brown sugar, ginger and garlic powder. Stir and bring to a simmer. Combine the cornstarch and cold water in a separate bowl. Whisk the cornstarch mixture into the simmering soy sauce mixture. Continue to simmer and stir until thickened. Remove from heat, cover and set aside.
GRILL:
Preheat your grill to medium high heat. Place the vegetables on a baking sheet, drizzle with olive oil and sprinkle with salt and pepper. Grill pork and vegetables until done. Chop pork and vegetables into small chunks.
ASSEMBLE NOODLE BOWLS:
Toss hot noodles with teriyaki sauce. Divide the noodles between four bowls. Divide the pork and vegetables between the four bowls. Sprinkle with sesame seeds, for garnish.
Notes
*Time Saver Tip:  Use store bought teriyaki sauce to toss with your noodles instead of making the homemade.  You can also buy *fresh* udon noodles- they'll have a quicker cooking time.
Disclosure:  This post has been written in partnership with Smithfield to share their line of marinated pork.  This is a product that I know and use in my kitchen.  For more product information and recipe inspiration, visit www.Smithfield.com. All opinions shared are my own.