This recipe has been featured in a menu on the site: Labor day Gourmet Grilling Party Menu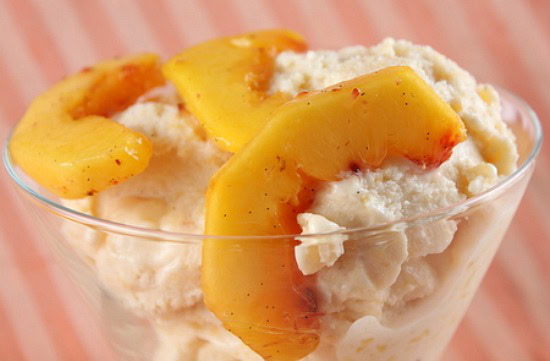 Fresh Peach Ice Cream w/ Vanilla-Scented Peaches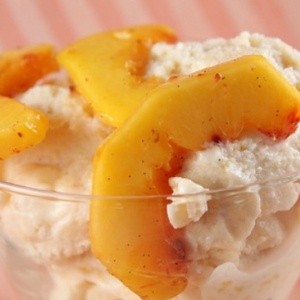 Perfect for summer... when peaches are plentiful and juicy and ripe.
Yield:
1 1/2 quarts
Prep Time: 40 min + chilling and processing time
Cook Time: 30 min
Ingredients:
ICE CREAM:
1 1/2 pounds peaches, peeled, pitted, sliced; peels and pits reserved
2 Tablespoons fresh lemon juice
2 cups heavy whipping cream
1 cup whole milk (do not use low-fat or nonfat)
1 (1-inch piece) vanilla bean, split lengthwise
4 large egg yolks
3/4 cup granulated white sugar
1/2 cup light corn syrup
PEACHES:
1 (2-inch piece) vanilla bean, split lengthwise
1/4 cup dry white wine
3 Tablespoons sugar
4 peaches, peeled, pitted, sliced
Directions:
1. Prepare ice cream base: Place peach slices in large bowl; add lemon juice and toss gently; cover and refrigerate. Combine peach peels, pits, cream, milk and vanilla bean in heavy large saucepan and bring to simmer. Reduce heat to very low and barely simmer 20 minutes.
2. Strain cream mixture through sieve into heavy medium saucepan. Whisk yolks and sugar in medium bowl to blend. Very gradually whisk in hot cream just a spoonful at a time to temper the mixture (you don't want the egg to cook, so be sure to do at the hot cream just a little at a time). Return mixture to same saucepan; stir over medium-low heat until custard thickens and leaves path on back of spoon when finger is drawn across, about 10 minutes (do not boil). Strain through sieve into bowl. Mix in corn syrup. Chill custard until cold (preferably overnight).
3. When custard is completely chilled, you can proceed with making the ice cream. Puree chilled peach slices in processor. Add 1 cup custard; blend until smooth. Whisk into remaining custard. Transfer to ice cream maker; process according to manufacturer's instructions. Transfer to covered container and freeze. (Can be made 2 days ahead.)
4. Prepare vanilla peaches: Scrape seeds from vanilla bean into heavy small saucepan; add bean too. Add wine and sugar and stir over low heat until sugar dissolves. Increase heat and bring to boil Pour syrup into medium bowl. Discard bean. Refrigerate until cold. Add peaches to syrup and toss to coat.
5. Serve ice cream topped with peaches.